Work toward your best body while loving the skin you're in with these 35 inspirational body image quotes.
We're all for working towards your best body and achieving the peachy butt, tank top arms, and/or hourglass abs of your dreams. However, you'll feel better and go further if you do so while loving the body you're currently rocking.
Body confidence is all about accepting your body and feeling comfortable and confident in the skin you're in. We believe that every woman deserves this!
In this post, we've rounded up 35 inspirational body image quotes to help you boost your body confidence while working toward your body goals.
Read on to get inspired!
35 Inspirational Body Image Quotes To Boost Your Body Confidence
1. "To be beautiful means to be yourself. You don't need to be accepted by others. You need to accept yourself." – Thich Nhat Hanh
2. "You have been criticizing yourself for years and it hasn't worked. Try approving of yourself and see what happens." – Louise Hay
3. "Hating our bodies is something that we learn, and it sure as hell is something that we can unlearn." – Megan Jayne Crabbe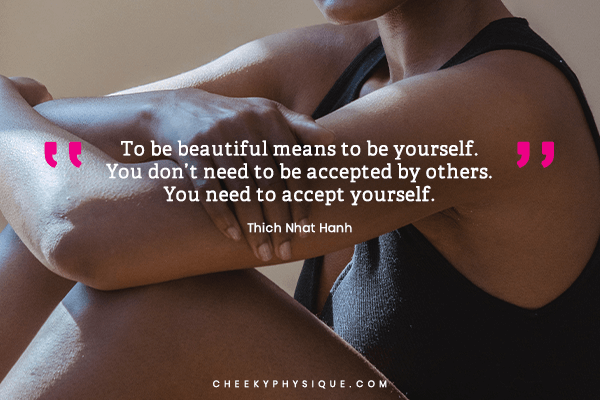 4. "All bodies are swimsuit bodies." – Catherine Li
5. "The reality was my life wasn't miserable because I was curvy; I was miserable because I thought I'd be happier if I were thinner." – Brittany Gibbons
6. "I don't want to wait until I'm 73 to embrace my body. To look back and think of my beauty: How did I miss it? Let's not wait another moment." – Ashley Asti
7. "Life is so much more beautiful and complex than a number on a scale." – Tess Munster
8. "If you retain nothing else, always remember the most important rule of beauty, which is: who cares?" – Tina Fey
9. "To love yourself right now, just as you are, is to give yourself heaven. Don't wait until you die. If you wait, you die now. If you love, you live now." – Alan Cohen
10. "You can't hate yourself happy. You can't criticize yourself thin. You can't shame yourself worthy. Real change begins with self-love and self-care." – Jessica Ortner
11. "Feeling confident, being comfortable in your skin—that's what really makes you beautiful." – Bobbi Brown
12. "Each individual woman's body demands to be accepted on its own terms." – Gloria Steinem
13. "You define beauty yourself. Society doesn't define your beauty." – Lady Gaga
14. "Everybody has a part of her body that she doesn't like, but I've stopped complaining about mine because I don't want to critique nature's handiwork… My job is simply to allow the light to shine out of the masterpiece." – Alfre Woodard
15. "Confidence is the only key. I can't think of any better representation of beauty than someone who is unafraid to be herself." – Emma Stone
16. "To be yourself in a world that is constantly trying to make you something else is the greatest accomplishment." – Ralph Waldo Emerson
17. "Do not apologize for your sacred body. All of you is holy." – Ashley Asti
18. "I've made peace with the fact that the things that I thought were weaknesses or flaws were just me. I like them." – Sandra Bullock
19. "Your body. Your diet. Your life. It isn't perfect. It never will be. But it's real. It's honest. It's beautifully flawed. And totally magical." – Nicola Jane Hobbs
20. "Your body is the piece of the universe you've been given, the place where love and joy and grief happen, where happiness unfolds. Do you really want to keep believing that it's a horrible, ugly, lumpy thing?" – Geneen Roth
21. "We can't hate ourselves into a version of ourselves we can love." – Lori Deschene
22. "Feeling beautiful has nothing to do with what you look like." – Emma Watson
23. "Chic is when a woman is in harmony with herself." – Giambattista Valli
24. "The more I like me, the less I want to pretend to be other people." – Jamie Lee Curtis
25. "You are imperfect, permanently and inevitably flawed. And you are beautiful." – Amy Bloom
26. "I say I love myself, and they're like, 'oh my gosh', she's so brave. She's so political. For what? All I said is 'I love myself, bitch!" – Lizzo
27. "Self-care is how you take your power back." – Lalah Delia
28. "Work out because you love your body, not because you hate it." – Torre Washington
29. You have to stand up and say, 'There's nothing wrong with me or my shape or who I am, you're the one with the problem!" – Jennifer Lopez
30. "The body is meant to be seen, not all covered up." – Marilyn Monroe
31. "Wanting to be someone else is a waste of the person you are." – Marilyn Monroe
32. "There is no better work of art than the human body." – Jess C. Scott
33. "Strong is beautiful." – Serena Williams
34. "To lose confidence in one's body is to lose confidence in oneself." – Simone de Beauvoir
35. "The true essence of beauty is a woman who is unafraid and unapologetic to be comfortable in her imperfection. That is a rare beauty." – Steve Maraboli.
When You Look Good, You Feel Good
Here at Cheeky Physique, we believe every woman deserves to feel confident in her own skin. This is why we've developed an entire line of products that address common skincare concerns like loose belly skin, cellulite, stretch marks, and more.
Our products are created to firm and smooth the look of your curves for an extra dose of confidence as you strive toward your body goals!
Check out our best-selling customer favorites below: