"Even in the most unflattering light possible, my thighs are smoother."
–Lauren M., Cheeky Cups customer
Make trouble spots a thing of the past and reveal your sleekest, sexiest silhouette with Cheeky Cups – a modern body contouring system based on ancient cupping techniques.
Like a deep tissue "massage in reverse," Cheeky Cups target stubborn cellulite, re-energize sluggish spots, and smooth visible imperfections.
Probable side effect: You'll feel more confident, love your curves, and be inspired to show some skin. Don't say we didn't warn you.
The Cheeky Cups Body Contouring Kit includes 2 silicone massage cups, an instruction manual, and a handy travel pouch.
For a sleek and sexy lower body, cupping massage just might be the cellulite-busting "Holy Grail" you've been looking for.
This massage technique was inspired by an age-old therapy, using cups to apply gentle suction to the body.
Traditionally used to boost circulation and detoxification, cupping also has some fantastic skin-smoothing benefits. It targets cellulite in a way that diets, exercise, and cellulite creams can't.
Now, with Cheeky Cups, you can experience the benefits of this ancient practice in a modern, easy-to-use system.
CHEEKY CUPS vs. OTHER CELLULITE TREATMENTS
Most cellulite treatments don't work because they are targeting the wrong problem.
Despite what you might think, there's more to cellulite than "just" fat.
The main culprit behind cellulite is the fascia (connective tissue) beneath the skin.
SMOOTH SKIN
CELLULITE
Unlike other treatments, Cheeky Cups specifically target fascia to reduce the appearance of cellulite.
The deep tissue "reverse massage" helps boost circulation, detoxifies dimples, and visibly firms and tones the skin.
STEP #1
Apply body oil, lotion, or shower gel to allow the Cheeky Cup to glide over your skin.
STEP #2
Press down on the top of the cup and apply the cup to the skin. Release your thumbs to create a suction effect with the cup.
STEP #3
With the cup attached to the skin, massage the cup over cellulite-prone areas using up and down, zigzag, and circular motions.
WHAT DO THEY SAY ABOUT CHEEKY CUPS?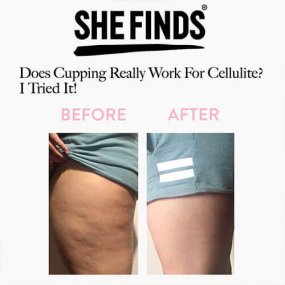 "I swear that my legs felt firmer immediately after using it that first time. I can definitely tell there's a difference. And I'm totally hooked on the feeling."
"I have been using Cheeky Cups on my belly and legs. I was skeptic at first but I have really noticed a difference in the smoothness of my skin especially areas of cellulite."
"Cheeky Cups work like a deep tissue reverse massage. Fantastic for reducing cellulite."
FREQUENTLY ASKED QUESTIONS
While individual results vary, most women see a visible improvement within a few weeks. Ongoing use of Cheeky Cups, combined with a healthy diet and exercise, will lead to even better results.
We recommend using Cheeky Cups for 3-5 minutes per leg. This is as little as 6 minutes total per day! For even better results, you can work up to longer treatment times.
Cheeky Cups should be used daily for the best results. The great news is that Cheeky Cups are easy to add to your routine because:
They require only a few minutes of use per day.
They can be conveniently used in the shower.
They are easy to take with you when you travel.
After achieving the desired results, use Cheeky Cups 3 times per week to maintain your sleek and smooth appearance.
Cheeky Cups are ideal for the legs, buttocks, and thighs. They can also be used on the arms and stomach. We recommend that you:
Use the medium cup for larger areas of the body, like the thighs and behind.
Use the small cup for smaller areas like the arms, stomach, knees, and calves.
Cheeky Cups are not painful when used properly. In fact, they feel great!
If the massage feels painful, it means you are using too much pressure. We recommend using light suction during the first few weeks. Once your body has gotten accustomed to the treatment, you can gradually increase suction for a deeper, more effective massage.
You may notice redness, warmth, and tingling in the treatment area. This is a sign of increased circulation.
Applying too much pressure or leaving the cup in the same place for too long can result in bruising. While this is harmless and temporary, it can avoided by using light suction until your skin has gotten accustomed to the cupping.
You may have noticed that you bruise more easily in cellulite-prone areas. Bruising easily is a sign of poor circulation. As healthy circulation is restored to these areas, you will be less prone to bruising.
If you are concerned how your body will respond, test Cheeky Cups on an inconspicuous part of your body. Wait 24 hours before proceeding.
Absolutely not. As long as Cheeky Cups are used properly, they will not cause stretch marks or give you spider veins.
In fact, cupping is traditionally used to improve the appearance of these conditions. Cupping increases circulation, which can help improve the appearance of stretch marks and spider veins.
Cupping is considered to be a very safe therapy. However, please use common sense and follow these important safety guidelines:
If you have a medical condition, consult your doctor before using Cheeky Cups.
Cheeky Cups should only be used on the legs, buttocks, stomach, and arms.
Do not use Cheeky Cups on the face or neck.
Do not use Cheeky Cups on body orifices or skin folds such as the belly button, groin, back of the knee, etc.
Do not use Cheeky Cups on varicose veins.
Do not use Cheeky Cups on broken or irritated skin.
If you experience any adverse effects, discontinue use immediately and consult with your doctor.
Cheeky Cups shouldn't be used if you:
Are pregnant
Use blood thinners
Have a bleeding disorder
If you have a medical condition, consult your doctor before using Cheeky Cups.
We offer an unconditional 60 day money back guarantee. If you're not satisfied, simply return the product for a prompt and courteous refund.
Please email us at support@cheekyphysique.com or contact us via chat and we will be happy to help!
Add Your Heading Text Here
BECOME A CHEEKY INSIDER
TO RECEIVE EXCLUSIVE UPDATES AND OFFERS