Have you ever wondered why some people have supple and perfect-looking skin and others not so much?
Take for example, children. They aren't on a ten-step Korean skincare routine and yet they have soft and naturally beautiful skin. Adults on the other hand have to go through extensive and sometimes invasive procedures to get the same effect.
And then there's cellulite. Some people suffer from these lumps and bumps, and others just do not.
The reason behind this variation in skin structure is collagen. This protein is produced by the body and is responsible for maintaining the integrity of the skin, and giving the skin its youthful and dimple-free appearance.
As you get older your body starts to produce less collagen, and that's when you notice aging signs such as wrinkles, fine lines, saggy skin, and sometimes cellulite.
But all hope is not lost  – you can still assist your body in getting enough collagen especially in the form of collagen boosting foods. Keep on reading this article to find out more.
Beauty Benefits of Collagen
Collagen is an abundant protein making up 75%-80% of your skin. And although it's considered an anti-aging protein, the beauty benefits of collagen go way beyond this.
Here are 6 beauty benefits of collagen:
1. Reduces lines and wrinkles
Overexposure to UV rays, unhealthy life choices, and the general result of getting older can cause collagen levels in the skin to diminish over time.
Eating a collagen-rich diet or taking supplements that stimulate collagen production can help prevent these wrinkles and reverse the signs of aging on your skin.
2. Helps reduce cellulite
Cellulite is a common issue for many women. Contrary to popular belief, cellulite is NOT caused by excess fat.
Cellulite occurs when the skin is pulled down by connective tissue bands, which attach the skin to the muscles.
The connective tissue (also known as fascia) is primarily composed of collagen. When your body lacks collagen, the fascia can harden or form adhesions, leading to cellulite.
Reintroducing collagen is key to strengthening the connective tissue. This can reduce cellulite's dimpled appearance.
3. Helps skin retain moisture
As you age, your body can start to experience a reduction in hydration levels, which further deepen wrinkles.
While the generic advice to "stay hydrated" is necessary, collagen is the secret ingredient that helps your skin retain moisture.
By adding collagen into your skin, you're helping it maintain moisture balance for a smooth and supple appearance.
4. Minimizes scars and stretch marks
Scars are formed when the deep layer of the skin (also known as the dermis) is damaged.
The body's natural way of covering up damage is to produce an extra collagen layer which results in the formation of scars.
When this happens, you can assist your body by adding collagen to your diet especially in the early stages of wound healing.
Similarly, collagen which promotes skin regeneration can also reduce the appearance of stretch marks on the skin.
5. Encourages hair growth
Many people who suffer from hair loss as a result of hair breakage, can gain a lot from collagen.
Collagen has been shown to increase the body's hair building proteins which can result in thicker, longer, and healthier hair.
A diet rich in collagen or just taking collagen supplements can do the trick.
6. Stronger and healthier nails
If your nails never seem to be Pinterest-worthy then incorporating collagen into your diet can be beneficial.
Collagen can improve nail health by reducing brittleness. In addition, it can also increase nail growth.
A study showed that daily intake of collagen can boost the growth of nails by up to 12% and reduce the frequency of broken nails by 45%.
Which Form of Collagen is Best?
You're probably wondering how you can reap all the benefits of collagen and which option is best for you.
Why the choice can be overwhelming, it's actually a good thing that there are so many options for increasing the percentage of collagen in your skin and body.
This way you can better decide what form of collagen works best for you.
Here are 3 different forms of collagen:
1. Creams and serums
Over the years collagen has been a major ingredient in beauty products which promise supple and youthful skin. However, many of their claims about the topical application of collagen are not true.
This is because collagen molecules are too large to properly penetrate the skin, which means you can't hope to gain any of its benefits when you apply it topically.
However, there is a different skincare ingredient that can boost collagen: peptides. Peptides are amino acids that are the building blocks of collagen.
When applied to the skin, peptides act like messengers – stimulating the skin to produce more collagen.
2. Supplements
Unlike creams and serums, collagen supplements are more beneficial to the body.
This is because collagen supplements have been hydrolyzed. Meaning they are broken down and more easily absorbed in the body.
Plus, they're a good way to get enough collagen especially if you're not getting it through your diet.
3. Food
Virtually all the nutrients your body needs to perform at its best come from food – and collagen is not an exception.
Food contains a bioavailable form of collagen that your body can use right away.
Regularly ingesting collagen-producing foods will give your body the much-needed amount of collagen it needs to improve the appearance of the skin, nails, hair, and more.
Top Ten Foods That Boost Collagen
Since creams and serums have proven to be an ineffective and unreliable source of collagen, this leaves you with supplements and food.
And while supplements are great, your diet is the number one thing you should focus on if you want to get enough collagen into your body.
That's why taking collagen-boosting foods and collagen-producing foods will ensure your body is getting its daily requirements.
Here are some of the top ten collagen boosting foods:
1. Bone broth
Bone broth might not be your first choice but it's a sure way of getting collagen in your diet.
It is made by simmering animal bones in water. Some people go a step further by adding spices and seasoning to give the broth flavor.
Collagen isn't the only nutrient you can get from bone broth, bone broth is also rich in calcium, amino acids, and more.
2. Chicken
Chicken is a favorite when trying to add more collagen to your diet.
When you cut up a chicken, you'll probably notice all the connective tissue within the chicken and since collagen can be found in connective tissue, poultry birds are a rich source of collagen.
3. Fish and shellfish
Many people claim that marine collagen is the most easily absorbed collagen. And while we can't say for sure, it's still a great source of collagen.
Much like chicken and other poultry birds, fish and shellfish have lots of ligaments and connective tissue which means they're an abundant source of collagen.
4. Egg whites
Eggs don't have connective tissue like chicken or fish, but they are rich in proline. Proline is one of the necessary amino acids needed for collagen production.
5. Citrus fruit

Citrus fruit plays a major role in the body's production of procollagen which is the body's precursor to collagen.
Try taking more citrus fruits like oranges and grapefruits to help your body in producing more collagen.
6. Garlic
Garlic does more than add flavor to your pasta dishes. Garlic is rich in sulfur and sulfur helps prevent the breakdown of collagen.
You might probably need a lot of it in your diet to reap its benefits.
7. Leafy greens
Some studies have shown that consuming chlorophyll helps increase the precursor to collagen in the skin.
Leafy greens are rich in chlorophyll, fiber and antioxidants.
8. Beans
Beans are a high-protein food and often contain the amino acids needed for collagen synthesis.
9. Cashews
Cashew nuts contain zinc and copper which are both great in boosting the body's ability to create collagen.
10. Bell peppers
Bell peppers are high-vitamin C veggies that contain capsaicin, an anti-inflammatory compound and a reliable ingredient that may combat signs of aging.
Foods That Can Damage Collagen
Now that collagen-boosting foods have been discussed, it's probably worth knowing the foods that can do the opposite. Some foods can damage collagen or decrease the body's production of collagen.
Sugar and other refined foods cause inflammation and damage to the body's collagen which over time can leave your skin looking lined and dimpled.
Collagen-Boosting Skincare
Eating a collagen-rich diet is an essential first step to firmer skin and less cellulite.
And once you've got that base covered, topical skin care products will work even better.
As we already discussed, you can't apply collagen directly to the skin. However, you can increase collagen production through peptides.
Our top peptide-rich skincare products for face and body
MATCHA EYE RESCUE Restoring Eye Cream: A lightweight yet deeply hydrating eye cream that blends matcha green tea with squalane, peptides, and probiotics.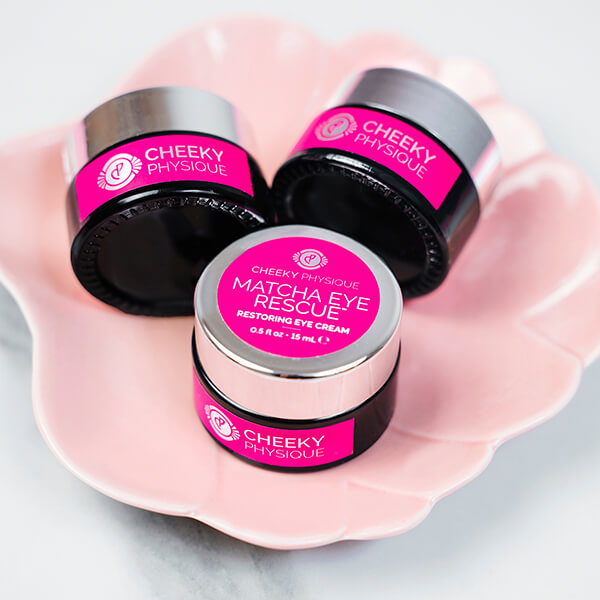 ARM SLEEK Upper Arm Firming Serum: Caffeine and age-defying peptides tighten the look of your skin and smooth the appearance of cellulite.
SUBLIME CURVES Booty Shaping Cream: Give your booty a head-turning lift! Our butt lift in a bottle contains Uplevity, a peptide that fights sagginess and improves skin firmness.