Does dry brushing really get rid of cellulite? This post answers that question and then goes on to explain the benefits of dry body brushing for cellulite and how to do it.
Sometimes, no matter what you do, certain cellulite-prone areas just don't seem to improve. It's hard to find a method that works, whether it's scrubs, lotions, fat-burning workouts, supplements, or even dieting.
Luckily for you, we've tried all the tips, tricks, and fads out there, and one has come up on top – dry brushing! Yes, it really does help get rid of visible cellulite.
What is dry brushing? It's the process of brushing over dry skin with a natural bristle body brush. This is a simple and effective way to reduce the appearance of cellulite – and it can be easily added to your skincare routine.
Keep reading to learn about the benefits of dry brushing for cellulite and how to do it!
5 Benefits Of Dry Brushing For Cellulite
Stimulates circulation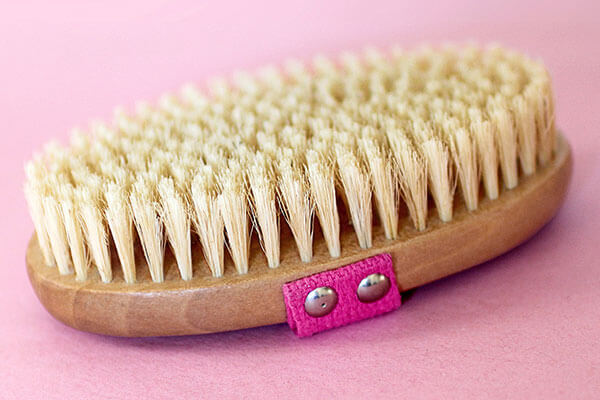 One benefit of dry brushing is that it can help stimulate circulation. When the bristles rub against the skin, the pressure stimulates blood flow through the capillaries and can reduce congestion in the area.
The increased blood flow causes vasodilation, where the capillaries widen to allow more room for blood flow. This has a plumping effect on the skin, and so can lessen the appearance of bumpy cellulite.
The boost in circulation will show you instant results while also helping to enhance the health of your skin over time.
Encourages lymph flow
A healthy lymphatic system is essential for keeping cellulite at bay. The lymph system is your body's natural waste removal system. But, unlike other bodily systems, it doesn't have its own pump and needs to be stimulated to work properly.
Not only do the lymph nodes need to be drained to remove the toxins from your body, but when properly cleared, your skin can appear less swollen. When toxins are left in the body, they attach themselves to fat cells which can make cellulite look worse.
Dry brushing stimulates the lymphatic system and aids in the movement of lymph through the body, allowing your body to eliminate these toxins.
Reduces water retention
Are you sick of the squats and leg lifts showing you no results in the cellulite department? What if we told you that some forms of cellulite are actually due to water retention in the body, making toning exercising useless!
When the body can't circulate fluids properly, it resorts to storing the water in between your cells, making cellulite and other fatty areas look even more lumpy and bumpy.
Water retention is often caused by a lack of blood flow and lymphatic drainage. As we've already talked about, dry brushing is a simple and effective way to improve circulation and lymph flow. This makes it a great way to get rid of water retention.
Strengthens connective tissue
Have you ever wondered what gives cellulite its dimpled, bumpy appearance? Cellulite occurs when fat pushes against the connective tissue (also called fascia) that binds the skin to the muscles.
Cellulite is thus mostly caused by hardened connective tissue or adhesions in the fascia. To avoid this, it is critical to strengthen the connective tissue and fascia.
Dry brushing is an excellent method for strengthening and smoothing these tissues. The process of moving the brush over the skin functions like a massage, softening the tissues and promoting blood flow, which can promote healthier fascia.
Encourages skin renewal
Luckily for us, dry brushing is well-known for smoothing and firming the skin! The firm bristles help to exfoliate the top layers of skin for a baby-smooth finish, while the massaging technique promotes the production of collagen in the skin.
As we age, we lose our natural collagen, which causes wrinkles and drooping skin. However, by increasing your body's collagen production, you can keep your skin appearing young and smooth for longer.
Exfoliating the skin via dry brushing stimulates fibroblasts, which are cells responsible for the production of collagen. Increased collagen helps thicken the skin and reduces the appearance of cellulite.

How To Dry Brush For Cellulite
There's a specific technique when it comes to dry body brushing, so you shouldn't go into it without proper instructions!
To get the best results, you first need to find the perfect dry brush for the job. We recommend our Tone & Glow Body Brush. It's a premium natural bristle dry brush with the perfect soft yet sturdy bristles to stimulate your skin without irritation.
Then, grab your brush and follow these instructions:
Dry brushing should be performed on dry skin. That means preferably right before taking a shower.
Starting from your feet, move up the legs using long sweeping strokes. Make sure to brush over each area several times.
Once you're done with the lower body, it's time to move on to the upper body. Brush the hands and arms, moving up towards the axillary lymph nodes in the armpit.
To minimize bloating, don't forget to work on the mid-section. Brush in a circular clockwise motion around your belly button region. You can also do small strokes on the lower belly, working toward the lymph nodes in the groin.
Finish up with upward strokes brushing up towards the abdomen, waist, and back as far as you can reach.
Hop in the shower or bath to wash off any dead skins that may be left on your skin.
Finally, apply a body lotion or oil that will moisturize and nourish your body immediately after your shower. We recommend Contour Sleek, our cellulite firming body oil, to maximize the cellulite-reducing effects of dry brushing.
If you keep up with this dry brushing routine at least 2-3 times a week, you'll be sure to see results in no time!
Tone & Glow Body Brush
This premium natural bristle body brush reduces the look of cellulite by stimulating circulation and lymph flow while firming the skin's appearance. It's an absolutely must for your cellulite-fighting strategy!