Is stubborn cellulite ruining your confidence? It's known that 90% of women suffer from cellulite, so you're definitely not alone. Sometimes, no matter what you do, certain cellulite-ridden areas just don't seem to improve. From scrubs, lotions, muscle-burning workouts, supplements, and even dieting, it's hard to find a method that shows results. Luckily for you, we've tried all the tips, tricks, and fads out there, and one has come up on top – dry brushing! 
What is dry brushing? Well, it's the process of using a soft-yet-firm bristled brush to rub against dry skin. Now, you might be asking, just how does dry brushing help with cellulite? It may sound too good to be true, but dry brushing is a simple and effective way of helping to reduce and minimize the appearance of cellulite – and it can be easily added to your skincare routine. 
A weekly scrub over your bumpy areas and you could see great results from as little as a month! Want to know more? Here are the benefits of dry brushing for cellulite.
1. Stimulates circulation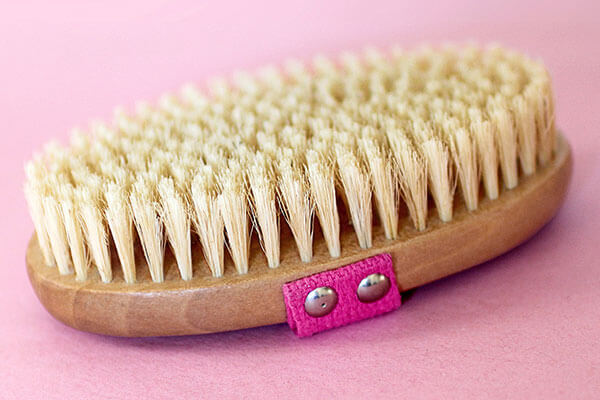 One of the benefits of dry brushing is its effectiveness when it comes to stimulating circulation. When the bristles rub against the skin, the pressure helps the blood to flow properly through capillaries and can unblock congested areas. 
The increase in blood flow creates what's known as vasodilation, where the capillaries widen to allow more room for blood flow in the area. This creates a plumping effect on the skin, and so can lessen the appearance of bumpy cellulite. The boost in circulation will show you instant results, however, the extra blood flow is only temporary, so you'll need to keep up with your dry brushing routine!
2. Encourages lymph flow
A healthy lymphatic system is crucial to keeping the cellulite at bay. Not only do the lymph nodes need to be drained to remove the toxins from your body, but when properly cleared, your skin can appear less swollen. 
Cellulite is most commonly found in the lymph areas and can look much worse when the skin is puffy and full of toxins – it can make your small lumps and bumps look like peaks and mountains! When toxins are left in the body, they attach themselves to the large fat cells which can add to the appearance of cellulite. Who would have thought a brush could help banish those pesky bumps!
3. Reduces water retention
Are you sick of the squats and stomach crunches showing you no results in the cellulite department? What if we told you that some forms of cellulite are actually due to water retention in the body, making toning exercising useless! Well, it's true and it's called infiltrated cellulite. 
You might be thinking, how exactly does dry brushing help with cellulite from water retention? Well, water retention can be caused by low blood flow and a lack of lymphatic drainage, which we know can be resolved easily by dry brushing! When the body can't circulate fluids properly, it resorts to storing the water in between your cells, making cellulite and other fatty areas look even more unattractive.
4. Strengthens connective tissue
Have you ever wondered what causes cellulite? Pockets of fat can get stuck between the connective tissue, causing the tissue to push the lumps of fat outwards into the top skin layers. The pressure of the cellulite can weaken and damage the connective tissue, which determines just how prominent your lumps are. 
To avoid this from happening, strengthening the connective tissue can both reduce the chances of fat sticking between the skin, and stop the connective tissue from pushing the cellulite towards the skin! 
5. Encourages skin renewal
Cellulite is mostly hated due to its bumpy, orange peel appearance. Luckily for us, dry brushing is well-known to smooth and firm the skin! The hard bristles help to exfoliate the top layers of the skin for a baby-smooth finish, while the massaging technique promotes the production of collagen in the skin. 
We lose our natural collagen as we age, which is why we start to form wrinkles and sagging skin. However, if you boost your body's collagen you can keep your skin looking young and rejuvenated for longer! Dry brushing is favored over collagen-filled foods and supplements when it comes to fighting cellulite, as you can target specific areas with your bristled brush.
6. How to dry brush for cellulite
There's a specific technique when it comes to dry brushing, so you shouldn't go into it without proper instructions! To get the best results, you first need to find the perfect dry brush for the job. Aim for a dry brush that has natural, firm bristles, without being too harsh on the skin. We suggest the Tone & Glow Body Brush – as well as having the perfect textured bristles, it also has a comfortable hand strap for easier use!
To dry brush your leg cellulite, always start at the feet and work your way up in long strokes. For eliminating your arm cellulite, you should start at the hands and brush upward towards the shoulders. For the more troublesome areas, such as the tummy, you should work your brush in circular clockwise motions over the abdomen. It's important not to use too much pressure at first, as you don't want to damage the top layers of skin. If you keep up with this dry brushing routine at least 2-3 times a week, you'll be sure to see results in no time!