This post is your guide on how to make hands look younger naturally, with our top 5 at-home anti-aging hand treatments.
It's a well-known fact that we women do a good job when it comes to looking after our bodies. We have lengthy skincare routines, hundreds of hair care products, and we love a good mani-pedi!
But within all our self-care regimes, there's one body part we seem to unknowingly neglect – and it's starting to show. One of the first body parts that begin outing our age are the hands.
If you see wrinkles, age spots, prominent veins, or saggy excess skin when you look down at your hands, it could be a sign of premature skin aging. But don't fret – it can be fixed!
In this article, we share how to make hands look younger naturally, with our top 5 at-home anti-aging hand treatments.
Microneedling
Microneedling is also known as dermarolling, skin needling, or collagen induction therapy. It's a highly popular at-home beauty treatment and for good reason – it really works!
Microneedling is a technique that involves puncturing the skin with tiny needles in order to stimulate collagen production. These tiny pinpricks stimulate the healing process of your skin, causing it to produce more collagen.
Collagen helps the skin retain its structure and elasticity, so increasing collagen can help firm and thicken up the skin for potentially younger looking hands.
It's important to select the right derma roller if you want to try microneedling your hands.  Derma rollers come with needles ranging in length from 0.2 mm to 3 mm. The longer the needle, the deeper the treatment but this also comes with increased risks.
A needle length of 0.2mm – 0.5mm is generally recommended to enhance absorption of skin care products and to improve skin tone and texture on the hands. Dermarolling should be done no more than once per week to allow your skin time to recover.
Be warned that the backs of the hands are sensitive, so you may want to use a numbing cream when microneedling the hands. The video above has additional tips on how to dermaroll or microneedle hands for best results.
LED Light Therapy
LED (light-emitting diode) light therapy is a non-invasive treatment that uses different wavelengths of light to improve the skin. LED lights were originally developed by NASA in the 1990s and were used to speed wound healing in astronauts.
Today, LED light therapy is used by dermatologists and estheticians to treat a range of skin issues including acne, eczema, psoriasis, hair loss, wrinkles and more. You can also buy LED light therapy devices to use at home, such as masks for the face, neck, and even the hands.
LED light therapy uses different wavelengths of light that correspond to various colors. Each color offers specific benefits to the skin.
For anti-aging, red and near-infrared LED lights are most effective. Red and near-infrared wavelengths have been shown to reduce inflammation and stimulate the production of collagen.
LED light therapy hand masks are available from a number of manufacturers. Two of the most popular include the Omnilux Contour GLOVE and CurrentBody Skin LED Hand Perfector. These masks are meant to be worn for 10 minutes 3-5 times per week.
Dry Brushing
If you like the idea of microneedling your hands, but are looking for a faster, easier and less painful alternative, you can get many similar benefits from dry brushing.
Dry brushing, also known as body brushing or skin brushing, is a process that involves brushing over the skin using a dry bristle brush.
Body brushing is a popular treatment for the body since it's very effective at stimulating circulation and lymph flow. However, it also has many benefits for the skin itself.
Dry brushing exfoliates the top layer of skin and promotes cell turnover. The process of exfoliation stimulates fibroblasts, which are cells responsible for stimulating collagen – that all important protein for firm, smooth skin.
Unlike chemical peels or harsh skin scrubs, dry brushing is gentle enough to be done daily, and it only takes a few seconds to brush your hands. We recommend using a natural bristle brush such as our Tone & Glow Body Brush, which effectively exfoliates the skin without scratching it.
Simply start at the fingertips and brush up the hands and arms in long, smooth strokes. Be sure to brush both the fronts and backs of your hands.
Retinoids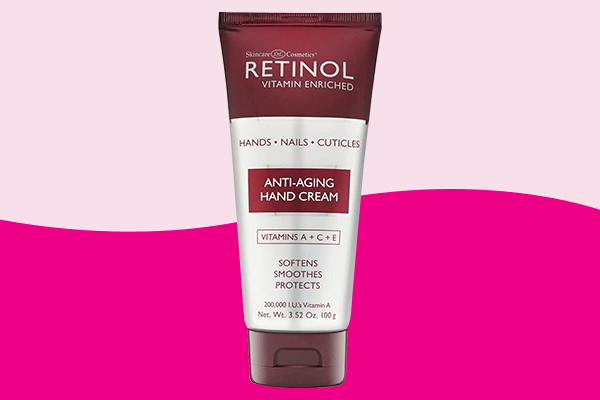 Retinoids (including retinol) are often described as a miracle skincare ingredient. Countless studies have shown that retinoids are highly effective at improving wrinkles and dark spots.
While most products that contain retinoids are made for the face, your hands can also certainly benefit.
Retinoids include a variety of vitamin-A based products that are available by prescription or over the counter. They work by speeding up skin cell turnover, which stimulates collagen production and reduces signs of aging with continuous use.
Look for a hand cream that contains retinol to get more from your cream beyond basic moisturization.
It's important to note that retinoids make the skin more photosensitive, so you need to use sunscreen during the day when using retinol products. (You should be doing this anyway!) Be sure to use a good sunblock on your hands and arms.
Anti-Aging Serum
Many of the best skincare products are designed for the face, but there's no reason to limit them there – especially if you're serious about keeping your hands looking young!
Using an anti-aging serum or face cream on the backs of your hands is a great way to deliver targeted ingredients that will help keep your skin looking firm, plump, and youthful.
An excellent option is our Sublime Uplift Neck and Decollete Firming Serum. Did you know that the skin on the neck and the backs of the hands is among the thinnest on the body? That's why these two areas are especially prone to crepey skin and premature aging.
Our neck tightening serum does double duty as an intensive anti-aging hand serum packed with powerhouse ingredients. And unlike retinol, it does not increase photo-sensitivity of the skin.
Sublime Uplift's key ingredients include:
Shiitake mushroom extract – Contains kojic acid, a natural skin-brightening ingredient that assists with fading out age spots.
Hyaluronic acid – Visibly plumps fine lines and wrinkles for an immediate smoothing effect.
Tripeptide-5 – An anti-aging peptide that helps restore the look of skin firmness and elasticity.
To use Sublime Uplift as an anti-aging hand serum, apply a thin for the backs of the hands. It can be layered with other skincare products or hand creams.