It's a well-known fact that we girls do a good job when it comes to looking after our bodies. We have lengthy skincare routines, hundreds of hair care products, and we love a good mani-pedi! But within all our self-care regimes, there's one body part we seem to unknowingly neglect – and it's starting to show. One of the first body parts that begin outing our age are the hands. When you stop to think, your hands get quite a beating throughout the day as they're constantly in use, so it makes sense that these would be the first to show a little wear-and-tear in the age department!
If you see wrinkles, age spots, prominent veins, or saggy excess skin when you look down at your hands, it could be a sign of premature skin aging. But don't fret – it can be fixed! It seems that the majority of people simply forget to give their hands some TLC. Here are some super simple tips on how to make hands look younger, so you can get your hands back to looking healthy and youthful!
1. Treat age spots
Discoloration on the hands such as age spots and liver spots can be a dead giveaway for your age. These undesirable patches of hyperpigmentation happen when there is an increased production of melanin in the skin, usually caused by UV rays. Using treatments such as lightening creams, laser therapy, or even trying skin bleaching can remove those spots and bring the youthful glow of your skin back.
2. Protect with SPF
If you're lucky enough to have avoided age spots and any other forms of discoloration, you want to keep up the good work. Exposure to the sun's damaging UV rays is one of the top reasons behind aging skin. It's important to wear SPF on your skin, including your precious hands, as UV rays can still get to your skin through clouds and can even bounce off sand, water, and concrete!
3. Exfoliate
By adding exfoliation into your weekly routine, you could achieve brighter, softer skin. Exfoliating removes dead cells from the skin and helps to promote the regeneration of newer healthy skin cells. It's extra important to exfoliate your skin if you're already using another skin treatment such as a lotion or serum, as removing the dead skin cells will help products sink further into your hands.
4. Keep moisturized
Meet your new best friend, moisturizer. If you haven't got around to adding a hand or body moisturizer into your skincare regime, get to it! You can't get glowing, smooth, and youthful skin if you're not hydrated. Thirsty-looking skin can lead to a cracked and rugged appearance – not cute! Find a moisturizer especially for hands if you can or even better, try an overnight repair lotion if you want to see improvements faster.
5. Nourish cuticles
It's time you treat yourself to a nice hand-nourishing pamper! Ragged cuticles can give hands a rough and aged appearance, but you shouldn't cut them off to solve the problem – this actually makes it worse. If you want to know how to make hands look younger, keep your cuticles placed firmly on your nails and look into some moisturizing cuticle products.
6. Wear gloves to protect hands when doing housework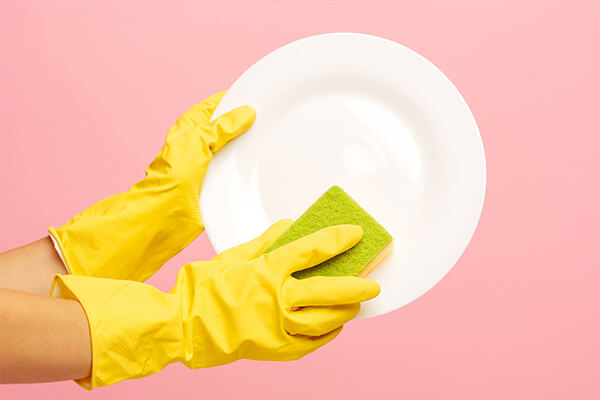 You wouldn't think it, but your housework could be costing your hands years for their appearance. Scrubbing floors, washing dishes, and other daily chores can cause excessive wear and tear to your hand's fragile skin. Wearing gloves can stop your skin from excessive rubbing and will protect your skin from harmful cleaning chemicals that could be drying out your skin.
7. Use anti-aging products on your hands
Anti-aging products aren't just for your face and neck. If you've got a specific problem area that you think needs an anti-aging helping-hand, you can slap on an anti-aging product without fear! Look for a product or treatment that contains retinol, peptides, and antioxidants if you want to see some serious age-defying results fast!
8. Consider filler injections
For those that have unusually bony or veiny hands, there is a way of plumping out your skin if you're willing to try. As you get older you lose the fat under your hands, which explains why prominent bones and veins on the hands can make you look older. Professional dermatologists can inject dermal fillers into the backs of the hands to hide these unflattering veins and bones, so it's a great option for those that don't mind needles! 
9. Flattering nail polish
If you needed an excuse to head to the nail salon – you've got one! A fresh pop of color can make a world of difference in making your hands look younger. Unfortunately for those that love a dark-colored nail, we suggest switching it up and going for a light or bright color as dark colors can accentuate any aging signs on your hands.  
10. Dry brushing
That's right, you can dry brush your hands! If you use a gentle, soft brush like the Tone & Glow Body Brush which is made of natural boar bristles, you can safely dry brush the backs of your hands without damaging the fragile thin skin. Brushes with plant-based bristles are much more aggressive on the skin and so should be avoided on the hands. The good thing about dry brushing is it exfoliates your skin and promotes collagen and skin renewal, and it only takes around 5 minutes to do on your entire body!