This post looks at the best cellulite products to smooth and firm skin, energize sluggish spots, and reduce the appearance of lumpy, bumpy skin. 
If you're wanting to get rid of stubborn cellulite, then you've probably tried a lot of different things! There really is no shortage of cellulite reducing diets, exercises, and products out there.
While many of these so-called cellulite cures don't work, there ARE some holy grail products that can help smooth cellulite dimples and give you the sleek curves you've been waiting for.
If you're ready to discover our tried and true hacks for getting rid of cellulite, read on for our 10 best cellulite products.
10 Best Cellulite Products You'll Wish You Had Tried Sooner
1. Cheeky Cups Body Contouring Kit
Cheeky Cups is a modern body contouring system based on ancient cupping techniques.
Because it helps boost circulation and detoxification, visibly firms and tones the skin, reduces water retention, and smoothes the fascia. All of which aid in reducing the appearance of cellulite!
Simply apply body oil and massage the skin for about 5 to 10 minutes per day using Cheeky Cups.
2. Fitbit Health Tracker
No matter if you're working out or running errands, a fitness tracker like the Fitbit Health Tracker is helpful for keeping track of your activities.
Additionally, it helps you stay on track with your fitness goals and motivates you to move around more – all of which can help with those cellulite-busting goals.
Here are the top reasons a fitness tracker is a must-have cellulite product:
It helps you take steps to get your body moving. Walking is among the best exercises for increasing lymphatic flow to reduce cellulite.
The alert to move inspires you to avoid excessive sitting, which is a leading cause of cellulite because it impairs circulation.
3. Venture Pal Half Gallon Water Bottle
Poor hydration is a major of cause of cellulite. If you're one of those people who has trouble drinking enough water each day, then the Venture Pal Half Gallon Water Bottle is for you.
When it comes to dealing with cellulite, this product helps by giving you these benefits:
Drinking plenty of water is essential for reducing cellulite. Water keeps the skin hydrated, making it appear plump and supple. It also helps to keep connective tissue smooth, which helps to reduce the appearance of cellulite dimples.
A cute water bottle can make it more fun to drink water, motivating you to meet your daily hydration goals.
This half-gallon water bottle contains an entire day's worth of water, eliminating the need to guess the number of glasses of water you drink.
4. Tone & Glow Body Brush
Body brushing is an ancient beauty detox technique with benefits that go beyond simple exfoliation.
Our Tone & Glow Body Brush has natural bristles that stimulate circulation and enhance lymphatic flow, which helps to reduce the appearance of cellulite.
5. Fabletics PowerHold Compression Leggings
While there are no leggings that can magically melt away cellulite, compression leggings (like Fabletics Power Hold Compression Leggings) can help with cellulite in these ways:
Compression leggings increase blood flow to muscles and help reduce water retention in the legs, which can make cellulite look less noticeable.
Compression leggings keep your body looking smooth and tight while you do your cellulite-busting workout, which just might motivate you to do that extra set of leg lifts.
It's a win-win in our opinion!
6. Vital Proteins Collagen Peptides Powder
Collagen is one of the best supplements you can take to help get minimize cellulite. Vital Proteins Collagen Peptides Powder is a must-have product because of this.
Restoring collagen, which is essential for cellulite reduction. Collagen is the most important component of connective tissue, and weakened connective tissue is the primary cause of cellulite. As a result, by replenishing collagen, you can revitalize your connective tissue and reduce the appearance of cellulite.
Enhancing the look of your skin! Collagen is also necessary for the skin, which is composed of 80% collagen. Replenishing collagen makes skin younger, firmer, and thicker, which helps with cellulite.
7. Contour Sleek Cellulite Firming Body Oil
Contour Sleek is an invigorating body oil that targets cellulite with a blend of firming and detoxifying ingredients, including algae extract, Gotu kola, and essential oils of juniper, geranium, and grapefruit.
For best results, use with body brushing and/or massage to aid in circulation and detoxification.
8. Dr. Teal's Detox Bath Salt
Epsom salts such as Dr. Teal's Detox Bath Salt are a must-have cellulite product. Here are a few of the cellulite-reducing benefits of epsom salts:
Helps remove toxins from the skin
Helps reduce bloating and fluid retention
Makes the skin appear smoother and softer
As a bonus, epsom salts help soothe sore muscles, which makes them great for a bath soak after a killer cellulite workout.
9. Vibration Plate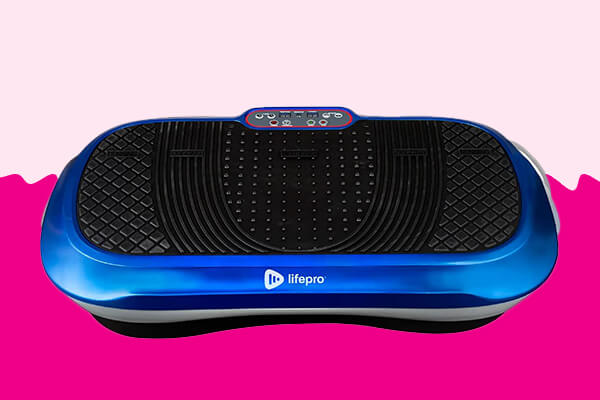 Vibration plates aid in the reduction of cellulite in a number of ways:
Vibration promotes lymphatic drainage and blood circulation, both of which can help reduce water retention and thus, reduce the look of cellulite.
Vibration helps with weight loss by boosting metabolism. Generally, less fat makes cellulite less of an issue.
Vibration helps tone your muscles, which helps to firm and smooth the appearance of cellulite prone areas.
To learn more about the cellulite-reducing benefits of a vibration plate, be sure to check out our article, Can a Vibration Plate Reduce Cellulite? Here's What You Need to Know.
10. Bye Bye Cellulite Kit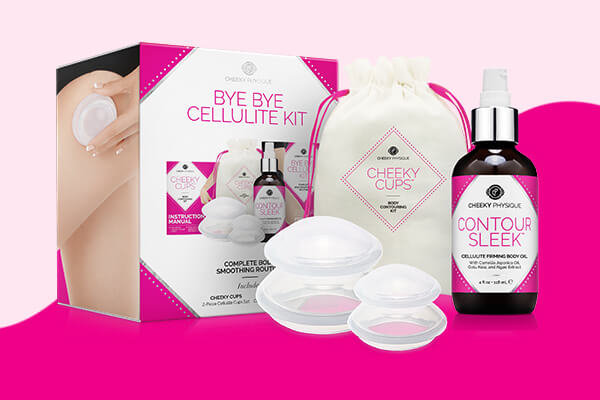 Say goodbye to cellulite with our Bye Bye Cellulite Kit. Cheeky Cups and Contour Sleek are included in this full-body smoothing routine.
Cheeky Cups help reduce the appearance of cellulite for smooth and firm looking skin. Contour Sleek is a body firming oil that is used in conjunction with Cheeky Cups to allow them to easily glide over your skin. It also helps with skin detoxification as well as toning the look of your skin.

Say Goodbye to Cellulite with Cheeky Physique
Here at Cheeky Physique we consider ourselves cellulite busting pros!
Be sure to check out the complete range of amazing products that we offer that are designed to firm, tighten, and sculpt your curves while reducing the look of cellulite, including these faves: