This post looks at how to get a better butt with 10 of our top rated products – from workout gear to butt beauty products, your booty will be transformed.
Not everyone is born with a perfect butt, but there is good news! There are a lot of things that can be done to transform your bum into the peachy booty of your dreams – all without having to resort to Brazilian butt lift surgery.
Some great products are available right now that can go a long way towards helping you make your butt look its best. Some can be used on their own, while others are to be combined with good old-fashioned exercise.
If you're ready to learn how to get a better butt, read on for our 10 best products for your booty.
10 Best Products to Help You Get a Better Butt
Product #1 – Sublime Curves Booty Shaping Cream
Sublime Curves is perhaps the closest thing you'll find to a "butt lift in a bottle."
This 5-star rated product contains ingredients (including Voluplus, maca root, and peptides) that help define, smooth, and shape your butt so that it looks plumper while defying gravity.
Sublime Curves Booty Shaping Cream is a must have when it comes to your quest to get a better butt.
Product #2 – Glute workout bands
If you're truly interested in shaping and building a better butt, then there's no denying that you'll need to put in the work. Yes, we mean exercise.
One of the best products you can use for a killer butt workout are glute workout bands. With three resistance levels, you will be able to work your way towards a better butt and keep your derriere firm and toned.
These amazing glute workout bands are great for beginners or advanced users, and are easy to incorporate into your normal workout routine.
Product #3 – Butt lifter panties AKA booty bra
If you're looking for an instant butt lift for that killer outfit then butt lift panties (also known as a booty bra) will help you defy gravity and create a firm and perky looking butt.
Designed in a boy short style, these butt lifter panties will give you an instant boost.
Product #4 – Cheeky Cups Body Contouring Kit
The most effective way to banish cellulite dimples is with a cupping massage. Enter Cheeky Cups, our body contouring system based on ancient cupping techniques.
Designed specifically for targeting stubborn cellulite and smoothing visible imperfections, this product will help you get the hips and butt you've always dreamed of.
Product #5 – Bala Bangles ankle weights
Some of the best butt lifting exercises include kickbacks, fire hydrants, leg lifts, and hip abductions.
Now, imagine supercharging your results and getting more booty lifting bang for your buck by adding these fashionable ankle weights.
Super soft and easy to use, these one-size fits all ankle weights will amp up your workout and make any booty routine more effective.
Product #6 – Tone and Glow Body Brush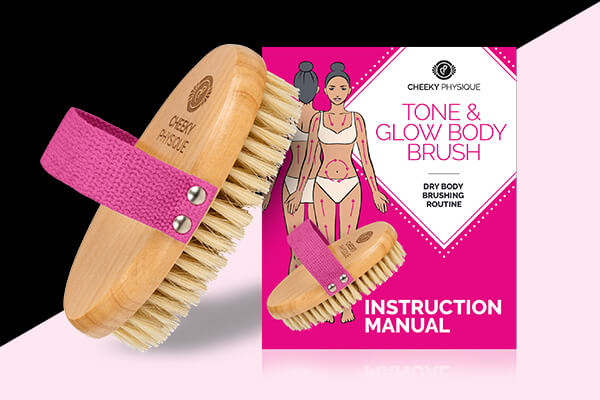 With all eyes on your booty, you're going to want to be sure that it's also soft and glowing… and that means exfoliating.
Body brushing is one of the best ways to exfoliate skin because it has the added benefit of reducing cellulite. Our Tone & Glow Body Brush has natural bristles that help to reduce cellulite and increase circulation as well as lymph flow. Regular body brushing also encourages cell renewal and gives your skin a beautiful, healthy glow.
Product #7 – Butt lift leggings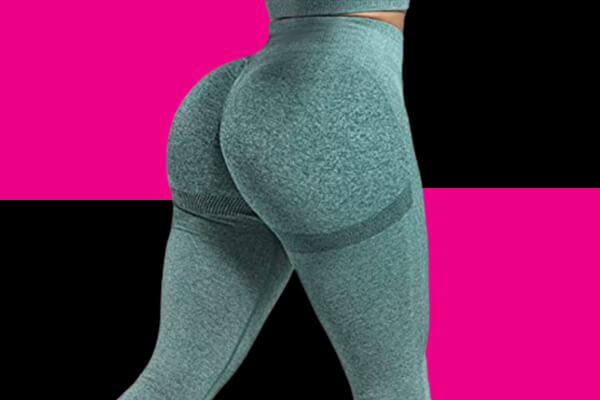 Booty specific workouts are a must if you're looking for a better butt. So, why not make your curves look their best while doing those squats, lunges, and leg lifts?
A pair of butt lift leggings should be a part of every girl's wardrobe. Designed to show off those curves while tightening your booty, you'll easily fall in love with these leggings. Not only will you be doing the work to get a better butt, but you will also look great doing it.
Product #8 – Contour Sleek Cellulite Firming Body Oil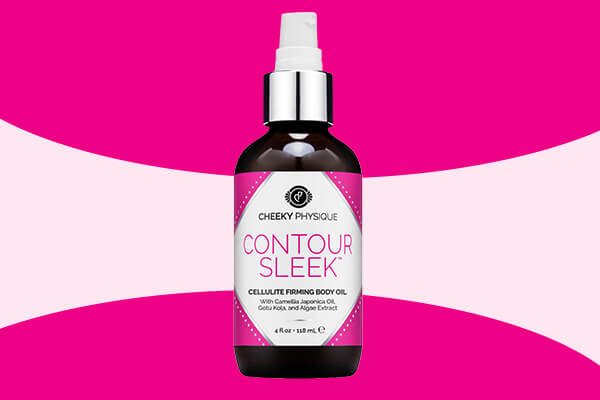 Contour Sleek is a double duty body oil that hydrates your skin while also working to both firm and smooth your curves. A blend of gotu kola, algae extract, and essential oils of juniper, grapefruit and geranium work together to help eliminate toxins, and tone the look of trouble spots.
It's a win, win for your butt!
P.S. Contour Sleek also works great with our Cheeky Cups cellulite cupping set – you can find them together in the Bye Bye Cellulite Kit.
Product #9 – Hanky Panky thong
Panty lines will absolutely draw the wrong kind of attention to your butt, so a good thong is a must have for every woman. And while we all know that they're needed, almost everyone can agree that it's hard to find a pair that is super comfortable.
Problem solved! Hanky Panky thongs are self-declared to be the most comfortable thongs in the world (we can't argue with that) and they are made in the USA.
Available in a plethora of colors, these undies are sure to make you feel gorgeous and make your butt look fantastic, all with the added benefit of being super comfortable.
Product #10 – Extra thick yoga mat
The most effective butt exercises require you to get on all fours. This includes exercises like leg lifts, kickbacks and more.
If you want to avoid damage to your knees while you are working to make your booty more shapely, then a thick yoga mat is a must. Textured and non-slip, this affordable and high quality mat comes in a variety colors. (So you can find one to match your cute butt lift leggings, of course!)
Cheeky Physique: Your BFF for a Better Butt
No matter what goals you have when it comes to a better butt, here at Cheeky Physique we are dedicated to helping you make your butt look its best – along with giving you an extra dose of body confidence.
Be sure to check out the complete range of amazing products that we offer that are designed to firm, lift, and sculpt your booty: