This post is your ultimate guide on how to firm and lift buttocks fast. Follow these 6 tips to say goodbye to a saggy butt in as little as 2 weeks.
No matter the shape or size of our butts, we want them to look their best!
The truth is that many women spend years trying to achieve the perfect behind, yet their efforts show little to no results. Ever wondered why this is? It could be genetics, but it's just as likely to be caused by lifestyle issues!
If you're fed up with fads and failing workouts and if you want to see results FAST, then stick around. We're here to help you get a natural butt lift so you can start seeing results quickly – and we're talking noticeable results in just a few short weeks.
Keep reading for our top 6 tips on how to firm and lift buttocks fast.
1. Stop Sitting So Much
If you want to tone and lift your butt fast, you first need to break bad habits that are contributing to a saggy butt.
The worst habit of all? Sitting too much. Unfortunately, this is extremely common given how much time we spend at our desks or in our cars.
Believe it or not, there's a condition called Dormant Butt Syndrome, and it could be flattening your bum as we speak! The syndrome is caused by excess sitting, as the gluteal muscles weaken and hip flexors tighten when we sit for long periods.
So, if your bum is looking a little on the flat side and if you're feeling any pain in the bum, hip, and back regions, it's very possible that you could have Dormant Butt Syndrome.
Thankfully, Dormant Butt Syndrome can be reversed as long as you decrease the amount of time you spend sitting on your rump!
HOW TO BEAT IT: If you've got an office job or sit a lot, it's important to get and move every 30-60 minutes. Set a timer or user fitness tracker like FitBit to remind you to take a 2-5 minute break to walk around.
2. Increase Protein Intake
No surprise here, but the key to a firm and lifted booty lies in toning your muscles. But before you break out the squats, let's talk about how to fuel those booty gains.
Protein is extremely important in building muscle because the amino acids (the building blocks of protein) help to repair and maintain muscle tissue.
This of course means that you should make sure you are getting adequate protein. But did you know that not all protein is created equal?
Research shows that animal protein is easier to digest than plant proteins. This means your body is more able to absorb what it needs from animal protein vs. plant protein.
That said, there are good sources of muscle-building protein for both meat eaters and vegetarians alike. Here are the best proteins for supporting muscle mass:
Whey makes up 20% of the protein found in milk and other dairy products. It's an effective protein for muscle building since it is absorbed quickly and rapidly increases blood amino acid levels.
Whey protein is commonly found in protein powders. However, foods like Greek yogurt and cottage cheese are packed with whey protein and make for a great addition to your diet.
There's a reason why chicken breasts are part of every bodybuilder's diet. Chicken is a lean source of protein that contains all the necessary amino acids. It's also a versatile food that can be prepared in a variety of ways.
Eggs are considered a 'complete' source of protein since they contain all nine essential amino acids. As an added advantage, eggs are cheap and convenient. And they also contain additional nutrients such as vitamin D and iodine.
Soy is one of the few plant-based proteins that contain all the essential amino acids. In fact it has been found to be equally effective in building muscle as whey protein.
Some common sources of soy protein include tofu, soy milk and tempeh. And of course, soy protein powder is also a convenient option.
BONUS TIP: While it's not technically a protein, maca root is a superfood that's rich in muscle and booty-building nutrients. Check out our article on Maca Root for Curves: Bigger Booty Fact or Myth? to learn more.
3. Build Your Bum with Squats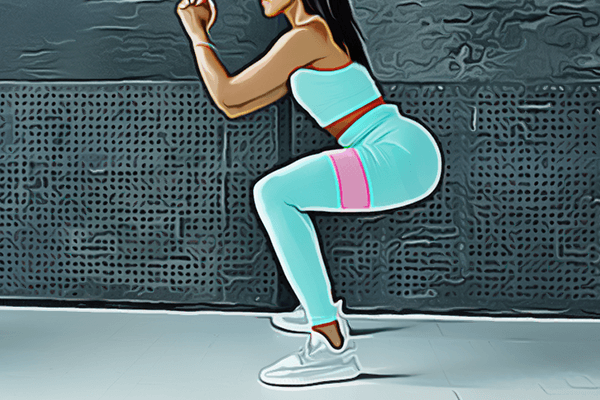 Love them or hate them, you can't deny that squats are one of the key exercises for a firm and lifted butt.
Squats are one of the best all rounder exercises for targeting the butt and lower body since they work a variety of muscles. This includes the glutes (especially gluteus maximus), quads, hamstrings, and abs.
DID YOU KNOW: Many people find that squats target their quadriceps (front thighs) more than their glutes. But, how much squats target your glutes vs. your quads largely depends on your position and technique.
To target your glutes more effectively you need to widen your stance and squat deeper (think sumo squat) as opposed to driving your knees forward.
The video above demonstrates a fast and effective squat workout that specifically targets the booty. Do this routine 3-4 times per week for a peachy booty fast!
4. Target the Under Butt
To add to your bum exercises and lead you on the path to a lifted derriere, it's important to incorporate some under butt workouts into your regime. These are exercises to specifically target the upper hamstrings and lower glutes.
Although you can achieve great results just by working out your glutes, you won't get as much lifting as you do when you work on the under butt.
This is because the under butt defines your buttocks and separates them from your upper thighs, which can turn pancake bottoms into peachy cheeks in no time!
One of the best ways to target the under butt is through doing glute bridge exercises. Try this quick booty bridge routine to feel that under butt burn.
TIP: Add the above workout to your squat routine for faster results.
5. Shape Your Side Butt
While the gluteus maximus is the butt muscle that gets the most attention (it's what gives your bum that peachy shape), the side butt should never be ignored.
The side butt is called the gluteus medius and is often the most underdeveloped glute muscle since it's more difficult to train.
Working this muscle isn't only important for shaping your butt, it also helps stabilize the hips and helps undo the effects of sitting all day.
If you are suffering from Dormant Butt Syndrome (see tip #1) and feeling the resulting back pain, then it's a sure sign of a weak gluteus medius.
Try the side butt routine above to strengthen your gluteus medius and shape your side booty. Since our goal here is FAST results, do this at least 3-4 times per week.
6. Enhance Results with Skincare
Now that you know how to firm and lift buttocks fast by eliminating bad bum habits and building booty muscles, skincare is your next step to a peachy behind!
Sublime Curves is a booty shaping cream that helps firm the skin while shaping and lifting the behind. This miracle cream is rich in Voluplus, a unique 'lipofilling' ingredient that increases the appearance of volume.
It's the perfect complement to those butt lift exercises!
If you stick to your booty workouts, avoid bum-flattening habits, and pop on some Sublime Curves cream, you'll be on your way to a natural bum lift in no time at all!