This post looks at the causes of loose skin on inner thighs, and top tips on how to tighten loose skin on inner thighs. Plus recommended products for home treatment.
Loose or sagging skin on the inner thighs is a common problem for a lot of women, especially after pregnancy, weight loss, or simply due to aging.
This is because the skin on the inner thighs is very thin, and can be one of the first areas to show signs of aging. Additionally, the muscles on the inner thighs are often underworked, making them more prone to a saggy or flabby look.
If you feel that your days of wearing short skirts and leg-baring dresses are over, we're here to tell you that there's a lot you can do to firm up the look of the inner thighs.
Keep reading to learn how to tighten loose skin on the inner thighs and regain those sleek, sexy thighs you won't want to hide.
What Causes Loose Skin on Inner Thighs?
Aging
The most common cause of loose skin on your inner thighs is due to aging. As you grow older, you lose a significant amount of collagen, which is responsible for your skin's elasticity.
And as we age, we are more likely to reduce physical activity. This means various body parts, including the thighs, will lose their elasticity.
Most people begin to notice loose skin on their inner thighs between the ages of 35 and 45.
Weight loss
Sudden weight loss is also a major culprit in causing loose skin in different parts of your body, including the inner thighs. Tightening skin that sags following weight loss is a huge challenge!
When you gain weight, the skin stretches to accommodate the excess weight. If you suddenly shed this extra weight, the stretched skin will sag since it doesn't have the opportunity to tighten as it should.
Pregnancy
We have seen how women change with pregnancy. One of the noticeable changes in pregnant women is excessively loose skin.
While the tummy is the most affected area (it has to stretch to accommodate a growing baby), other parts of the body are also affected. Moms-to-be also tend to develop loose skin on the inner thighs.
Menopause
As mentioned earlier, loose skin is part of the aging process. Women are at a higher risk of developing loose skin earlier due to the drastic hormonal changes that occur as they enter menopause.
During menopause, women lose a lot of collagen, which in turn reduces the elasticity of their skin. It is estimated that in the first five years after menopause, a woman will lose about 30% of her collagen.
How To Tighten Loose Skin On Inner Thighs – Top 7 Tips
Dry brushing
Dry brushing is one of the best ways to improve the look of your skin. This is because it tightens and tones your skin by increasing blood flow and stimulating fibroblasts – cells that are responsible for the production of collagen.
For the best result, use a brush with natural bristles. We recommend using a natural-bristle dry brush like our Tone & Glow Body Brush.
2. Toning exercises
Building muscle mass via weight training exercises is a great way to tighten the look of the inner thighs. Since your skin is attached to the muscles, this can also help firm the appearance of loose skin.
Some of the effective leg exercises you should incorporate into your workout regime are the front lunge, side lunges, squats, and ladder step-ups. You will start noticing positive results in a few weeks of doing these exercises.
3. Cupping massage
Cupping massage is an alternative therapy that uses suction cups to stimulate the muscles and skin. This method promotes blood circulation, which helps relieve muscle tension and promote skin elasticity.
Get the benefits of cupping massage at home with our Cheeky Cups Body Contouring Kit.
4. Supplements
Your diet plays a large role in determining the health of your skin. So, if you want to improve the elasticity of your skin, one of the most effective ways is through what you eat.
Incorporating supplements in your diet will offer you significant benefits, including skin firming effects. Some of the supplements that will help promote skin tightness on your inner thighs are:
Collagen
Antioxidants
Omega-3 fatty acids
5. Skincare
Your skincare regimen can also help you tighten the skin on your thighs. Look for products with proven skin-firming ingredients, including:
Retinoids
Peptides
Gotu kola
We recommend using a firming body oil like our Contour Sleek Cellulite Firming Oil. It not only deeply hydrates the skin to instantly plump up and smooth the appearance of skin, but it also contains gotu kola, one of nature's best natural skin-tightening ingredients.
See our article on 5 Incredible Benefits of Gotu Kola for Skin Tightening to learn more about this wonder herb!
6. Non-surgical skin tightening procedures
If you have a significant amount of loose skin on the inner thighs, you might want to explore professional skin tightening treatments.
Today, there are various devices that can help you tighten loose skin on your inner thighs. The most effective devices use either radio-frequency or laser energy to tighten skin without surgery.
7. Thigh lift surgery
If you have severely loose skin on your inner thighs (particularly after losing a lot of weight), then the gold standard treatment is thigh lift surgery.
Although this surgery leaves a large scar down the inner thighs or in the groin crease, it can greatly improve the contour of the inner thighs by removing excess skin and fat.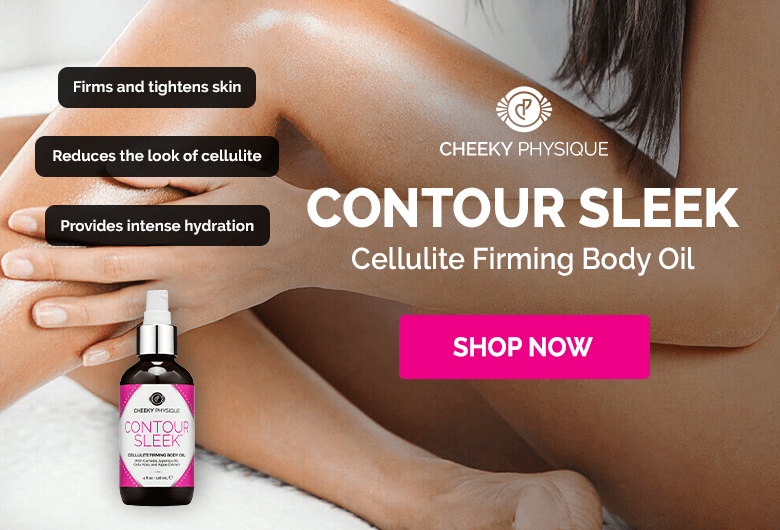 How To Tighten Loose Skin On Inner Thighs – Top Products
As you can see, there's a lot you can do to tighten loose skin on the inner thighs. But before opting for more expensive and invasive skin tightening treatments and surgeries, we recommend trying a simple at-home treatment first.
If you're ready to begin your journey towards sleek, tight thighs, Cheeky Physique can help!
Here are our top products to help tighten skin, reduce the look of cellulite, and firm up the legs and inner thighs:
Tone & Glow Body Brush
This premium natural bristle body brush helps firm the skin's appearance by boosting circulation, increasing cell turnover, and stimulating collagen for firmer looking skin. Shop the Tone & Glow Body Brush here.
Cheeky Cups Body Contouring Kit
Based on ancient cupping techniques, Cheeky Cups work like a deep tissue "reverse massage" to help tighten skin and smooth the appearance of cellulite on the legs and inner thighs. Shop Cheeky Cups here.
Contour Sleek Cellulite Firming Body Oil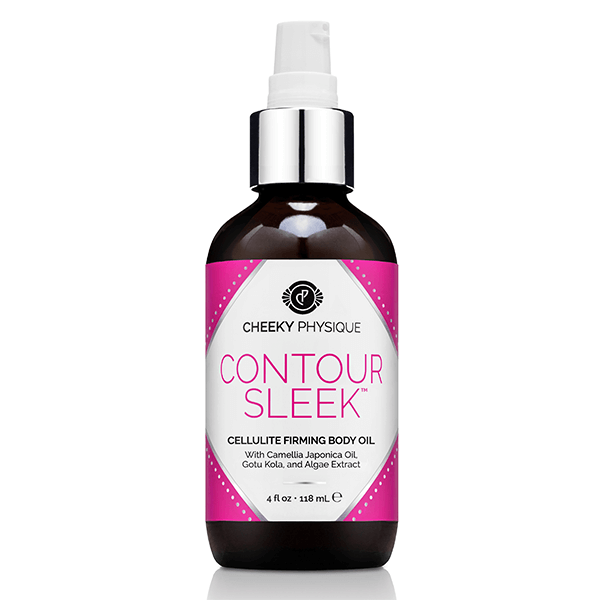 Boost the benefits of dry brushing and cupping with this firming body oil packed with natural skin toning ingredients. Shop Contour Sleek here.