This post looks at the most common types of arm wrinkles, what causes them, and how to tighten wrinkled skin on arms with the correct treatments. 
We tend to pay a lot of attention our faces when striving to look as youthful as possible. We invest in expensive serums, Botox, and facials, but often forget that other parts of the body can show obvious signs of aging.
The arms are one of those places that give away our age. This is because the skin underneath our arms is thinner than skin in other areas. This skin also has fewer oil glands than the face, making it more prone to showing signs of aging.
We can all agree that arms with crepey, loose, or drooping skin can make you appear years older than you actually are!
The good news is that you don't have to cover up with long sleeves. In this blog post, we look at the best treatments to reduce the appearance of saggy or wrinkled skin on the arms so that you can feel confident about going sleeveless at any age.
Different Types of Wrinkled Skin on Arms
Although there are different types of wrinkled skin that can appear on your arms, the causes and treatments are similar. Generally, treatment approaches differ based on the severity of wrinkles as opposed to the type.
The following are the common types of wrinkled skin on arms:
Crepey skin
Crepey skin occurs when thin skin takes on the look of tissue paper. Crepey skin is a common problem for many women. It is caused by the loss of collagen in your body, resulting in the skin looking crepey.
Because the skin under the arms is so thin, it is particularly prone to crepiness. Aging, UV damage, weight gain/loss, smoking, and heredity issues are among the causes of crepey skin.
Loose or saggy skin
Crepey skin refers to the skin's texture, whereas loose skin refers to how flaccid or saggy the skin may appear. Although it is possible to have sagging skin without crepiness and vice versa, many women have both issues.
Because of its thinness, the skin of the arms is prone to appearing saggy or loose. This is especially common following weight loss. Sagging also occurs as a result of the skin losing its suppleness and elasticity due to aging and hormonal changes.
Wrinkled elbow skin
While wrinkles on other parts of the body signify aging, wrinkles on the elbow are commonly seen in younger persons. This is due to the fact that the skin on the elbows is naturally loose. Nature's solution to maintaining arm flexibility is a little additional skin above the elbow.
However, you may see additional wrinkles collecting above the elbows as a result of aging or sun exposure. Sagging elbows and sagging knees are typical complaints among women as they age.
What Causes Wrinkled Skin on Arms?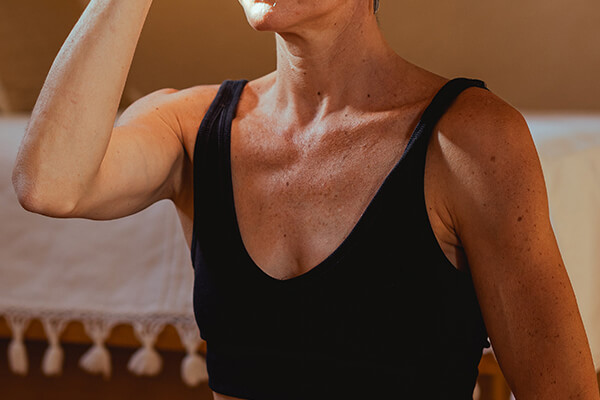 Wrinkled skin on arms is generally caused by your skin losing its elasticity. There are several common reasons for this, including:
Aging
Your body generates less collagen as you age. Collagen is a skin building block that aids in the prevention of wrinkles, moisture loss, and sagging. Your genes may play a role in the amount of collagen you lose as you become older.
Losing weight
If you've been on a crash weight loss diet, you may discover that your arms appear more wrinkled. Excessive weight loss can result in loose arm skin.
Hormonal changes
The skin changes dramatically during menopause. Your skin loses its elasticity because your body stops making as much collagen. When your hormone levels drop, your skin can become dry, thin, and saggy.
Some illnesses or medication
Long-term usage of some drugs may cause skin wrinkles in certain people. These treatments include topical and oral corticosteroids, prescription blood thinners, and other medications.
Some illnesses may also cause wrinkled skin on the arms. Speak with your doctor if you have concerns.
How to Tighten MILD Wrinkled Skin on Arms
Eat a collagen boosting diet
Some foods can help promote collagen production, which aids in the treatment of wrinkled skin. Try to include wild salmon, spinach, quinoa, protein drinks, slow-roasted almonds, grass-fed meat, and coconut in your diet.
See out our article on 10 Collagen Boosting Foods to Beat Cellulite and Saggy Skin to learn more.
Dry brushing
Brushing your skin using a high-quality bristle dry brush promotes circulation and the production of collagen. We recommend using a high quality natural bristle dry brush like our Tone & Glow Body Brush.
Exercise
If you have slight sagging and want to achieve sleeker, more toned arms, then try exercising. Workouts that increase muscular mass or tightens muscles can help to lessen the appearance of drooping skin.
Firming creams and serums
Topical creams and lotions can help decrease mild sagging. These formulas often include ingredients such as retinol or peptides to increase suppleness and collagen formation.
Our Arm Sleek Upper Arm Firming Serum is packed with proven tightening ingredients including caffeine, Actigym, and peptides for reducing the look of skin sagging.
How to Tighten SEVERE Wrinkled Skin on Arms
If you've tried the above solutions and haven't seen any improvement, you might want to explore professional skin tightening treatments for your arms.
Here are the best procedures for wrinkled skin on arms:
Laser resurfacing
The use of laser resurfacing may reduce wrinkles and tighten the skin. It uses brief light pulses to improve the skin's appearance. Fraxel is one of the most common laser resurfacing treatments for the arms.
Laser resurfacing removes the top layer of skin while heating deeper tissues to promote collagen formation. This is often referred to as ablative skin resurfacing.
RF microneedling
For skin rejuvenation, microneedling can be performed at home or at a doctor's office. Professional microneedling uses  significantly longer needles than those available for home usage.
Radiofrequency microneedling, or RF microneedling, combines microneedling and radiofrequency energy to tighten skin. This can be an effective way to reduce the appearance of sagging skin on the upper arms. Expect to need at least 3-4 sessions to see results.
Arm lift surgery
If you have severe wrinkles or significant sagging on your arms, then the gold standard treatment is arm lift surgery.
Although this surgery leaves a large scar down the length of the arm, it can greatly improve the contour of the arms by removing excess skin and fat.
Our Top Products to Tighten Wrinkled Skin on Arms
If you have mild wrinkled skin on your arms, the good news is that it's not too late to take action and see a significant improvement with the proper diet, exercise, and skincare changes.
If you have severe wrinkled skin on your arms and opt for a procedure, it's still very important to take care of the skin to ensure long lasting results.
Here at Cheeky Physique we are passionate about helping women feel great about their bodies – and arms! That's why we've created several products designed to firm and tighten the upper arms.
Here are our top products to help you feel confident about showing off your arms at any age:
Tone & Glow Body Brush
This premium natural bristle body brush exfoliates skin, increases cell turnover, and improves skin texture to reduce the look of crepey, loose skin and wrinkly elbows. Shop the Tone & Glow Body Brush here.
Arm Sleek Upper Arm Firming Serum
Arm Sleek combines multiple clinically proven skin firming ingredients to tighten the appearance of the upper arms, giving the arms a sleeker, firmer, more youthful appearance. Shop Arm Sleek here.
Fabulous Arms Kit
Our complete firming and smoothing routine for the arms includes our two must-haves – the Tone & Glow Body Brush and Arm Sleek – in one convenient kit. Shop the Fabulous Arms Kit here.