This post looks at the best exercise, diet, and skincare to build your booty without doing squats. Discover how to get a bigger butt without squats in 6 ways.
Squats are the exercise most people turn to when wanting to build and tone their booty! In fact, almost every trainer recommends squats as a must-do exercise for bulking up buttocks.
However, the popular squat does have some drawbacks. Squats can be painful on your knees, and if done incorrectly, they can work your quads more than your glutes – making them less effective as a butt builder.
So, if you're not feeling the squat love, we have some good news for you! There are effective methods to a bigger butt sans squats.
In this post, we'll look at how to get a bigger butt without squats with simple diet, exercise, and skincare hacks that are easy to follow.
1. Do Leg Lifts
Simple leg lifts on all fours are one of the most effective alternative exercises for sculpting and building your butt. Leg lifts offer several benefits:
They help to tone and tighten your legs.
They help to strengthen your glutes.
They help with stability and strength.
They help you build muscle in the lower body, which can lead to a faster metabolism and a higher caloric expenditure all day.
To do leg lifts, begin on all fours with your right leg stretched out behind you. Squeeze your right hamstring and glute to raise your leg to the ceiling. Lower your leg slowly and repeat for 3 sets of 10 reps. Repeat on the other side.
Or if you're really serious, follow along with the bubble butt challenge video above for a total of 300 reps!
2. Increase Protein Intake
To grow your butt, you need muscle, and to get muscle, you need protein. Increasing the amount of protein you eat is a great way to help tone your bum muscles without doing endless squats.
The amount of protein we eat affects whether our muscles are building up or breaking down. You should eat between 1.2 and 2.2 grams of protein per kilogram of body weight every day to help your muscles grow.
The key to increasing muscle growth is to feed your muscles high-quality protein. High-quality protein examples include:
Fish
Lean meats
Eggs
Nuts and seeds
Whey protein
Tofu
Quinoa
3. Try a Vacuum Butt Lift
A vacuum butt lift is a non-invasive cosmetic procedure that uses suction cups as well as vacuum suction to lift and contour your butt. It improves your booty by stimulating the muscles, transferring fat deposits, breaking up cellulite, and promoting skin elasticity.
Typically, 2 – 4 sessions are required for best results, and they should be completed within a span of 1 – 2 weeks.
The great news is that the procedure is painless. And, depending on how your body reacts to the procedure, you can enjoy a perky booty for up to one year. This makes it a worthwhile procedure to invest in.
If you're curious to learn more, be sure to check out our comprehensive guide to non-surgical vacuum butt lifts here.
4. Add Maca Root
Maca root, when combined with exercise and diet, has the potential to help you get a bigger butt. This magical plant grows in Peru's Andes Mountains and is usually eaten as a food.
Because maca root is a superfood, it can help with your overall body sculpting goals in a variety of ways. This includes balancing hormones, supporting muscle growth, and supplementing your diet. Maca root can be consumed in the form of capsules, powder, tea, or food.
We go into more detail on the use of  maca root for curves here.
5. Do Glute Bridges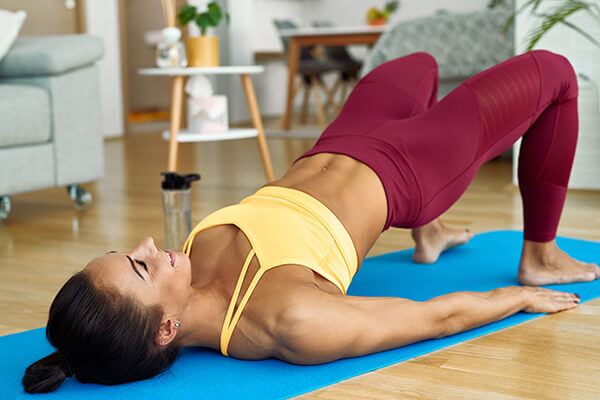 Did you know that you can fire up your butt using this incredibly simple exercise? Glute bridges are super popular because they give incredible results, including building strength in the butt and hips, and growing a bigger butt.
There are numerous variations of the glute bridge! As a beginner, try this simple version:
Lie on your back with knees bent and feet shoulder width apart. Squeeze your butt cheeks firmly together and propel your hips up as high as they will go. Return to the original position and repeat.
For a more intense glue bridge workout, try the 10 min glute bridge burnout video above.
Tip: Alternate between the glute bridge workout and leg lift workout 4-6 times per week for maximum booty building results.
6. Try Sublime Curves
Last but not least, skincare is the proverbial icing on the cake. Did you know that you can enhance the results of your booty-building diet and exercise regimen with innovative butt beauty products?
Sublime Curves is our 5-star rated booty shaping cream formulated with powerful bum enhancing ingredients. Key ingredients maca root, Voluplus, and Uplevity peptide promote the look of plumping, firming, and lifting.
Using it regularly will help you get a perkier-looking butt, restore volume and lift, and firm and smooth your skin's appearance. Add this must-have secret weapon to your booty-shaping game plan and be prepared to turn heads wherever you go.