This post answers the question: Does vacuum butt lift work? We look at the top 8 things you need to know about vacuum therapy for buttocks.
Many women aspire to have a perfectly rounded butt, especially with the rise of social media influencers flaunting their flawlessly pert booties.
This has caused an increase in the butt lift craze, which doesn't appear to be going away anytime soon! However, despite its popularity, a surgical BBL (Brazilian butt lift) has the highest complication rate of any plastic surgery procedure.
Add to the fact that it can cost you an arm and a leg and be excruciatingly painful, it certainly doesn't seem like the best option for getting a nice rounded booty.
If enhancing your curves is what you desire, then it's worth knowing that there are other ways you can achieve a perky derriere. And a popular way to do this is with a non-surgical vacuum butt lift.
But does vacuum butt lift work? The answer is YES, it certainly can to some degree.
Read this article to find out more about this non-invasive butt enhancement procedure so you can decide if a vacuum BBL is right for you.
1. What is a Vacuum Therapy Butt Lift?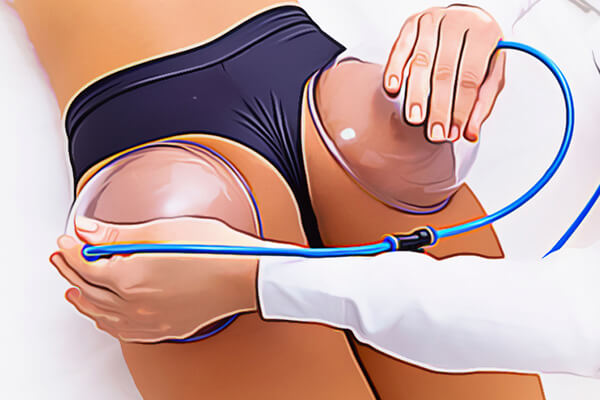 A vacuum therapy butt lift is a cosmetic procedure that lifts and contours the buttocks using suction cups and vacuum suction. It enhances your butt by stimulating the muscles, breaking down cellulite, shifting fat deposits, increasing lymph flow and circulation, and improving skin elasticity.
Unlike butt augmentation and BBLs, vacuum therapy is non-invasive. This means there are fewer risks involved making it one of the safest and most painless ways to get a butt lift.
Depending on the individual, two or more sessions are needed to see results. The final result is an improved texture around your glutes and a visibly toned, lifted, and more rounded butt.
2. What are the Benefits of a Vacuum Butt Lift?
Vacuum therapy for the buttocks is worth considering if you're looking to improve the appearance of your butt.
Plus you stand to gain many benefits from a vacuum butt lift session. Here are 6 of these amazing benefits:
1. Lifts and tones
The suction cups which are placed on both butt cheeks can lift and tone your butt by mimicking the effects of butt exercise. Some practitioners claim that a vacuum butt lift is the equivalent of 1,500 squats.
Your underlying muscles will be stimulated to lift your derriere, while cellulite deposits are broken down.
2. Increases muscle mass
Vacuum therapy stimulates your muscle and this continuous stimulation can cause the gluteus muscles to grow leaving you with a visibly larger butt.
3. Improves skin elasticity
Collagen is responsible for the degree of elasticity your skin possesses. Less collagen equals less skin elasticity.
Studies show that vacuum therapy can stimulate fibroblasts (cells that maintain collagen and promote skin repair), thus enhancing skin firmness and elasticity.
4. Increases blood circulation and lymphatic drainage
Vacuum therapy stimulates the glutes and causes more blood to flow in that area. This has been shown to get rid of toxins and improve lymphatic drainage.
5. Better skin texture
Vacuum therapy breaks down fat deposits and smooths out cellulite. It does this by using the suction mechanism to lift the skin's underlying fascia, thereby reducing the surface dimpling.
After the procedure, you'll notice that your skin is smoother with a minimized appearance of cellulite.
6. More cost-effective and safer
Any surgical procedure to enhance your booty features is going to cost you a lot of money. BBLs and butt augmentation procedures can have you spending hundreds of dollars for the surgery alone.
Add to the fact that they're the most unsafe procedures, vacuum therapy for buttocks is a better option to go with.
3. How Does a Vacuum Butt Lift Work?
The great news is that getting a vacuum butt lift is like getting a massage at your favorite spa. The procedure is non-invasive and painless.
For a better understanding, here's a step by step on how the vacuum butt lift works:
Step 1
While the patient is lying on their stomach, specialized suction cups are applied along the buttocks.
Step 2
These cups are left on the butt for about 30 – 45 minutes with a specialized intensity depending on the patient's tolerance.
Step 3
The cups are made out of transparent material that grants the therapist access to monitor the effects of the suction treatment.
A vacuum butt lift session should take about 30 minutes. However, it's not unheard of for a session to last up to 45 minutes as it mostly depends on the tolerance of the patient.
4. How Long Does a Vacuum Butt Lift Last?
As for the results of a vacuum butt lift session, you can enjoy your perky booty for up to a year depending on how your body takes to the procedure.
While the results are temporary, they last long enough that most people find a vacuum butt lift to be well worth the time and expense.
5. How Many Vacuum Butt Lift Sessions Will I Need?
Typically, you'll also need about 2 – 4 sessions for best results and they should be done within a 1 – 2 week span.
Coupled with the right treatment plan, you can maintain your perky butt for a long time.
It's worth noting that if it's your first session you might need to undergo the procedure for the maximum amount of sessions. But in subsequent months (the maintenance period), you can go fewer times.
6. Is a Vacuum Butt Lift Safe and Are There Side Effects?
These butt lifts are safe and for the most part painless apart from a slight pinching sensation you might receive when the cups are being applied and removed.
Needless to say that everybody is different which means some people can experience some minor side effects. A common side effect of a vacuum butt lift is numbness or redness on your butt, and some people even report experiencing a tingling sensation.
However, this doesn't last very long nor should it deter you from carrying out your regular day to day activities. The possible side effects should last for about 3 – 5 minutes maximum.
7. How Much Does a Vacuum Butt Lift Cost?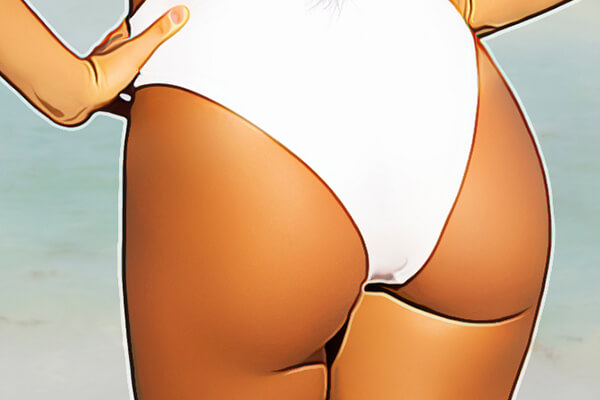 Cosmetic procedures to enhance your features can cost you a lot of money depending on what part of your body needs some extra TLC.
For example, if you were to get a BBL from a reputable plastic surgeon, you should be ready to pay up to $8000 for it!
That's why it's very refreshing that vacuum butt lift, while giving you similar results, doesn't cost as much. Depending on your location and the attending therapist, you can spend only $85 for an hour-long session.
You'll need more than a single session to get your desired results, but it still won't add up to the amount needed to get a BBL.
8. Where Can I Get a Vacuum Butt Lift?
Before walking into any clinic, make sure you do your research to ensure that you're being handled by a properly licensed or certified provider.
Be sure to ask important questions such as:
Where did they get their training or education?
What has been their experience with the procedure thus far?
If possible, ask to see their portfolio and credentials.
And although everyone likes a discount, be wary of facilities that offer you a butt lift at an extremely low price. Make sure you're getting the best you can afford to avoid possible health or safety issues.
BONUS: How Can I Maximize My Butt Lift Results?
While vacuum therapy certainly does the heavy lifting (pun intended!), you can enhance your results with the use of topical ingredients that firm the skin and can also enhance plumping effects.
We recommend adding Sublime Curves Booty Shaping Cream to your butt enhancement treatment. This cream contains key ingredients that can help in giving you a firmer and better-looking booty.
These ingredients include Voluplus, an innovative "lipofilling" ingredient that visibly plumps skin, maca root to boost curves, and Uplevity peptide to tighten and firm skin while reducing the look of cellulite.
As a matter of fact, Sublime Curves is used in many body contouring spas as part of their vacuum butt lift procedure.
However, you don't need to wait to schedule a vacuum therapy treatment to start seeing results from Sublime Curves…
Learn how to enhance your booty shaping game plan with Sublime Curves here!