If you suffer from cellulite, you've probably tried a lot of things to reduce its appearance.
But did you realize that there are some lesser-known solutions?
There are a few causes of cellulite, and diet and exercise alone usually aren't enough to eliminate this stubborn problem.
Instead, these 5 cures can help by addressing the true causes of cellulite.
1. Cranberry water
Cranberries are a popular health food, but what you might not know is that they're also a fantastic remedy for cellulite.
Cranberries contain natural organic acids that have been shown to help dissolve fat deposits (like the kind that cause cellulite!).
One of the causes of cellulite is water retention. Cranberry helps to combat this because it's a natural diuretic that flushes excess fluid from the body.
Cranberries are packed with vitamin C and bioflavinoids, two important factors in the production of collagen.
Collagen is a major building block of the skin and connective tissue and a lack of it can definitely increase the likelihood of cellulite.
Try this cranberry drink recipe to get your recommended dose in!
Mix 1 cup cranberry juice with 8 cups water to make a pitcher of cranberry water.
Use pure, unsweetened cranberry juice only.
Look for brands like R.W. Knudsen, Trader Joe's, Mountain Sun, or Simple Truth at the supermarket or health food store.
Drink the entire pitcher in a day in the place of your normal water intake.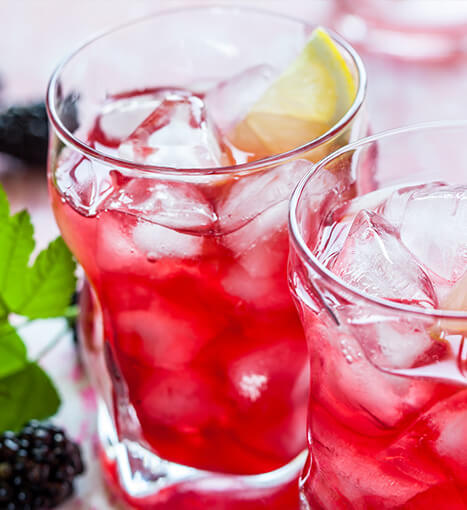 2. Mini trampoline
Rebounding is not only great for your health, it's one of the best cellulite busting exercises you can do.
Your body gets rid of waste through its lymph system. The act of jumping up and down helps to pump lymph, getting rid of any fluid buildup or retention that could be causing your cellulite to look particularly unsightly.
Rebounding also increases overall circulation throughout your body, which can lead to increased cell repair. This results in rejuvenated skin and connective tissue!
Jumping on a trampoline is a great workout that tones almost every muscle in your body. Toned muscles don't cure cellulite, but they do provide a firm foundation for the layers of skin above them, creating a smoother appearance.
Ready to jump away your cellulite?
Jump on a mini trampoline for at least 10 minutes per day.
10 minutes on mini trampoline is equivalent to 30 minutes on treadmill with 40% less impact on joints!
3. Dry brush
Dry brushing is just what it sounds like; it's a process that involves lightly scrubbing your skin with a soft-bristled brush.
How does it help cellulite?
Dry brushing exfoliates the skin and promotes the turnover of cells. Fresh cells do a much better job of holding water than dead cells. This creates plump, hydrated skin that helps mask cellulite.
The brushing motion goes further than just your skin. It improves lymph flow and blood circulation, decreasing the water retention that tends to plump up your cellulite.
Try it out for yourself to see if it helps!
Use a natural bristle brush like the Yerba Prima Tampico Skin Brush.
Brush right before you shower so you can wash away the dead skin cells.
Start at your feet and use long upward strokes, brushing over your entire body for 3 to 5 minutes.
Always brush in the direction of your heart to facilitate circulation and lymph drainage.
Spend a bit more time on areas with cellulite and use circular motions for extra stimulation.
Repeat at least 3-5 times per week, ideally daily.
4. Flaxseed
Introducing flaxseed into your diet can work wonders to improve the appearance of cellulite.
Flaxseed is a natural phytoestrogen with hormone balancing benefits. If you have any hormone-related water retention, it can really help relieve it.
Flaxseed contains essential fatty acids that keep the skin plump and hydrated. This helps smooth the appearance of cellulite.
Flaxseed also gives you a great fiber boost, aiding in the detoxification process.
Ready to incorporate flaxseed into your diet?
Use ground flaxseed since whole flaxseeds don't digest as well.
Find flaxseed in most supermarkets and health food stores.
Add ground flaxseeds to yogurt, smoothies, soup, salads, and sandwiches (you can mix them with mayo or mustard).
5. Cupping massage
While all of these cellulite cures are helpful, cupping just might be the anti-cellulite Holy Grail.
Cupping goes beyond the effects of these other cures because it addresses the #1 cause of cellulite.
You see, the main culprit behind cellulite isn't fat – it's actually the connective tissue beneath the skin.
When the connective tissue bands that surround your fat cells weaken (due to poor circulation or a malnutrious diet), they become stiff and inflexible.
Cellulite occurs when fat pushes against the hardened connective tissue, giving the skin a dimpled, uneven look.
So what is cupping and how can it help?
Cupping is an ancient technique that uses cups to apply vacuum pressure to different parts of the body.
Cupping is usually performed to increase circulation, detoxify the body, and promote healing.
However, it also has some fantastic, cellulite-reducing benefits!
It helps stretch and relax the hardened connective tissue beneath the skin, increasing elasticity and helping reduce the dimpled appearance of cellulite.
It promotes healthy circulation of nutrient-rich blood, rejuvenating the skin and underlying tissues.
It stimulates the flow of lymph, part of your body's natural detoxification system. This helps dissipate fluid retention that emphasizes the appearance of cellulite.
Sounds great, right? If you're ready to sign up for treatment, you're in luck…
Many massage therapists and spas are aware of the incredible benefits of the 2,000-year-old art of cupping therapy.
You can get a wonderful relaxing and beneficial treatment at one of these spas.
However, if you want to save money and experience the benefits of cupping in the comfort and convenience of your own home, try Cheeky Cups!
Cheeky Cups are a premium cupping massage system created specifically for body contouring and cellulite reduction.
The Cheeky Cups Body Contouring Kit includes 2 silicone massage cups (medium and small for different parts of the body), a cotton travel pouch, and an instruction manual.
Cheeky Cups are convenient and easy to use. Use them in the shower or wherever it is most convenient. This simple tool fits easily into your routine and offers a truly effective way to combat cellulite.
Combined with a healthy diet and regular exercise, Cheeky Cups offer a remarkably effective way to achieve a sleeker, smoother silhouette in only minutes per day.