One of the downfalls of being a woman and a cruel part of our body's development is the arrival of stretch marks. These tiger stripe-style marks are actually scars from when our skin has had to stretch or shrink in an abrupt amount of time. This can be caused by growth spurts, rapid weight loss or gain, and the number one reason for stretch marks amongst women – pregnancy. Although almost every woman and even some men have these scars, they seem to be a source of embarrassment, and the majority end up spending countless hours searching for ways to reduce stretch marks. 
If you've dealt with a scar before, then you'll know it's virtually impossible to remove them completely from the skin – but that doesn't mean you're stuck with your stretch marks forever. You can drastically minimize the appearance of your stripes with a little help from a dry brush! Dry brushing has many benefits for the skin, including reducing the sight of stretch marks. A weekly dose of dry brushing is quick, painless, and so simple to add into your skincare routine, you'll be mad for not trying it sooner! 
Here's everything you need to know about minimizing your scars and dry brushing stretch marks away!
1. Exfoliates skin
To reduce stretch marks, exfoliation is vital. When the bristles of a dry brush rub against the skin, it encourages healthy cell turnover and general skin renewal. Ideally, you want the best cell turnover your body can provide, as this is what brightens the skin. 
When your skin has been put through stress resulting in scars, wounds, or marks, it needs to repair itself. As exfoliation boosts your skin's renewal, it boosts your healing abilities too – and this is what's necessary if you want to get your stretch marks looking near to invisible. 
Along with a nice healthy glow, exfoliation removes any dead skin cells that might be trapped on the skin's surface. This makes room for new skin cells which can promote the fading of scars like stretch marks, and it helps products such as moisturizers, balms, and creams to absorb fully and penetrate deeper into the skin.
2. Increases blood flow
Another benefit dry brushing has on stretch marks is its ability to increase blood flow. When your circulation isn't up to speed, it can hinder how the rest of your body works. Kind of like a domino effect, if your body isn't pumping the blood efficiently, it will delay new skin cell and protein production, and ultimately prolong the healing process. 
our skin is in constant need of oxygenated blood, and so if your circulation is poor, your skin won't be getting the oxygen and nutrients it gets from freshly pumped blood. 
3. Increases collagen production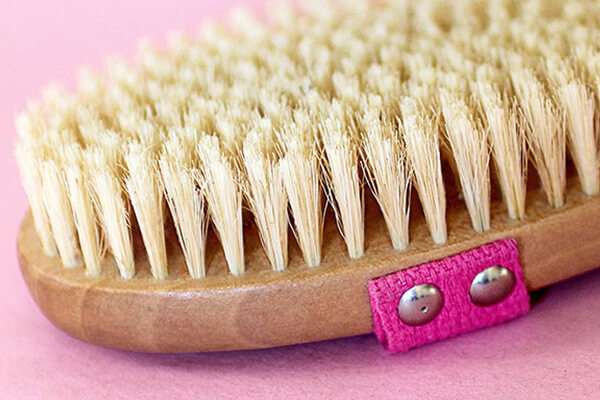 If your stretch marks are fairly new, collagen can help to fade them out quickly. Dry brushing stretch marks and their surrounding areas will increase the collagen your body produces – this is beneficial for banishing the marks. Collagen helps to firm and smooth out your skin while adding elasticity to it. 
The firming properties in collagen help to glue the skin back together, repairing any skin tears. Now, elasticity is key for keeping the marks gone. If your skin has more elasticity, it's less likely you'll suffer from stretch marks in the future if your body ever goes through another abrupt change. So not only will dry brushing reduce stretch marks you already have, it will reduce your chances of getting them again, too!
4. Increases absorption of skincare products
Dry brushing is great for the general health of your skin, but it's especially good for stretch marks when used alongside skincare products. There are many oils and creams designed to help fade out stretch marks which work relatively well, but when paired with dry brushing you'll see far better results. 
When you dry brush your skin, the bristles remove any dirt and dead skin cells that might be trapped on the upper layers of your skin. Once these have been removed, it leaves the skin open to receiving products better, thus making them more effective.
5. How to dry brush stretch marks
Before you begin your dry brushing journey, you need to know how to properly do it and what's best to use. Dry brushes come in all different varieties, but we think it's best to find one with natural bristles as these aren't too harsh on the skin. The Tone & Glow Body Brush has both natural boar bristles and a useful hand strap, perfect for dry brushing beginners!
Once you've found your perfect brush, you need to use it correctly. The trick is to always brush towards the heart – this means starting at your hands and feet and working your way up your limbs towards your chest. When dry brushing stretch marks, it's good to use circular motions and to spend an extra few moments on the isolated area. Remember, always dry brush before you bathe and try not to overdo it – more than 3 dry brushing sessions a week and you could do more damage than good!