In this post we look at how to tighten stomach skin without going under the knife. Regain confidence in your body and belly with 5 natural ways to treat your tummy.
Our bodies go through some extreme changes in life – childbirth, aging, weight loss, and even weight gain. Unfortunately for us, these changes can take a major toll on the tummy.
Depending on how quickly and severely your skin has had to adjust, it can leave you with some ill-favored results: stretch marks, loose skin and even the dreaded "belly pouch."
But with hard work and the right lifestyle changes, it's possible to tighten skin on the stomach and abdominal areas naturally. Before going under the knife, why not try these natural techniques first?
We look at how to tighten stomach skin and regain confidence in your body in 5 natural ways.
1. Eat skin-firming foods
Some of us struggle with loose skin due to loss of elasticity and collagen in our bodies. As we age, our bodies make less collagen and that results in the skin becoming less likely to bounce back to its previous form after it's been stretched. Our natural collagen production starts to deplete when we hit our late 20s, so this step is vital for those over 30. 
Look for foods that are high in collagen and protein that won't make you bloated. High protein foods that also enhance collagen production include:
Bone broth
Chicken
Fish & shellfish
Egg whites
Cashews
Beans
These foods are perfect for giving your skin back its elasticity while providing your body with filling energy.
2. Stay hydrated
Never underestimate the power of good old H20. Proper hydration levels help keep skin plump and improve its elasticity. Studies show that drinking water increases blood flow to the skin, enhancing skin tone. 
Additionally, water helps flush out toxins that contribute to belly bloat. It also aids digestion, which is essential for maintaining a firmer, sleeker-looking abdominal area.
You should aim to drink around 8 cups of water per day to see the best possible results. Also, look for ways to add foods with high water content into your diet, including: soup, coconut water, cucumbers, watermelon, and oranges.
3. Tone your muscles
To get that tight stomach you desire, you have to put in the work. Yes, that means exercise! 
By increasing blood flow, exercise helps nourish skin cells and keep them vital. Furthermore, toned muscles create a firm base for your skin, which reduces the look of saggy or loose skin. 
You can target the abdominal muscles with a variety of different free-weight exercises, as most are floor movements that use your own body weight as resistance. Planks, stomach crunches, and leg lifts for example are all great moves that you can do at home and in the gym.
4. Dry brushing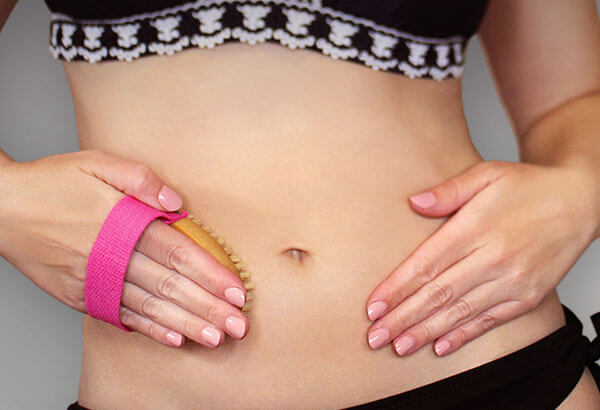 For firmer skin and bloating relief, try dry brushing. You can achieve super smooth, exfoliated skin, as well as an increased blood supply and collagen levels. 
Dry brushing works by using a natural bristle brush to massage and exfoliate the skin. The friction against the skin will help to drain out your lymph nodes and brush away any dead skin cells, leaving you feeling baby smooth and bloat-free! 
We suggest the Tone and Glow Body Brush, available in the Toned Tummy Kit, for the best tummy-tightening results! Dry brushing is also known to reduce the appearance of visible stretch marks, making it a much-loved technique for baby mommas.
5. Targeted skincare
Skin-tightening serums and moisturizers are a perfect addition to your skincare routine that can provide great results quickly. 
When looking for a skin firming lotion, it's important to look for ingredients such as caffeine and peptides. Caffeine is a fast-working ingredient used for reducing puffiness and instant skin tightening, while peptides promote collagen and elastin in the skin. Antioxidants are good too, as they help to protect from skin degeneration.
You'll find all three ingredients inside our Tummy Sleek Tummy Tightening Serum (available in the Toned Tummy Kit).This 5 star-rated sculpting serum visibly smooth and tighten skins while softening the look of stretch marks.