This post answers the question: Does cupping help with cellulite? We share 3 reasons why it works and how to incorporate cupping massage into your routine.
With so many cellulite treatments out there, it can be hard to know what really works. One treatment that's stood the test of time is cupping.
Cupping is an ancient technique that involves using suction cups on the skin. Traditionally used to boost circulation and detoxification, it's become a popular way to treat cellulite.
But does it really work? Our answer is a resounding yes!
In this article, we take a closer look at cupping for cellulite. First, we bust some common cellulite myths (which explains why so many other cellulite treatments fail). Then, we look at why cupping helps with cellulite and how to do it.
5 Most Common Myths About Cellulite
You've probably heard a lot about cellulite, but do you know what's true and what's not? Here are some of the most common myths you may have heard about cellulite.
Myth #1: Cellulite is the same as ordinary fat
Many so-called experts claim that cellulite is the same as ordinary fat. However, this simply isn't true for several reasons.
Cellulite has a dimpled appearance, whereas fat in other areas has a smooth appearance.
Men rarely suffer with cellulite, while around 90% of women have it.
Even the thinnest women get cellulite, so it has no correlation to how much body fat you have.
Myth #2: Losing weight is the best way to get rid of cellulite
This is inaccurate, given that thin women can suffer from cellulite just as much as heavier ones.
The connective tissue, or fascia, under the skin is what causes cellulite. When fat pushes against the connective tissue, it makes the skin look bumpy and uneven.
Since no diet can get your body fat percentage to zero, losing weight is rarely the solution.
MYTH #3: Liposuction can get rid of cellulite
Liposuction can reduce fat if you're willing to undergo surgery, but does it actually do anything for cellulite?
The short answer is no. Liposuction has no effect on the connective tissue, so it fails to address the root cause of cellulite.
Liposuction can actually make cellulite worse by loosening the skin and making cellulite recesses deeper.
Myth #4: Cellulite is a normal part of being a woman
This is probably the only claim on this list that has some merit.
Have you ever wondered why women get cellulite and men don't? It all comes down to the connective tissue:
In women, the connective tissue is formed in vertical columns.
In men, the connective tissue is formed in a crisscross pattern.
Due to the structure of women's connective tissue, the fat has a tendency to bulge out at the top of the column, creating the orange peel appearance of cellulite.
Men don't have this problem since the crisscross pattern of their connective tissue keeps the fat tight and smooth.
However, not all women suffer from cellulite, so this clearly isn't the norm for every woman.
Myth #5: There's nothing you can do to get rid of cellulite
Don't believe this for a second. There's plenty you can do to reduce the appearance of those lumps, bumps, and bulges.
Your anatomy and genetics play a role, but controlling cellulite is mostly a lifestyle issue.
A healthy diet and regular exercise are the first steps to getting rid of cellulite. But this isn't a complete fix because the problem lies with the connective tissue, not necessarily the fat.
In the next part, we'll explain why cupping may be the missing link in your cellulite-reducing regimen.
How to Reduce Cellulite With Cupping Massage
Cupping massage is one of the most effective treatments to reduce cellulite. In this section, we'll explain everything you need to know about this ancient therapy and how it can help you sculpt and smooth your body.
3 benefits of cellulite cupping
Cupping is an ancient technique that uses cups to apply vacuum pressure to various parts of the body.
It has traditionally been used for healing and detoxification, but it also has some great anti-cellulite properties. Here's why it's so beneficial:
It helps to smooth out connective tissue adhesions, increasing elasticity and reducing the dimpled appearance of cellulite.
It promotes healthy circulation of nutrient-rich blood, rejuvenating the skin and underlying tissues.
It stimulates the flow of lymph, part of your body's natural detoxification system. This helps dissipate fluid retention that emphasizes the appearance of cellulite.
How to do cupping for cellulite
Many massage therapists and spas are aware of the incredible benefits of the 2,000-year-old art of cupping therapy. You can get a wonderful relaxing and beneficial treatment at one of these spas.
However, if you want to save money and experience the benefits of cupping in the comfort and convenience of your own home, try Cheeky Cups!
The Cheeky Cups Body Contouring Kit
Cheeky Cups are a premium cupping massage kit designed specifically for body contouring and cellulite reduction. This is the same kit used by professional massage therapists around the world.
The Cheeky Cups Body Contouring Kit includes 2 silicone massage cups (medium and small for different parts of the body), a cotton travel pouch, and an instruction manual.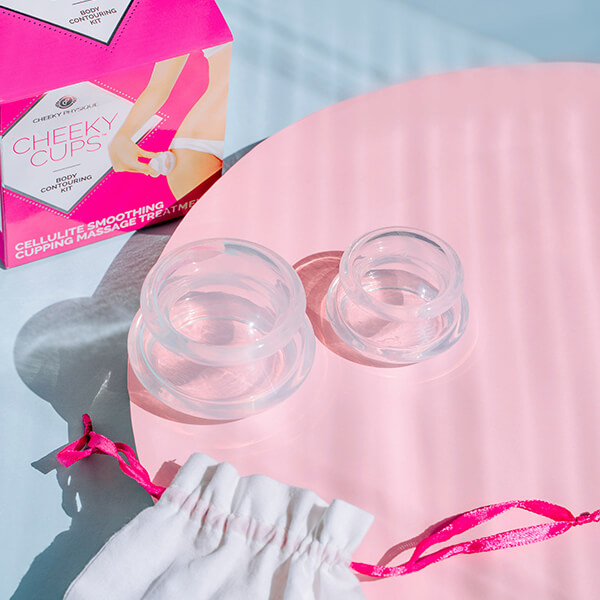 Cheeky Cups are convenient and easy to use. Use them in the shower or wherever it is most convenient. This simple tool fits easily into your routine and offers a truly effective way to combat cellulite.
Combined with a healthy diet and regular exercise, Cheeky Cups offer a remarkably effective way to achieve a sleeker, smoother silhouette in only minutes per day.