This post looks at the best at home methods to reduce the appearance of stretch marks on thighs. Plus 3 top products to help get you started! 
Stretch marks can appear anywhere on the body – from the stomach, butt, and arms, through to legs, hips, and even thighs. If stretch marks on your thighs have got you down, then you've come to the right place!
This post looks at 6 easy-to-follow ways to decrease the look of stretch marks so that you can show off your legs with confidence. And the best part? You can practice all of these treatments in the privacy of your own home.
What Causes Stretch Marks on Thighs?
Stretch marks happen when your body grows quickly in a short amount of time. This rapid growth can cause the skin to stretch more than it can handle, which can tear the middle layer of skin. This allows the lower layers of the skin to show.
Pregnancy, rapid weight gain or loss, puberty growth spurts, and quick muscle growth are the main causes of stretch marks.
6 Effective Ways to Reduce Stretch Marks on Thighs at Home
There are many stretch mark treatments out, including laser treatments, microdermabrasion, and professional microneedling. However, there's a lot you can do on your own to diminish stretch marks easily and inexpensively.
Here are six effective therapies to practice at home:
1. Exfoliation
Exfoliation is the process of removing dead skin cells from the surface of your skin. It's an effective way to reduce the appearance of stretch marks on your thighs.
Dead skin cells can clog pores and damage the look of your skin. Exfoliation removes these cells and increases cell turnover, which makes stretch marks less noticeable.
Another benefit of exfoliation is that it allows skincare products to be absorbed more easily. If you use a cream or oil on your skin to help prevent stretch marks, this can make it work much better.
There are a loads of ways to exfoliate your skin. You could use a sugar or coffee scrub, or opt to use an exfoliating sponge or body brush.
2. Gotu kola
Gotu kola (also known as centella asiatica) is a plant is widely used in both Ayurvedic and Chinese medicine. It also happens to be one of the most effective natural ingredients for reducing the appearance of stretch marks.
This is because gotu kola contains substances such as beta-carotene, amino acids, and fatty acids, as well as other phytochemicals that aid in blood circulation and collagen synthesis.
According to a 2013 study, gotu kola boosts collagen formation, which may help reduce the look of stretch marks while  preventing new ones from forming.
Contour Sleek, our cellulite-firming body oil, contains gotu kola as a key ingredient. Using it can help diminish the appearance of stretch marks over time.
3. Microneedling
Did you know that Collagen induction therapy (CIT) is another name for microneedling? This is due to the therapy's efficacy in enhancing collagen formation in the skin.
Collagen is a protein that helps the skin retain its structure and elasticity. Increasing collagen in stretch mark-prone areas can help renew the skin, enhance texture, and minimize pink or purple pigmentation.
As a result, microneedling significantly reduces the appearance of stretch marks.
Fortunately, there are many at-home microneedling devices that are far less expensive than professional therapy. These include derma rollers and derma pens.
For microneedling stretch marks, the needles should be 1.5mm to 2mm. Since this is considered deep microneedling, be sure to select a high quality device and follow the instructions carefully. You'll also definitely want to use a numbing cream!
4. Keep skin hydrated
Water is the most crucial ingredient in our bodies. If you don't drink enough of it, your skin will become dehydrated, increasing the likelihood of stretch marks.
Aside from drinking plenty of water, you should also keep your skin hydrating by using moisturizing skincare products. We recommend Contour Sleek as it's an excellent hydrating body oil that locks in moisture with camellia oil and jojoba oil.
5. Dry brushing
Dry brushing, as the name implies, involves using a dry bristle brush on the skin before taking a shower. It's a fantastic and affordable way to eliminate dead skin cells and increase blood flow, helping to diminish the appearance of stretch marks.
We recommend using a natural bristle brush such as our Tone & Glow Body Brush. The soft yet sturdy bristles exfoliate skin without irritation, encouraging cell renewal and improving the skin's tone and texture.
6. Cupping therapy
Cupping is a lesser known but highly effective way to improve the appearance of stretch marks.
Cupping is a traditional therapy that involves placing vacuum cups on the skin. It helps boost circulation, eliminates toxins, and stimulates the production of collagen.
When cupping therapy is used on scar tissue or stretch marks, it helps soften these tissues. Additionally, the increased blood flow helps aid in the healing process.
Many massage therapists offer professional cupping treatments. However, you can get the benefits of cupping therapy at home with our Cheeky Cups Body Contouring Kit.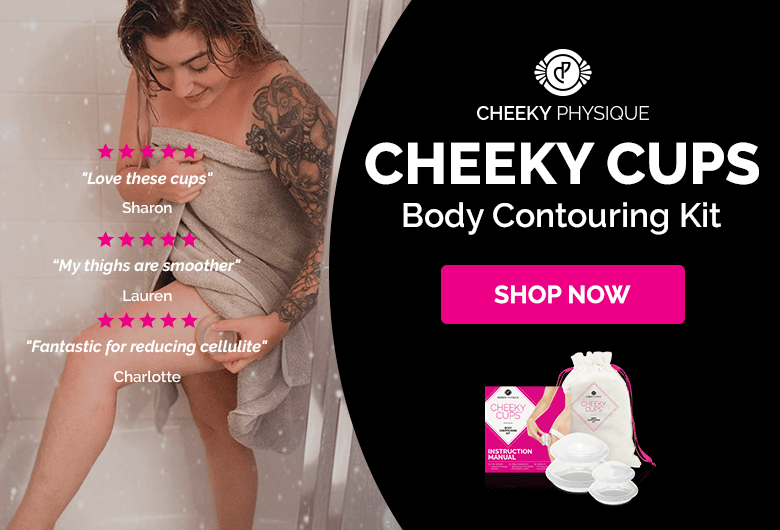 Our Top Products to Reduce Stretch Marks on Thighs
So, you've read about the best home remedies for stretch marks on thighs – now let's talk about the best products to help you out.
Here at Cheeky Physique, we've crafted an entire collection of body care products and tools to help you look and feel your best. Here are our top product picks to help you reduce the appearance of stretch marks on thighs.
Tone & Glow Body Brush
This premium natural bristle body brush helps reduce the look of stretch marks by exfoliating the skin, stimulating circulation, and allowing stretch mark-reducing creams and oils to be absorbed more effectively. Shop the Tone & Glow Body Brush and enjoy the benefits of this effective solution.
Cheeky Cups Body Contouring Kit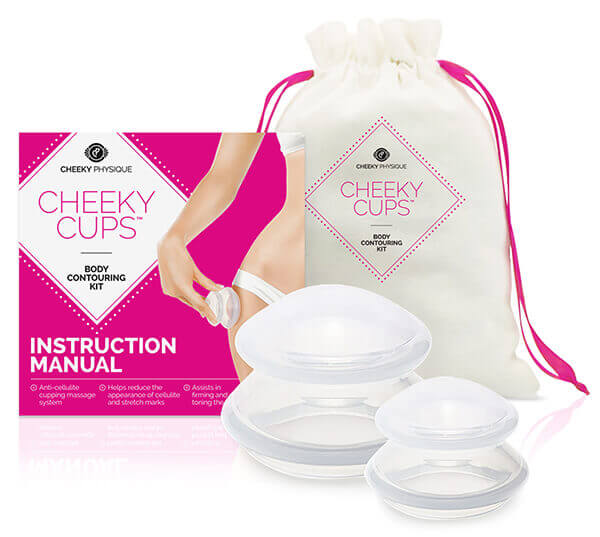 Based on ancient cupping techniques, Cheeky Cups work like a deep tissue "reverse massage" to stimulate circulation and soften the look and feel of stretch marks, scars, and cellulite. Shop Cheeky Cups for the best at home cupping experience.
Contour Sleek Cellulite Firming Body Oil
This hydrating body oil contains numerous key ingredients that improve the look of stretch marks, most notably gotu kola. Shop Contour Sleek cellulite-firming body oil for strut-worthy body contours and smooth skin.