This post looks at 5 quick and easy ways on how to hide stretch marks on your stomach and minimize them over time.
Stretch marks are common and occur most often when your body grows at a fast pace and your skin can't stretch fast enough to keep up. Examples include pregnancy, rapid weight gain or loss, and growth spurts.
In fact an overwhelming majority of women – between 50 and 90 percent – have stretch marks.
It's been said that you shouldn't be insecure about your stretch marks and we agree! But we also understand that it's not easy when you put on a bikini or a crop top and then look in the mirror.
Thankfully, there is good news! There are fast and effective ways to hide stretch marks on your stomach.
Keep reading to learn 5 ways to hide stretch marks on your stomach and minimize them over time.
Stretch Marks Q&A
What are stretch marks?
Technically, stretch marks are scars that occur when the collagen and elastin that supports our skin ruptures due to abrupt changes. These changes can be your skin stretching or shrinking too quickly, and as the skin heals over time, you may see stretch marks.
What causes stretch marks?
It is important to understand that the level of melatonin in your skin as well as other hormones may play a significant role in whether or not you will develop stretch marks. This is why not everyone gets stretch marks.
Genetics also seem to be a factor in the development of stretch marks, so you may have a higher risk if there are members of your family that have them.
If you are prone to developing stretch marks, it's most likely to occur during these times:
Pregnancy
Rapid weight loss or gain
Weight training with rapid muscle growth
Growth spurts during puberty or pregnancy
What's the difference between red & white stretch marks?
Red colored stretch marks are wounds that occur under the skin – this is when stretch marks are being formed. You may find that some of them are puffy or inflamed, which happens at the beginning when the marks are forming.
The scarring is red because the blood vessels are showing, and this is also why you may see little pops of red. It is during this stage that healing is best done by restoring collagen to the skin. Taking action at this stage can reduce further damage.
White stretch marks are healed over red scars that have been on your body for a longer time. Since these are older scars, they can't usually be treated with topical creams.
There are other treatments that are recommended to help improve the texture and reduce the visibility of white scars. Results from these treatments can vary from one person to another.
How to Hide Stretch Marks on Your Stomach
1. Cover them up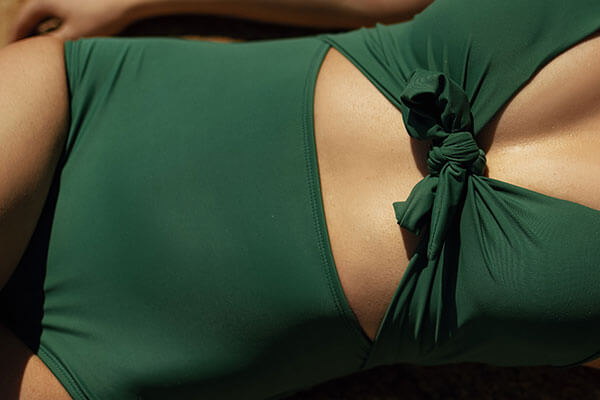 The most obvious way to hide stretch marks on your stomach, is to simply cover them up!
When it comes to swimwear, you can choose a suit with a higher waist or one that offers a tank top, also referred to as a tankini. There are also amazing one-piece swimsuit options with cute cuts outs that still cover your stomach.
Lastly, consider the art of illusion with a bikini that offers mesh or crochet style material between the top and bottom. These suits are considered one-piece suits, but look like bikinis with a sexy edge that is sometimes more appealing than wearing less.
2. Use sunless tanner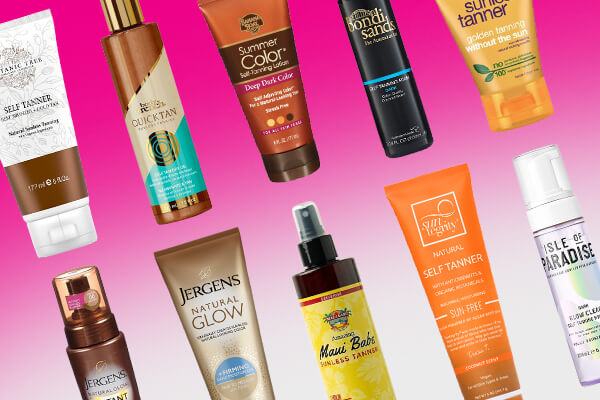 There are varying opinions on using sunless tanners when it comes to hiding stretch marks.
On one hand, there are experts that say that tans cause stretch marks to appear even more pronounced. This is because scar tissue doesn't tan in the same way or even speed as the rest of your healthy skin.
On the other hand, there are women who have been successful in applying tanning lotion only to the scars themselves and have found some relief in reducing the appearance of their scars.
3. concealer or body makeup
There are many effective products that help cover up a plethora of imperfections.
The most popular concealers that help cover up stretch marks are professional-grade body concealers. Most of these are water-resistant, and easy to apply.
The problem with body makeup and concealers is that they are usually designed to cover tattoos. Since their goal is to hide ink, they aren't usually designed to "float" like many anti-aging makeups.
This means that they "sink" down into crevasses and can sometimes draw attention to your scars instead of minimizing them.
4. Try dry brushing
Dry brushing is an amazing technique that helps to exfoliate skin, reducing the appearance of stretch marks that are older. Dry brushing can also increase blood flow, so if your scars are new, then this may help with the healing process.
Additionally, it increases collagen production, and since these scars are usually a result of collagen collapse, a new influx of collagen can help your scars fade more quickly.
Try our Tone & Glow Body Brush. The soft yet sturdy bristles improve skin texture and minimize the look of stretch marks by encouraging cell renewal.
5. Use the right skincare products
Using the right skincare products are essential for keeping your skin well-hydrated and elastic. Moisturizing ingredients, such as cocoa butter and natural oils, can help soften existing stretch marks and prevent new ones.
Certain ingredients can also help promote skin renewal and collagen production, which will fade the appearance of stretch marks over time.
Looking for an effective stretch mark serum? Try Tummy Sleek Tummy Tightening Serum. Our sculpting serum combines Actigym, caffeine, and bitter orange extract to firm the skin and soften the look of stretch marks.
What they say about Tummy Sleek…
"A must have! I am so grateful for this miracle product. My stretch marks are disappearing and my skin is more firm."
– MVP20
"I love this stuff! Within a week I noticed a difference in the elasticity of my stomach. It's difficult finding products that really work, I'm very pleased with this. Consistency is key."
– Chelly
"I have been using this product for less than a month twice a day and let me tell you that my only regret so far is why didn't I use this before. I have some loose skin on my lower abdomen from old stretch marks, I notice that my skin is getting more toned."
– Lourdes E.