Looking for the best smoothies for a flat stomach? This post contains our favorite smoothie recipes that help aid digestion, reduce bloating, and promote belly fat loss.
Is there such a thing as a perfect food? Probably not, but a smoothie comes pretty darn close!
Smoothies taste great and provide a powerful source of nutrients. Drinking them regularly can help you achieve your flat belly goals.
Incorporating a healthy smoothie into your daily diet can satisfy your hunger and sugar cravings, while helping to promote fat loss and muscle building.
Here are our 6 favorite mouth-watering smoothies for a flat stomach.
What are the Best Smoothie Ingredients for a Flat Belly?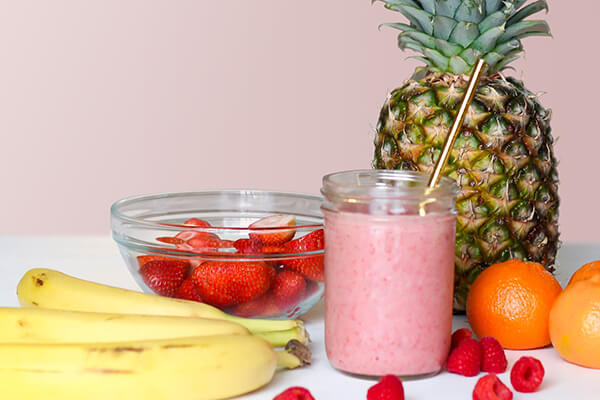 All smoothies are not created equal, and the last thing you want to do is load up on sugar-packed smoothies filled with empty calories.
Smoothies for a flat stomach incorporate ingredients that aid digestion and help prevent bloating.
Here are the 7 best smoothie ingredients to add to your flat belly game plan:
Cucumbers – loaded with water, which helps reduce bloating
Bananas – high in potassium, which helps regulate sodium to minimize water retention
Coconut water – filled with electrolytes and like bananas, they're also a great source of bloat-reducing potassium
Ginger – anti-inflammatory and helps aid digestion
Pineapple – contains fiber and bromelain, which is a natural enzyme that supports digestion
Yogurt – contains probiotics that reduce stomach gas and bloating
Chia seeds – a rich source of fiber, antioxidants, minerals, and omega-3 fatty acids.
How to Make Smoothies for a Flat Stomach
In this section, we've rounded up our favorite flat stomach smoothies that both taste amazing and deliver results…hello sexy belly!
The great news is that they're also super easy to make. We've focused on smoothie recipes that are simple to prepare and quick to whip together.
DIRECTIONS FOR SMOOTHIES:
Combine all ingredients in a blender and blend until smooth.
SMOOTHIE TIPS:
To make any smoothie a meal, add 1-2 scoops of protein powder to the recipe.
Use frozen fruit instead of ice if you can.
If adding ice, use 2-3 medium ice cubes per serving – using more than this can make your smoothie too watery.
Each smoothie recipe makes 2 small servings or 1 large serving.
1. No Bloat Cucumber Smoothie
Drink this and you'll be as cool as a cucumber. Cucumbers are great for flat bellies because they are made up mainly of water. This means less bloating and an easy way to cool down your body after a workout.
Ingredients:
1/2 cup Greek yogurt
1 cup peeled cucumber
1 banana
1 cup frozen pineapple
1 handful spinach leaves
Nutrition (per serving):
Calories: 174
Fiber: 3g
Fat: 4g
Protein: 8g
Carbohydrates: 30g
2. Belly Busting Coconut Smoothie
Not only does coconut water taste delicious, but it's also packed with bio-active enzymes that are known to ease digestion and boost metabolism. The result? You burn more fat. Sounds good to us!
Ingredients:
1 cup kale
1 cup coconut water (unsweetened)
1/2 orange
1/2 cup pineapple
1/2 banana
1 tbsp. chia seeds
Nutrition (per serving):
Calories: 261
Fiber: 11g
Fat: 5g
Protein: 8g
Carbohydrates: 52g
3. Digestive Strawberry Ginger Smoothie
Two of our favorite ingredients in one yummy smoothie. Strawberries boost digestion and enhance metabolism, while ginger acts as an anti-inflammatory agent and has thermogenic effects. This means you'll burn fat at the same time as enjoying these delicious taste sensations.
Ingredients:
1 1/4 cups orange juice
1 banana
1 in cube fresh ginger peeled
2 cups frozen strawberries
Nutrition (per serving):
Calories: 169
Fiber: 5g
Fat: 1g
Protein: 3g
Carbohydrates: 41g
4. Tummy Shrinking Pineapple Smoothie
Take a trip to the tropics with a delicious pineapple-packed smoothie. This tropical fruit is filled with an enzyme called bromelain which is anti-inflammatory and belly-fat burning.
Ingredients:
1/2 cup Greek Yogurt
1/2 cup diced pineapple
1/2 banana

Nutrition (per serving):
Calories: 200
Fiber: 3g
Fat: 3g
Protein: 9g
Carbohydrates: 37g
5. Superfood Chia Seed Smoothie
It's called a superfood for a reason! Chia seeds are ultra high in fiber which keep you fuller for longer, and are one of the best foods to assist with weight loss. They boost digestion, metabolism, and are rich in Omega-3, making them a great belly-busting partner.
Ingredients:
1 cup strawberries
1 banana
1/2 cup Greek yogurt
1 cup almond milk
1/2 tsp vanilla extract
1 Tb chia seeds
Nutrition (per serving):
Calories: 159
Fiber: 5g
Fat: 3g
Protein: 9g
Carbohydrates: 24g
6. Fat Burning Green Smoothie
Get your tummy reducing greens in one delicious smoothie. Spinach is not only extremely nutritious, but it's also great for burning belly fat as it keeps your metabolism in check. While avocado keeps you fuller for longer and is said to help your body burn fat for fuel.
Ingredients:
1 1/2 almond milk
2 cups spinach
1 banana
1 apple
1/4 avocado
Nutrition (per serving):
Calories: 163
Fiber: 6g
Fat: 5g
Protein: 3g
Carbohydrates: 29g
Flat Stomach Bonus!
While those green smoothies are working their magic on your insides, take care of your tummy on the outside with Cheeky Physique's Tummy Sleek.
This lightweight, tummy-tightening serum contains sculpting ingredients such as Actigym, bitter orange extract and caffeine, which smooths the skin and firms the appearance of your midsection.
Even when your smoothie is finished and you're not hanging out in a plank position, Tummy Sleek works overtime so you don't have to. Oh, and it smells amazing!
TUMMY SLEEK
"After a couple weeks, I feel tighter and more toned."