This post will help you determine if you have cellulite or lipedema so you can take the proper action to treat your specific skin condition.
Have you tried every cellulite diet, treatment, and tip available to combat cellulite with little result? Then this blog post is for you!
For some women, the issue isn't cellulite at all, but rather a distinct skin disorder known as lipedema. Lipedema is a less common but more serious disorder that causes uneven fat accumulation on the thighs, legs, buttocks, and arms.
While cellulite is a cosmetic issue that affects over 90% of women, lipedema is a medical condition that affects roughly 10% of adult women. Therefore, determining the nature of your problem is crucial for successful treatment.
In this post, we will compare cellulite and lipedema and examine the causes, symptoms, and best treatments for each skin condition.
The Main Differences Between Cellulite and Lipedema
Cellulite and lipedema can have a similar aesthetic appearance, which makes them easily mistaken. There are, however, some significant distinctions between the two. These differences lie in their causes, appearance, symptoms, and treatment.
They are:
| | | |
| --- | --- | --- |
| | Cellulite | Lipedema |
| Appearance | Bumpy, dimpled, or uneven skin without swelling | Dimpled, swollen, bumpy, or irregular skin |
| Causes | Connective and fat tissue pushing as well as pulling the skin | Abnormal accumulation of fat cells |
| Symptoms | Doesn't usually cause any other symptoms | Swollen arms or legs, spongy skin, easily bruised skin, sensitive, chronic pain |
| Treatment | Changes in lifestyle or professional procedures such as Sculptra, Cellulaze, Cellfina, and Qwo | Weight management, liposuction, and compression therapy |
What is Cellulite?
Cellulite is a skin issue that occurs when fat cells press against the fascia or connective tissue that binds your skin and muscles. This results in a dimpled look. Cellulite is most commonly found on the buttocks, thighs, arms, and other places in where fat cells tend to accumulate.
Cellulite, unlike lipedema, is a cosmetic issue rather than a medical one. It can affect women of all sizes, shapes, and ages and is usually not cause for concern.
Cellulite causes
While cellulite is commonly associated with weight gain, there are a number of other causes, including:
Sedentary lifestyle / lack of physical activity
Genetics
Smoking
Hormones
Aging / skin laxity loss
Pregnancy
Menopause
Weight gain
Dehydration
Stress
A leaky gut
Poor diet and lifestyle choices
Cellulite symptoms
The following are the main symptoms of cellulite:
Skin that is dimpled
Bumpy skin
Uneven skin
Cellulite treatments
The following are the most common cellulite treatments:
Topical treatments: Creams, lotions or oils containing active ingredients like retinol, caffeine, or gotu kola may help to minimize the appearance of cellulite.
Medical treatments: Most treatments for cellulite target either the connective tissue or the fat cells to minimize the look of cellulite. This includes procedures such as Endermologie, VelaShape, radiofrequency, maderotherapy, Sculptra, Cellulaze, Qwo, subcision, or Cellfina.
Lifestyle changes: Reducing cellulite for the long term requires lifestyle changes. Exercise, eating a well-balanced diet, massage, and proper skincare are the most important habits you can adopt.
What is Lipedema?
Lipedema is a disorder in which fat builds up and is improperly distributed under the skin of the buttocks, thighs, legs, and arms. Lipedema produces dimpled and swollen skin, as well as sensitivity, soreness, and bruising in the affected areas.
Lipedema is a medical condition that requires treatment, as it can result in persistent discomfort and long-term problems.
Lipedema causes
The exact cause of lipedema is uknown, however hormones are thought to play a role. Other possible causes include:
Genetics
Hormonal variations
Pregnancy
Menopause
Puberty
Lipedema symptoms
Lipedema symptoms can vary depending on the stage. Possible symptoms include:
Symmetrical swelling of the legs and/or arms
Skin that bruises easily
Excessive spider or varicose veins on the skin
Consistent leg discomfort or edema that fluctuates or worsens across the day or with exercise
Lipedema treatments
While there isn't a cure for lipedema, the following treatments may reduce the symptoms associated with the condition:
Weight management: A healthy diet and exercise can help prevent further fat accumulation. However, before starting a new diet or workout regimen, you should always consult with your doctor.
Compression treatment: Swelling, soreness, and discomfort can be minimized by utilizing compression stockings, socks, or bandages in the affected areas.
Skin care regimen: Maintaining a healthy skin care regimen can help you keep the afflicted skin hydrated, preventing dry, uncomfortable skin from forming and contributing to further issues.
Liposuction: Liposuction can help eliminate excess fat build-up. However, because it is a surgical procedure, you must assess the risks and benefits before proceeding.
Surgery: In extreme circumstances, surgical debulking may be required.
Since lipedema is a medical condition, it's important to see a doctor to get the right treatment if you think you might have it. The Lipedema Foundation is a great place to learn more, including how to find a lipedema specialist.
Our Top Products to Target Cellulite
If you know you have cellulite, the good news is that it's only a cosmetic issue, and there are many simple ways to reduce its appearance from the comfort of your own home.
And you're in luck, because Cheeky Physique has crafted an entire collection of body care products and tools designed to help you look and feel your best.
Here are our top picks to minimize the appearance of cellulite:
Tone & Glow Body Brush
This premium natural bristle body brush reduces the look of cellulite by stimulating circulation and lymph flow while firming the skin's appearance. Shop the Tone & Glow Body Brush here.
Cheeky Cups Body Contouring Kit
Based on ancient cupping techniques, Cheeky Cups cellulite cups work like a deep tissue "reverse massage" to boost circulation, release fascia adhesions, and smooth the appearance of cellulite. Shop Cheeky Cups here.
Contour Sleek Cellulite Firming Body Oil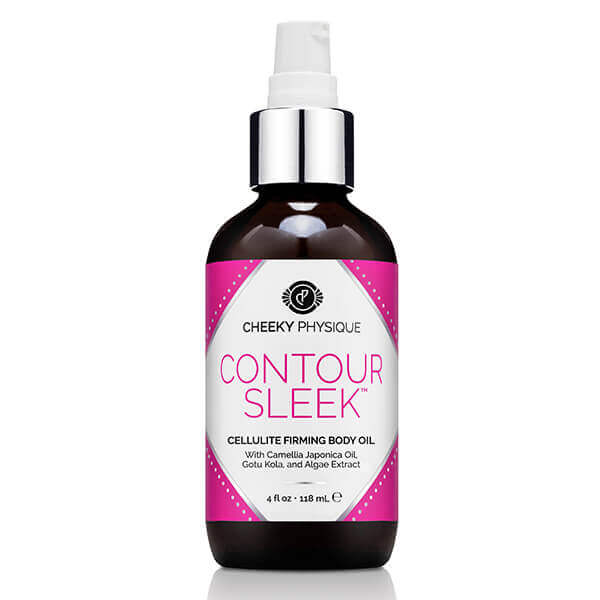 Boost the benefits of dry brushing and cupping with this firming body oil packed with natural detoxifying ingredients. Shop Contour Sleek to minimize the appearance of cellulite.