Looking to sculpt an hourglass figure? This post rounds up 3 fast and effective waist cinching workouts – each only 5 minutes long!
Is there anyone out there who doesn't want to look like a Hollywood bombshell with a sexy hourglass figure? (That's a rhetorical question – of course we all do.)
Contrary to what you may have heard, whittling your waistline doesn't have to involve hours in the gym or strapping on a circulation-killing corset or waist trainer.
Create envy-inducing curves with these 3 simple (yet super effective) waist cinching workouts. It's all about exercising smarter, not harder – and each of these routines is only 5 minutes long!
5 Minute Waist Slimmer Workout
This oldie but goodie featuring the legendary Denise Austin will tone your abs, trim your waistline and strengthen your core to get you bikini body ready in no time.
Corset Workout for a Slim Waist
Think you need a corset or waist trainer to achieve an hourglass figure? Guess again! This waist cinching workout with Cassie Ho of Blogilates will naturally sculpt and snatch your waist.
The Waist Trimmer
This classic Callanetics exercise will lengthen your neck, stretch your rib cage, and (most importantly!) pull in your waist for those coveted hourglass curves.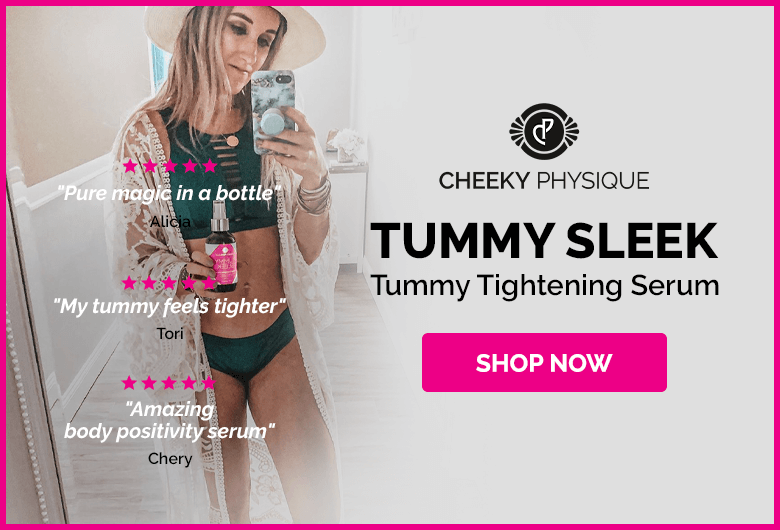 How to get max results from these waist cinching workouts
For best results, complete at least one of these workouts 4-5 times per week. That's less than 30 minutes combined, and everyone has 5 minutes to spare throughout the day – so no excuses!
Waist Cinching Workout + Tummy Sleek = The Ultimate Hourglass Routine
Take your waist cinching workouts to the next level with Tummy Sleek! Our innovative tummy tightening serum is packed with natural and clinically test ingredients that help:
Visibly smooth and tighten skin
Minimize the appearance of stretch marks
Depuff and detox for a firmer looking tummy
Combined with a healthy diet and exercise, it's your secret weapon for a tighter tummy and extra boost of confidence.
TUMMY SLEEK
"After a couple weeks, I feel tighter and more toned."