This post is your ultimate guide to apple cider vinegar for belly fat loss, including the top benefits and how to use it.
There's no shortage of so-called diet wonder foods out there! And one of them is the superfood apple cider vinegar.
Research shows that apple cider vinegar can help improve your health, reduce your weight, and boost belly fat loss. Sounds great, right?
But, can it really give you the sleek, toned tummy of your dreams? Read on to learn more about apple cider vinegar for belly fat, including research, benefits, and how to use it.
Benefits of Apple Cider Vinegar
Apple cider vinegar has been used for centuries due to its health benefits. And today, numerous studies confirm its touted benefits.
Here are some ways that apple cider vinegar can help with belly fat loss in particular:
1. Boosts metabolism
One of the main benefits of apple cider vinegar is boosting your metabolism. When it is ingested, apple cider vinegar typically breaks down into acetic acid, which increases AMPK.
AMPK is an enzyme that helps regulate metabolism, and an increase in its activity increases metabolism.
Additionally, apple cider vinegar has prebiotics that balances your gut microbiome. The gut microbiome is essential for facilitating several processes, including metabolism.
Awesome, right? As apple cider vinegar helps boost your metabolism, this in turn can lead to lower body and belly fat.
2. Lowers blood sugar
Another benefit of apple cider vinegar is its ability to help lower blood sugar. In fact, a lot of scientific research has been done studying the effectiveness of apple cider vinegar to treat diabetes, a condition arising due to impaired metabolism.
For example, one study found that taking two tablespoons of this ACV before going to bed helped reduce fasting blood sugar levels in the morning by 4%.
High blood sugar increases your insulin level, which in turn impairs the body's ability to burn fat. Put simply, having a low blood sugar level is critical for belly fat loss.
3. Suppresses appetite
As we mentioned earlier, apple cider vinegar contains acetic acid. An added benefit of acetic acid is that it helps you feel fuller for longer. This can curb food cravings and overeating.
In fact, one study found that people who consumed vinegar alongside a high-carb meal ate 200-275 fewer calories in a day.
Naturally, the less calories you consume, the easier it is to burn belly fat and lose the muffin top.
4. Reduces belly fat storage
Trimming belly fat can give you a confidence boost. However, it's not exactly easy if your tummy is your trouble spot.
Thankfully, apple cider vinegar can help. The secret once again is that magical ingredient, acetic acid. Acetic acid can help shrink your midsection by suppressing fat accumulation.
A 2009 study showed that the consumption of apple cider vinegar on a daily basis led to lower waist circumference, reduced abdominal mass, and reduced body weight. What's not to love about that?
5. Burns body fat
Research shows that consuming apple cider vinegar along with a healthy diet and exercise can boost your results and lead to increased fat loss.
One study showed that individuals who consumed apple cider vinegar lost more weight, improved their triglyceride and cholesterol levels, and had a lower BMI compared to those who didn't.
This shows that apple cider vinegar can enhance other proven weight loss methods – making it a no brainer to add to your routine.
How to Use Apple Cider Vinegar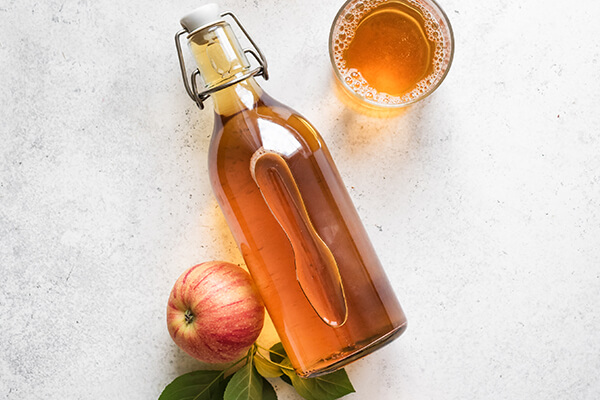 Ways to add apple cider vinegar to your diet
By now, you're probably convinced that apple cider vinegar is the flat belly elixir you've been waiting for. But what about the taste?
If the thought of downing jugs of vinegar has you cringing, you can relax. Thankfully, there are some easy and palatable ways to add apple cider vinegar to your diet:
In food and drink – The easiest way to incorporate apple cider vinegar into your diet is to use it in cooking. Use it as a salad dressing or mix it with mayo as a tasty condiment.
As a supplement – To consume apple cider vinegar as a supplement, take at least 30 grams each day mixed in juice or water. Alternatively, you can take ACV supplements in the form of capsules or gummies.
As a tonic – Apple cider vinegar tonics are a drink combining ACV with other ingredients like lemon, cinnamon, ginger, and honey.
Apple cider vinegar tonic recipe
While an apple cider vinegar tonic can be an acquired taste, it's a great way to get in the benefits of ACV. Here's an easy to follow recipe:
1 TB apple cider vinegar
8 oz water
Honey and cinnamon or ginger (optional)
Simply combine the ingredients and drink up! You may also want to experiment with additional ingredients to enhance the taste. Some people like to add cayenne pepper flakes, turmeric, and fresh herbs, such as rosemary.
Note: Since vinegar is highly acidic, it can be damaging to your tooth enamel. We recommend drinking your tonic with a straw.
Apple cider vinegar side effects
While it's completely safe to consume apple cider vinegar, there are a few potential side effects to watch out for:
Can erode tooth enamel
Can worsen acid reflux
Can cause nausea
The best way to avoid these side effects is to only drink diluted apple cider vinegar. We also recommend starting slow and increasing your daily consumption over time.
Apple Cider Vinegar Q&A
Is it better to take apple cider vinegar in the morning or at night?
The best time to take it is in the morning before eating. When you take apple cider vinegar first thing in the morning or right before eating, it could help you feel full more quickly, which may aid in weight loss.
Should I take a shot of apple cider vinegar?
No! Never should you take a shot of undiluted vinegar because the acidity is damaging to your teeth enamel. It could also burn your esophagus.
You should always dilute your vinegar in water to reduce the acidity. As much as possible, also use a straw when taking a vinegar drink.
Can you take apple cider vinegar on an empty stomach?
Yes, if possible, always drink apple cider vinegar on an empty stomach. However, make sure it is diluted to avoid tooth damage and acid reflux problems. Experts recommend that you take diluted apple cider vinegar on an empty stomach about 20 minutes before eating.
Flat Belly Bonus!
While apple cider vinegar works its magic on your insides, take care of your belly on the outside with Cheeky Physique's Tummy Sleek.
Our stomach tightening serum is packed with caffeine and circulation-boosting botanical ingredients that help reduce puffiness and firm the look of the belly area.
Combined with a healthy diet and exercise, it's your secret weapon for a tighter tummy and extra boost of confidence.
TUMMY SLEEK
"After a couple weeks, I feel tighter and more toned."