This post is your guide to choosing the best bra for your breast shape – with tips for conical, tubular, ski slope, shallow, splayed, uneven breasts, and more.
It doesn't matter what shape or size they are – when your boobs look good, you feel good. One of the easiest ways to make your girls look amazing is to wear the right bra.
Beyond lacy details and flirty colors, choosing the right bra style for your individual breast shape is key to creating your sexiest silhouette.
Did you know that there are 8 different breast types out there? Read on to identify your breast shape and the best bras for you.
Breast Shape: Shallow
Also known as "ski-slopes," this type of breast slopes down from the top to the bottom.
Best bras for shallow breasts
To fill out your chest, try a bra with crescent-shaped padding that will lift the breast tissue and push the boobs together. A push-up bra or a demi bra will be your best option.
Breast Shape: Splayed
With a splayed shape, instead of pointing straight ahead, your boobs point outward. Perhaps you have a larger gap between your breasts, giving them a spread out appearance.

Best bras for splayed breasts
The best bras for splayed breasts will help pull the breasts together and perk them up. A demi bra works well and will show more of your upper breasts to make them look fuller.
Look for one with a triangular piece in the middle where the cups meet and padding on the sides of the cup to push your ladies together.
Breast Shape: Semi-Supported
Your breasts aren't completely full, but they're not drooping either. They're nice, round, and pretty perky (apparently, you haven't met our arch enemy – gravity – yet).
Best bras for semi-supported breasts
This type of boob tends to be the model when bras are made, so most bras are going to fit you perfectly. Lucky you.
Breast Shape: Self-Supported
If you have breast implants, this is your breast type. You can go with or without a bra since your breasts are supported 24/7.
Best bras for self-supported breasts
You would look fabulous with any bra of your choosing. Or none at all. Up to you.
Breast Shape: Conical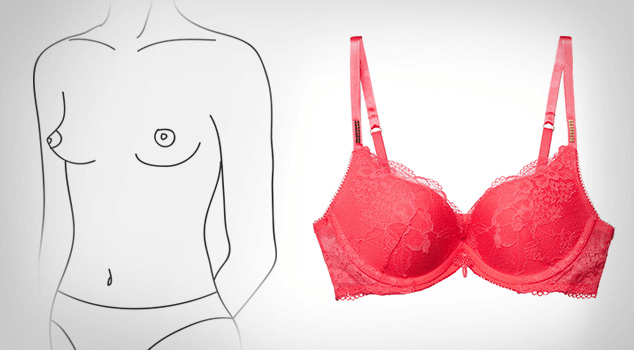 Ice cream cones. That's what your breasts may resemble if you have this kind of breast shape. It's generally found in women with a c-cup or smaller.
Best bras for conical breasts
Because of the unique cone shape, you should look for a bra with more padding, like a demi bra or a push-up bra, to push the center of your breasts and round out the shape.
Breast Shape: Uneven
If your girls aren't exactly identical twins, there's no reason to fret. Many women have one breast that is larger than the other.
Best bras for uneven breasts
Fit your bra to your larger breast and try a foam insert to help your smaller one fill out its cup. Any bra will do, as long as you add a little extra something to help the smaller one out.
Breast Shape: Settled
Age, weight fluctuations, and life factors like nursing can cause this type of breast shape. Your girls may hang a little bit or appear deflated. The good news is that they are very malleable and can conform to any appearance you want as long as you use a good bra.
Best bras for settled breasts
Look for a well-structured and supported bra that has cup seams in it. And be mindful of the straps, as softer ones will be more comfortable for your shoulders.
Breast Shape: Tubular

This is a fairly rare shape that is sometimes called "thin" or "slender." Your breasts are narrow at the base, causing them to take on a tube-like appearance.
Best bras for tubular breasts
Because of their unique shape, styles such as a bandeau bra that goes straight across your chest will be more comfortable for you, as it won't press on your breasts too much.
Bust-Beautifying Skincare for Every Breast Shape
No matter what your breast shape, we encourage you to embrace your natural curves and make the most of your assets.
A beautiful bra is a great place to start. After that, skincare is the cherry on top!
Here at Cheeky Physique, we've crafted a full line of products to make you look and feel your best, and we certainly couldn't forget about your girls!
Give your bust the love it deserves with the Love My Bust Bundle. This two-piece set includes our Sublime Bust Volumizing Bust Serum and Sublime Uplift Neck and Decollete Firming Serum.
Sublime Bust – Combines phytoestrogen-rich pueraria mirifica and Adifyline "plumping" peptide to firm and plump the look of the breasts.
Sublime Uplift – This multitasking serum blends shiitake mushroom extract, hyaluronic acid, and peptides to tighten the skin on the neck and chest.