This post looks at how to get rid of glabellar lines without Botox, including the top 6 methods for reducing frown lines naturally.
There's nothing like frown lines to take RBF (resting bitch face) to a whole new level.
Frown lines appear as two vertical lines (also known as "elevens") in between the eyebrows. This area is known as the glabella. Unfortunately, glabellar or glabella lines can make it look like you have a permanent scowl.
The fastest and most effective treatment for these lines is Botox (or similar neurotoxins, such as Dyspot, Jeuveau, Xeomin, or Daxxify).
While Botox can work wonders at temporarily erasing wrinkles, not everybody wants to go under the needle. Additionally, some people develop a resistance to Botox and stop responding to the treatment.
If you find yourself in either of these camps, you might be wondering how to get rid of glabellar lines without Botox.
In this article, we share the top 6 methods to reduce the look of frown lines naturally. Read on to learn more!
What Causes Frown Lines?
Furrows, scowl lines, glabella lines, and of course, elevens, are some of the terms used to describe the wrinkles that appear in between your brows.
When you're young, they usually only appear when you're furrowing your eyebrows. But as the years go by, you might start to notice your frown lines becoming more prominent, even when maintaining a straight face.
Here are some of the factors responsible for causing them:
Repeated expressions – Contrary to its name, frowning isn't the only facial expression that can cause that permanent furrow between your brows. Squinting or even making goofy faces can cause your glabella lines to deepen, especially when you make these expressions often.
Aging – As we age, the body starts to produce less collagen and elastin which will reduce skin elasticity. Eventually this leads to the development of wrinkles between the eyebrows, fine lines, saggy skin, etc.
Lifestyle factors – Glabella lines can also become more prominent as a result of poor lifestyle choices. Smoking, alcohol, sun exposure, and stress all take a toll on your skin and can speed up the aging process.
How to Get Rid of Glabellar Lines Without Botox
While wrinkles are a natural fact of life, the good news is that you don't have to live with them. There are ways to reduce the appearance of wrinkles, and frown lines in particular – even without injections.
Here are our top 6 ways to get rid of glabellar lines without Botox, including their pros and cons:
1. LED light therapy
LED light therapy is a cosmetic treatment that uses low-energy LED (light-emitting diode) light to improve the appearance of the skin.
LED light therapy is used by dermatologists and estheticians to treat skin issues like acne, hair loss, wrinkles, and more. You can also buy LED light therapy devices to use at home.
LED light therapy uses different colors that offer specific benefits to the skin. Red and near-infrared LED lights have been shown to stimulate collagen production and reduce wrinkles, making this a great option for glabella lines.
Used regularly, an anti-aging LED light therapy mask, such as the Omnilux Contour Face or CurrentBody Skin LED Light Therapy Mask, is one of the most effective ways to soften the appearance of frown lines without Botox.
LED light therapy pros
Using an LED light therapy mask is painless and only requires 10-20 mins use per day.
LED light therapy is backed by many clinical studies and has been proven to work.
LED light therapy is safe with little or no side effects or risks.
LED light therapy cons
Due to a lack of standardization, there are many low quality, ineffective LED light therapy masks on the market.
High quality LED light therapy masks can be quite expensive (starting at $350+ USD).
People with photosensitivity concerns may not be good candidates for LED light therapy.
2. Microneedling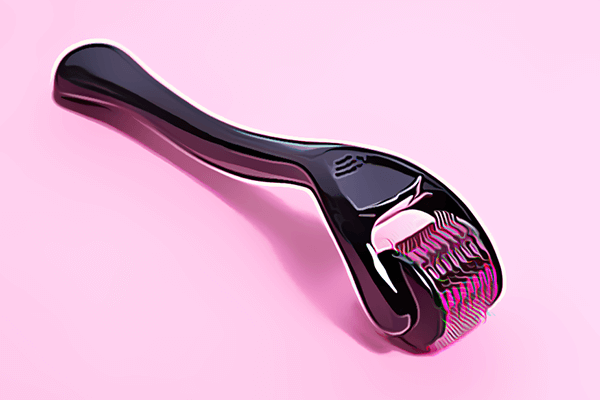 Microneedling is a highly popular beauty treatment and for good reason – it really works!
Microneedling, also known as derma rolling, is typically performed using a small tool known as a derma roller. The derma roller, much like a jade roller, is rolled over the face and neck. The major difference is that the derma roller is covered in needles.
Before you cancel out derma rollers, it should be noted that the entire process should be painless if done correctly. Needles used to treat aging skin range from 0.2mm-1mm long, which is practically minuscule.
Microneedling can be done at home or with a licensed professional. When done regularly at home, it helps increase penetration of your skincare products and improves the appearance of fine lines and wrinkles.
Professional treatments are deeper and offer even greater results. People have reported fading of acne scars and even stretch marks by undergoing regular microneedling procedures with a dermatologist or doctor.
Microneedling pros
Microneedling works by causing minor damage to the skin which has been proven to increase collagen production. This, in turn, helps reduce fine lines over time.
At home microneedling costs you next to nothing and you can reap the benefits of the procedure.
A secondary benefit of microneedling is the increased penetration of your skincare products.
Microneedling cons
Microneedling can be painful if done incorrectly or with needles that are too long.
Unlike other skincare remedies (e.g. Botox) it might take you up to three months of regular microneedling to see results.
Professional microneedling treatments can be very expensive, costing anywhere from $200 to $900 per session. Most people need a series of treatments.
3. Retinoids
Retinoids are often described as THE miracle skincare product. Countless studies have shown that retinoids are highly effective at improving wrinkles, dark spots, and acne.
Retinoids include a variety of vitamin-A based products that are available by prescription or over the counter. They work by speeding up skin cell turnover, which stimulates collagen production and reduces signs of aging with continuous use.
The most popular prescription retinoid is tretinoin (Retin-A). You can also find a large variety of over-the-counter retinol products at every price point.
Retinoid pros
Retinoids aren't called a miracle product for nothing. They're very effective in treating wrinkles on the face such as glabella lines.
Unlike Botox and microneedling, retinoids are painless and not at all invasive.
It's very easy to incorporate a retinoid product into your already existing skincare routine.
Retinoid cons
Prescription retinoids have a higher strength than over-the-counter ones and can be expensive to obtain.
Many people using retinoids have experienced skin irritation as a result of their skin trying to adapt to the product.
Retinoids increase your skin's sensitivity to the sun, so using a strong sunscreen is a must.
4. Wrinkle Patches
Wrinkle patches seem like a beauty industry fad, but they can be very effective at treating dynamic wrinkles like glabella lines.
Their way of working isn't particularly elaborate. They work similarly to Botox in that they keep the skin taut, preventing it from creasing while also locking in moisture.
Wrinkle patches are made of medical-grade materials and can either come in the form of silicone patches or paper patches popularly called Frownies. Even though extensive scientific research hasn't been done on them, many people swear by the power of wrinkles patches.
Wrinkle patches pros
Wrinkle patches offer quick results, especially when done overnight. By the next morning, your skin will appear more supple and possibly wrinkle-free.
They are completely painless.
When used regularly, they can help you break the habit of furrowing your brows or being overly expressive. This can reduce the appearance of wrinkles in the long term.
Wrinkle patches cons
Wrinkle patches aren't exactly the sexiest thing you can wear to bed. (Hello sex life?)
It can be a hassle to use wrinkle patches and apply them regularly before bed.
The wrinkles are bound to appear again if you frown a lot during the day.
5. Gua Sha Massage
Facial massages are some of the earliest beauty techniques for improving the overall appearance of the skin. Using a gua sha completely elevates the game.
Gua sha is an ancient Chinese technique that involves using a flat tool to stimulate the skin and underlying tissues. If you are using a gua sha to reduce glabellar lines, your major focus should be on the forehead muscle and the depressors in between the brows.
Gua sha massage helps relax the muscles that cause those deep scowl lines. It also increases blood flow and oxygen to the skin. Finally, massage is known to stimulate collagen production, reducing fine lines and wrinkles.
Gua sha pros
Aside from improving the appearance of the skin, gua sha massage is very soothing and can be therapeutic.
Using a gua sha is convenient and easy to do. No need to schedule an appointment with a beauty specialist. Plus, you can fit it in with your already existing skincare routine.
Gua sha massage also complements the other beauty treatments we've described. However, if you're using Botox, it's recommended you wait 2 weeks before massaging the area to avoid spreading it to surrounding parts of the face.
Gua sha cons
The results from a gua sha massage are not as dramatic as the more invasive procedures.
Many gua sha tools are made of fragile stone and can break if you drop them.
6. Facial Cupping
Cupping is a beauty therapy that uses suction cups to stimulate the skin and underlying muscles. It's been in existence for years, having originated from the Chinese practice of body cupping.
Facial cupping boosts circulation, relaxes facial muscles, and can help stimulate collagen production. It can be done at home or with a professional to treat wrinkles, reduce puffiness, and lift and sculpt the face.
Because facial cups are small, they can be very effective at targeting lines in the glabella area.
Facial cupping pros
Much like facial massage, cupping is painless and feels great when properly performed.
Cupping works at a deeper level than gua sha massage, so you're likely to see better results when treating glabella lines.
Facial cupping is also a good complement to other skincare procedures. But like facial massage, wait 2 weeks if you just got Botox.
Facial cupping cons
Facial cupping can cause bruising if you don't do it correctly or leave the cup in one place for too long.
There's more of a learning curve to master proper cupping techniques.
Many facial cups are made of delicate glass that can easily break when dropped.