This post looks at diastasis recti, diastasis recti exercises to avoid, and ones you should do to repair muscles. Plus key products to tighten postpartum skin.
If you want to regain your pre-baby belly, you might be tempted to try some traditional ab workouts like crunches and planks. But, did you realize that these may be the worst thing you could do postpartum?
This is because some women suffer from diastasis recti, a frequent postpartum problem that can result in a rounded stomach months or years after childbirth. And believe it or not, crunches and other typical ab workouts could aggravate it.
In this blog post, we'll look at what diastasis recti is, how to tell if you have it, and which workouts to avoid. We'll also examine exercises that can help, as well as additional postpartum tummy care advice.
What is Diastasis Recti?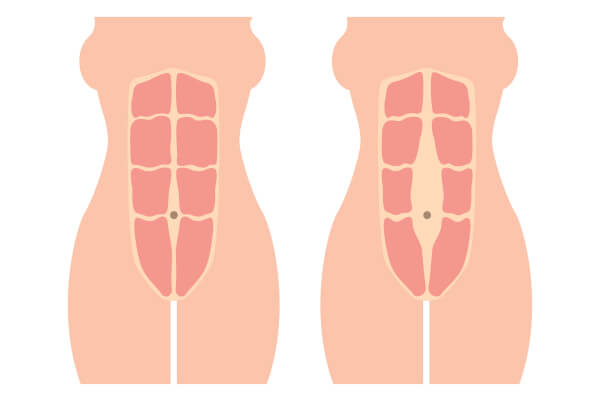 Diastasis recti is abdominal separation that happens during pregnancy. It occurs when the space between your left and right stomach muscles has widened.
The linea alba is a band of connective tissue that runs down the middle of the abdomen. During pregnancy, this tissue relaxes to allow the abdominal wall to grow. This causes the rectus abdominis (your "six pack ab muscles") to move further apart.
Most of the time, these muscles heal and rejoin within the first 8 weeks after giving birth.
But sometimes, the gap in the abdomen doesn't close as much as it should. This is called diastasis recti, and it can last for months or even years for some women after giving birth.
How Do I Know If I Have Diastasis Recti?
To test yourself for diastasis recti, do the following:
Lie on the back with the knees bent and your feet resting on the floor.
Raise your shoulders off the ground slightly, maintaining one hand behind the head for support. It's almost as if you're performing a sit-up. From this position, look at your stomach.
Place your second hand over your belly button, with your palms down and fingers pointing towards your toes.
Feel for a space between the abs with your fingertips. Determine the number of fingers that can fit between your left and right abdominals.
If you see a gap of at least two fingers' width, consult your healthcare professional for a correct diagnosis and treatment.
Diastasis Recti Exercises to Avoid
While it seems like common sense to exercise your stomach muscles after giving birth, the wrong workout can do more harm than good. These exercises should be avoided if you have diastasis recti:
1. Sit ups / crunches
Sit-ups and crunches put stress on the midline and force the belly to protrude outward. This can worsen the separation of your abdominal muscles and should be avoided.
Another problem is that these exercises lift your shoulders off the floor, which makes it hard to engage the transverse abdominis muscles. These are the innermost abdominal muscles, which must be strengthened in order to heal diastasis recti.
2. Yoga poses or stretches that stretch the abs
Extension, or bending backwards, should be avoided because it causes the back to arch and stretches out the abdominal muscles.
Common extension exercises include the warrior pose, back bends, the half-moon pose, and the upward-facing dog pose. These positions put stress on your linea alba (the connective tissue in the middle of abs) and can make your diastasis recti worse.
3. Planks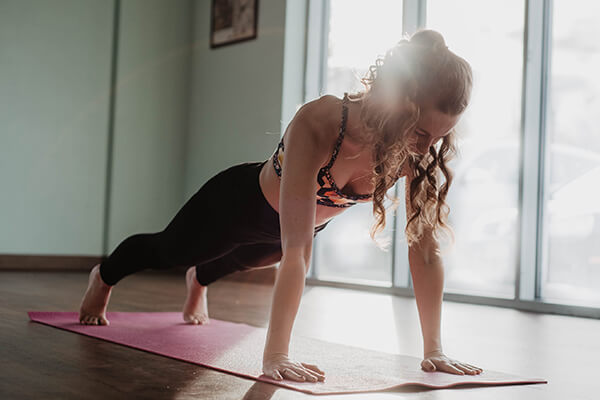 If you have diastasis recti, avoid exercises that put intra-abdominal pressure on your abs, like planks.
Intra-abdominal tension occurs when the stomach is pushed out and stiffened. It's natural to do this when straining to lift heavy objects or when holding the same position for too long without moving.
These activities should be avoided because the action of stiffening and pushing out your muscles widens the abdomen.
4. Crossover exercises
These include sports like golf and tennis, where you cross your upper torso forward in a shearing motion that stretches your connective tissue horizontally.
When you pull your connective tissue sideways, the ribs become flared. As a result, it can be hard to fully engage your transverse abdominis muscles, which must be strengthened in order to reverse diastasis recti.
5. Pushups
Women with diastasis recti should not do pushups or other exercises that work the rectus abdominal muscles, which are also known as the "six-pack ab muscles." These exercises put more stress on the upper abdominal muscles, causing them to split rather than heal.
Best Exercises for Diastasis Recti
Now that you know the 5 exercises to avoid, here are some of the best exercises for diastasis recti:
Transverse abdominal breathing + core connection
Lying heel tap + leg lift
Lying bent knee pulls
Elevated leg extension + leg drop
levated bent knee v-taps
Watch the video above for a demonstration of the exercises. This is a safe and effective 10-minute diastasis recti workout that will get you on your way to healing your abs.

Additional Care for Your Postpartum Belly
While repairing your muscles is an important part of getting your pre-baby belly back, you may also be thinking about your skin and how to repair its appearance.
While your skin will naturally tighten up on its own after pregnancy, there are additional steps you can take—especially if your skin is past the natural tightening up period.
At Cheeky Physique, we are dedicated to helping women feel more confident about their bodies – and this includes moms! Here are the most popular skincare products and tools specifically designed to improve the look of the belly area:
Tummy Sleek Tummy Tightening Serum
This stomach tightening serum visibly firms and tightens skin with a combination of natural and clinically proven ingredients. Used twice daily, it helps improve the look of loose skin while reducing the appearance of stretch marks. Shop Tummy Sleek here.
Tone & Glow Body Brush
Dry brushing is one of the most effective ways to improve skin texture, firm the skin's appearance, and reduce the look of stretch marks.
Our premium natural bristle brush effectively exfoliates without irritation, and is the perfect tool for sensitive areas like the belly. Shop the Tone & Glow Body Brush here.
Toned Tummy Kit
Get our two top belly-loving products in one convenient kit. The Toned Tummy Kit contains Tummy Sleek and the Tone & Glow Body Brush as an all-in-one tummy tightening solution.
It's the perfect addition to your postpartum diastasis recti repairing workout routine! Shop the Toned Tummy Kit here.