This post is your ultimate guide to dry body brushing, including a free downloadable lymphatic drainage dry brushing chart to help you get the most out of skin brushing.
We're always looking out for the next skincare hack that promises healthy, glowing skin. One that's been getting lots of buzz is dry brushing – also known as body brushing or skin brushing.
Whatever you want to call it, it's an ancient Ayurvedic practice that's existed for centuries. But what exactly is dry brushing? And is it just another fad, or does it have actual benefits?
Read on for all the answers to your dry brushing questions. Plus, download our free lymphatic drainage dry brushing chart and how to guide to kickstart your skin brushing journey.
Benefits of Dry Skin Brushing
Dry brushing is worth the hype and for good reason. The practice, which involves brushing your entire body with a dry bristle brush, has gained popularity because of its numerous health and beauty benefits.
Here are the main benefits of skin brushing:
Skin exfoliation
Exfoliation is important because it increases cell turnover, enabling the skin to look smoother and younger. By using a dry body brush, dead skin cells are removed which improves overall skin texture.
Boosts circulation
The friction of the brush against skin stimulates the flow of oxygen-rich blood to nourish and repair. The result? Skin that looks glowing and healthy.
Lymphatic drainage
Lymphatic drainage or detox is one of the main benefits of dry body brushing.
The lymphatic system works hand in hand with the circulatory system to remove waste from the body. And removing waste from the body and organs equals better-looking skin – the biggest organ of them all!
Reduces fluid retention
Have you ever woken up in the morning feeling as if you gained weight overnight? This is most likely the result of fluid retention in your body, leaving you feeling bloated.
Dry skin brushing stimulates the lymphatic system to rid itself of excess fluid, helping to remove toxins and in turn, that dreaded bloat.
Tightens skin
Exfoliation stimulates fibroblasts, which are cells responsible for the production of collagen. Since dry brushing exfoliates the skin's surface, it also helps stimulate your skin's production of collagen.
Collagen is important because it maintains the structure and appearance of the skin, helping to tighten and improve the overall texture.
Better results from skincare products
Dry brushing removes dead skin cells, which in turn helps your skincare products penetrate into the skin. Dry brushing leaves behind a clean base for your skincare products to absorb and work their magic.
Selecting a Dry Body Brush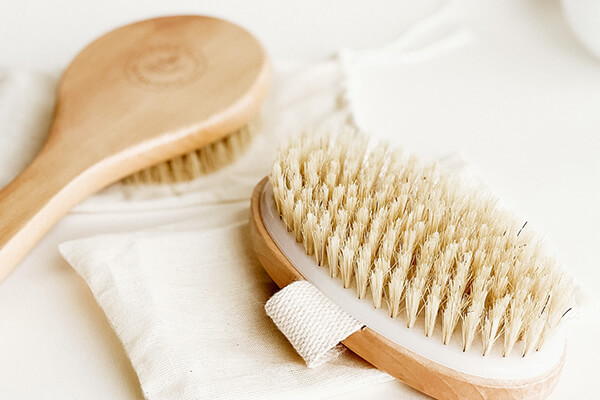 With all the benefits of dry brushing, you probably can't wait to add it to your skincare routine.
Before you run down to the nearest beauty store, you should know a thing or two about selecting the perfect dry body brush.
The two major factors to pay attention to when selecting a dry brush are:
Bristle type
Bristle firmness
Different dry brush bristle types
The bristles of a dry brush are either natural or synthetic. Here's the difference:
Synthetic bristle fibers are man-made materials such as nylon, polyester, etc. They are known for being harder and having less of a natural feel than a natural bristle dry brush.
Even though they can be used for dry brushing, synthetic bristles can be hard on the skin and are not the most eco-friendly option.
If you do decide to get a synthetic bristle brush, ensure that you don't scrub your skin too vigorously as this can cause more harm than good.
Natural bristles are recommended for dry brushing. They are made from either plant or animal-based fibers like cactus, palm, sisal, or boar hair. They're a more effective and sustainable alternative to synthetic bristle brushes.
Plant-based fibers are known for being stiffer, with some being scratchy and painful to the skin. Boar hair bristles are more gentle on the skin, though this option is not suitable for vegans.
Dry brush bristle firmness
The firmness of the bristles is another factor to consider when selecting a brush. They range from soft, to medium, to firm.
Soft bristles are ideal for people that are new to dry brushing because they provide just enough exfoliation. People with sensitive skin will also find soft bristles to be a preferable option.
Medium bristles are considered the ideal option for most users. They are the perfect balance between firm and gentle, and are perfect if you want a little more exfoliating power.
If you're an advanced user who requires a deeper exfoliation, then hard bristles are the way to go. Practice caution while using them though because you may end up hurting yourself or damaging your skin.
Step By Step Skin Brushing Guide
Now that you know the benefits of dry brushing and how to select the perfect body brush, it's time to go through our guide to skin brushing.
This dry body brushing how to guide will give you the information you need to dry brush safely and properly while getting the most out of your dry brushing routine.
How to dry body brush
Dry brushing should be performed on dry skin. That means preferably right before taking a shower.
Starting from your feet, move up the legs using long sweeping strokes. Make sure to brush over each area several times.
Once you're done with the lower body, it's time to move on to the upper body. Brush the hands and arms, moving up towards the axillary lymph nodes in the armpit.
To minimize bloating, don't forget to work on the mid-section. Brush in a circular clockwise motion around your belly button region. You can also do small strokes on the lower belly, working toward the lymph nodes in the groin.
Finish up with upward strokes brushing up towards the abdomen, waist, and back as far as you can reach.
Hop in the shower or bath to wash off any dead skins that may be left on your skin.
Finally, apply a body lotion or oil that will moisturize and nourish your body immediately after your shower. We recommend Contour Sleek, our Cellulite Firming Body Oil to maximize the cellulite-reducing effects of dry brushing.
Note that the entire dry brushing process should take you about five minutes to complete.
FREE lymphatic drainage dry brushing chart
Want to experience maximum benefits from dry brushing? Download our FREE Guide to Dry Body Brushing printable chart here.
This handy reference is the perfect companion to your daily dry brushing routine!
Additional tips
Here are some additional tips to help you incorporate dry brushing into your routine:
Make dry brushing a habit by dry brushing at least 3 times per week.
Use firmer pressure over areas with thicker skin, like the hips and buttocks.
Use lighter pressure over areas with thinner skin, like the inner thighs and stomach.
Never brush over skin that is broken or irritated.
The skin around the face and neck is very delicate so avoid brushing these areas.
Drink lots of water after dry brushing to help with the detox process.
Caring for your dry brush
Care for your dry brush by storing it in a dry area away from steam or potential mildew.
Don't forget to wash the bristles every 1-2 weeks using a mild cleanser and avoid getting the wooden base wet. Lastly, allow the brush to air dry thoroughly before your next use.
Ready to Experience the Benefits of Dry Brushing?
Dry brushing is a must-have addition to your skin and body care routine because the benefits are endless!
If you're eager to find a great dry brush, we recommend our Tone & Glow Body Brush. It's a premium natural bristle dry brush with the perfect firm, yet gentle bristles to invigorate your skin without irritation.