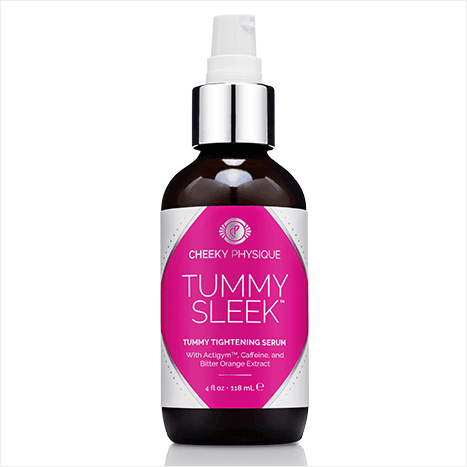 Tummy Sleek
Tummy Tightening Serum
SIZE: 4 oz (118 ml)
5 REVIEWSRead all 5 reviews | Write a review
$38.00
Fall in love with your abdomen (yes, it's possible!) with the help of Tummy SleekTM.
This sculpting serum contains a trio of skin-toning ingredients to help firm the look of the tummy and waistline. ActigymTM marine extract, caffeine, and bitter orange extract detoxify and tone for smoother skin and sleeker, sexier abs.
We can all use a little help around the middle. Let Tummy SleekTM be your secret weapon for a tighter-looking tummy and an extra boost of confidence.
Product Info
KEY INGREDIENTS
ACTIGYMTM MARINE EXTRACT:
An ingredient derived from marine plankton extract, ActigymTM is clinically shown to improve skin tone and refine the appearance of the abdomen area.
CAFFEINE:
Known for its depuffing effects, caffeine visibly smooths and tightens skin for a more defined look.
BITTER ORANGE EXTRACT:
An antioxidant-rich citrus extract that helps eliminate toxins for sleeker, smoother body contours.
BENEFITS
Helps firm the look of the abdomen and waistline.
Diminishes the appearance of puffiness for a firmer, flatter-looking tummy.
Visibly smooths and tightens the skin.
Helps eliminate toxins for a more defined look.
"My midsection is looking more toned. Yes, I workout regularly, but this lightweight serum has firmed and tightened the appearance of my skin, and it has even lightened my stretch marks." – Lauren M.
HOW TO USE
As part of your tummy-toning routine, apply a thin layer of Tummy SleekTM twice daily and massage until fully absorbed.
This lightweight, non-greasy serum is highly concentrated, so a small amount is all you'll need. One bottle should last 30-60 days when used as directed.
For best results, Tummy SleekTM should be used in combination with a healthy diet and exercise. Optionally, Tummy SleekTM can also be used to enhance the results of waist training garments or body wrap systems.
After you've achieved your desired results, we recommend applying Tummy SleekTM 3-4 times per week to help maintain your sleek, sexy silhouette.
RESULTS
Clinical tests for key ingredient ActigymTM demonstrated the following results:
Over 80% of participants reported that the skin on their abdomen appeared more toned.*
Over 70% reported their silhouette appeared more defined.*
*Assessment of 60 women (35-50 years old) after 56 days. Clinical data provided by Lipotec Group.
FAQ
What are the ingredients in Tummy Sleek?
Here is a full list of the ingredients in Tummy SleekTM: Aqua (Water), Glycerin, Polysorbate 20, Panthenol, Propylene Glycol, Hydroxyethylcellulose, Citrus Aurantium Amara (Bitter Orange) Flower Extract, Lecithin, Caffeine, Ruscus Aculeatus (Butcher's Broom) Root Extract, TEA-Hydroiodide, Carnitine, Butylene Glycol, Escin, Hedera Helix (Ivy) Extract, Tripeptide-1, Maltodextrin, Chondrus Crispus (Carrageenan) Extract, Plankton Extract, Lactobacillus/Camellia Sinensis (Green Tea) Leaf Ferment Filtrate, Lactobacillus/Trifolium Pratense (Clover) Flower Ferment Filtrate, Lactobacillus/Theobroma Cacao (Cocoa) Flower Ferment Filtrate, Xanthan Gum, Silica, Caprylyl Glycol, Phenoxyethanol, Potassium Sorbate, Sorbic Acid, Fragrance
What's the difference between a serum and a cream or lotion?
A serum is a lightweight gel that contains a high concentration of active ingredients. Unlike creams or lotions, serums don't contain oils that can block active ingredients from being absorbed. This allows the ingredients to penetrate faster and more effectively.
Are there any warnings or contraindications for Tummy Sleek?
For external use only. If irritation occurs, discontinue use. If irritation persists, consult your physician. For adult use only. Not for use during pregnancy.
Are your products paraben-free?
Yes! Cheeky Physique products are free of parabens, phthalates, petroleum, and mineral oil.
Are your products tested on animals?
We DO NOT and have never tested any of our products on animals.
How soon will I receive my order?
All orders are shipped within 1-2 business days. Delivery times depend on your location and the shipping method.
USA ORDERS
USPS First Class Mail is typically delivered in 3-5 business days. USPS Priority Mail is typically delivered in 2-3 business days.
INTERNATIONAL ORDERS
Typical delivery times are 7-21 days. Shipping to some countries may take longer. Please note that we are not responsible for customs delays.
Yes! We ship worldwide via USPS First Class Mail International. Typical delivery times are 7-21 days; however, shipping to some countries may take longer.
Please note that international buyers are responsible for paying duties, taxes, and applicable customs fees. We are not responsible for customs delays.
What is your refund policy?
Your happiness is our #1 priority. That's why we offer a simple, no hassle guarantee: If you aren't satisfied for any reason, simply return the product (even if it's been used) within 60 days for a full refund.
All Ingredients
Aqua (Water), Citrus Aurantium Amara (Bitter Orange) Flower Water, Glycerin, Propanediol, Polysorbate 20, Hydroxyethylcellulose, Lecithin, Caffeine, Ruscus Aculeatus (Butcher's Broom) Root Extract, TEA-Hydroiodide, Carnitine, Butylene Glycol, Escin, Hedera Helix (Ivy) Extract, Tripeptide-1, Maltodextrin, Chondrus Crispus (Carrageenan) Extract, Plankton Extract, Xanthan Gum, Silica, Caprylyl Glycol, Phenoxyethanol, Potassium Sorbate, Sorbic Acid, Fragrance
Reviews
You May Also Like