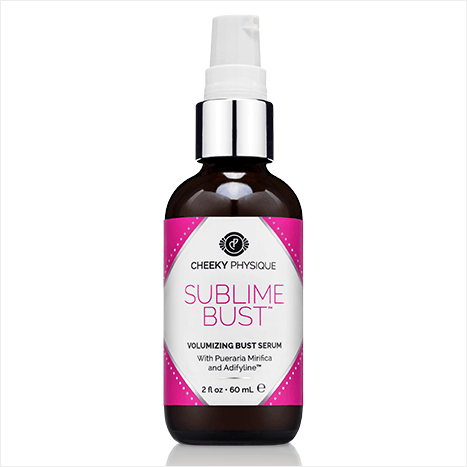 Sublime Bust
Volumizing Bust Serum
SIZE: 2 oz (60 ml)
9 REVIEWSRead all 9 reviews | Write a review
$43.00
Treat yourself (and "your girls") to Sublime BustTM and get ready to reveal your most seductive silhouette. This innovative serum combines two powerful bust-beautifying ingredients to accentuate the look of your natural curves.
Pueraria mirifica, a natural herbal extract, and AdifylineTM, a clinically tested "plumping" peptide, partner up to restore youthful curves, giving the look of volume and firmness to the breasts.
Don't be surprised if you find yourself saying, "My eyes are up here!"
Product Info
KEY INGREDIENTS
PUERARIA MIRIFICA:
A phytoestrogen-rich plant extract traditionally used to firm and accentuate the appearance of the bust.
ADIFYLINETM:
A peptide that promotes the look of plumping, firming, and lifting for beautiful curves and cleavage.
BENEFITS
Accentuates your natural bust appearance.
Visibly plumps and firms the look of the bust and décolleté.
Gives the bust a firmer, younger, and more lifted look.
Improves the appearance of skin volume and elasticity.
"What can I say but wow, Sublime Bust does what it says. Since starting this product, I've notice my breast are firmer with more volume. I love the results." – Melani
HOW TO USE
Apply Sublime BustTM twice daily and massage until fully absorbed – then get ready for the world premiere of your most irresistible self.
This lightweight, deep penetrating serum is highly concentrated, so a few drops are all you'll need. One bottle should last 30-60 days when used as directed.
For best results, we recommend combining Sublime BustTM with exercise, massage, and a proper diet.
After you've achieved your desired results, apply Sublime BustTM 3-4 times per week to maintain your most lush and lifted look.
RESULTS
Clinical tests for key ingredient AdifylineTM demonstrated the following results:
A study with a cream containing 2% AdifylineTM applied twice daily to the face achieved a 12% increase in the appearance of cheek volume in 14 days.*
79% of volunteers experienced a volumizing effect.*
A second study focusing on the breasts showed that AdifylineTM increased breast volume appearance by 30-fold compared to a placebo at day 56.**
*Assessment of 22 women (50-60 years old) after 14 days. Clinical data provided by Lipotec Group.
**Assessment of 22 women (25-40 years old) after 56 days. Clinical data provided by Lipotec Group.
FAQ
What are the ingredients in Sublime Bust?
Here is a full list of the ingredients in Sublime BustTM: Water (Aqua), Pueraria Mirifica Extract, Propylene Glycol, Propanediol, Polysorbate 20, Panthenol, Butylene Glycol, Acetyl Hexapeptide-38, Hydroxyethycellulose, Phenoxyethanol, Caprylyl Glycol, Sorbic Acid, Fragrance
What's the difference between a serum and a cream or lotion?
A serum is a lightweight gel that contains a high concentration of active ingredients. Unlike creams or lotions, serums don't contain oils that can block active ingredients from being absorbed. This allows the ingredients to penetrate faster and more effectively.
How long will it take to see results?
Efficacy tests for AdifylineTM demonstrated visible results in the majority of users within 14 days. However, your individual results may vary.
Will my results be permanent?
Sublime BustTM is formulated to offer long lasting results. After you have achieved your desired results, we recommend using Sublime BustTM several times per week to maintain your most lush and lifted appearance.
Is Sublime Bust safe to use?
All Cheeky Physique products are made with safe ingredients and are tested by third party laboratories to ensure safety and quality. However, if you have a specific medical concern, please speak with your doctor before using Sublime BustTM.
Are there any warnings or contraindications for Sublime Bust?
For external use only. If irritation occurs, discontinue use. If irritation persists, consult your physician. For adult use only. Do not use if pregnant or breastfeeding.
Are your products paraben-free?
Yes! Cheeky Physique products are free of parabens, phthalates, petroleum, and mineral oil.
Are your products tested on animals?
We DO NOT and have never tested any of our products on animals.
How do packages appear when shipped?
All of our orders are shipped in plain packaging with "Venupia R&D LLC" as the sender. There are no stickers or promotional slogans on the packaging other than those of the carrier.
How soon will I receive my order?
All orders are shipped within 1-2 business days. Delivery times depend on your location and the shipping method.
USA ORDERS
USPS First Class Mail is typically delivered in 3-5 business days. USPS Priority Mail is typically delivered in 2-3 business days.
INTERNATIONAL ORDERS
Typical delivery times are 7-21 days. Shipping to some countries may take longer. Please note that we are not responsible for customs delays.
Yes! We ship worldwide via USPS First Class Mail International. Typical delivery times are 7-21 days; however, shipping to some countries may take longer.
Please note that international buyers are responsible for paying duties, taxes, and applicable customs fees. We are not responsible for customs delays.
What is your refund policy?
Your happiness is our #1 priority. That's why we offer a simple, no hassle guarantee: If you aren't satisfied for any reason, simply return the product (even if it's been used) within 60 days for a full refund.
All Ingredients
Aqua (Water), Pueraria Mirifica Extract, Propylene Glycol, Propanediol, Polysorbate 20, Panthenol, Butylene Glycol, Acetyl Hexapeptide-38, Hydroxyethycellulose, Phenoxyethanol, Caprylyl Glycol, Sorbic Acid, Fragrance
Reviews
You May Also Like