Just like wearing a fierce pair of heels can make you walk with more confidence, slipping into some lingerie can instantly make you feel sexier.
The beauty of lingerie is that there's a perfect style for everyone, and you can change it up whenever you want. Are you feeling frisky? Try on some thigh-high stockings. Do you want something a bit more low-maintenance? Slip into a soft camisole and some boy shorts.
From corsets to fishnets, lace to satin, there's only one thing to decide: What's your lingerie mood?
FLIRTY
Flirty lingerie is all about being indirectly seductive and unapologetically girly. Think "playful and coquettish" – a little sheerness here, a little ribbon there. Try a side tie bikini bottom with a matching bra (matching sets are always a winner!) for a look that's super sexy, yet not too over-the-top.
CLASSIC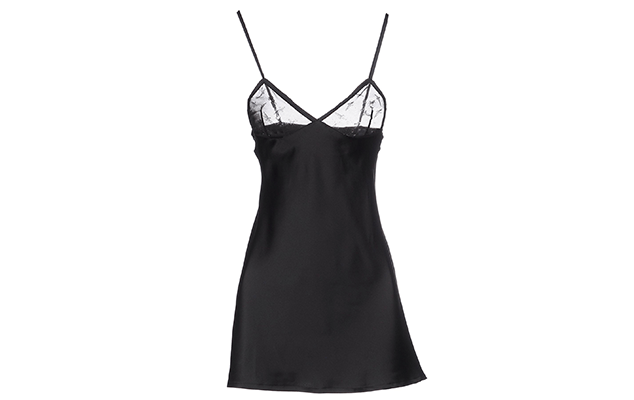 Cesare Paciotti Lingerie Nightgown
It doesn't get any more classic than a beautiful babydoll nightie – they're like the little black dress of the lingerie world. With luxurious fabrics like silk and satin, this lingerie style will have you looking and feeling like a Hollywood starlet.
DARING
Are you feeling extra risqué? Then go ahead and give 50 Shades of Grey a run for its money by going all out with garter belts, fishnet stockings, cutout styles, corsets, basques, and/or dangerously see-through fabrics. Whatever you fancy! (Extra points for wearing a pair of matching stilettos.)
PINUP
Charlotte Olympia + Agent Provocateur Bra and Briefs
Take a cue from Bettie Page and channel your inner pinup girl with sassy, vintage-inspired lingerie pieces. You can't go wrong with high-waist styles and retro details; and for the perfect finishing touch, put a slick of Sublime Lips over your favorite red lipstick to look like you've just stepped out of a 1950s calendar.
EFFORTLESS
Bassoni Chantelle Cami & Boxer Set
"What, this old thing?" If you want to feel more alluring, but can't be bothered with a finicky lingerie getup, slip into a silky camisole and shorts combo (or try a one-piece romper). The truth is, you can't exude sexiness if you're not comfortable. If you choose pieces that make you feel good, then you'll look irresistible without even trying.
ROMANTIC
Are you in the mood for love? Set the right tone with lingerie in shades of pink, peach, or cream. A see-through one piece may sound like a bold choice; but when you combine that style with pastel colors and delicate lace details, the end result is absolutely dreamy.
The Cherry on Top
Whatever your lingerie mood is, top it off with Cheeky Physique's line of skin and body care products.
Our luxurious serums make busts appear more luscious, tummies appear firmer, and any other trouble spots appear more toned – all, part of our master plan to have you feeling sexier and more confident no matter how much skin you choose to reveal.