With holiday season just around the corner, it's time to gear up for a couple months of parties, glitzy dresses and cocktails. The last stretch of the year also has a reputation of wreaking havoc on our waistlines. Fortunately for those who like to enjoy a tipple or two (or three), aiming to stay trim during the festivities doesn't mean you have to miss out on the fun.
As a rule of thumb, the "skinniest" alcoholic beverages to choose from are red wine, champagne, and low-sugar spirits like vodka and tequila. Sure, you can always pour some vodka into a martini glass and call it a night. But if you're craving something a bit more exciting, here's some swanky cocktails that won't pack on the pounds.
Pomegranate Prosecco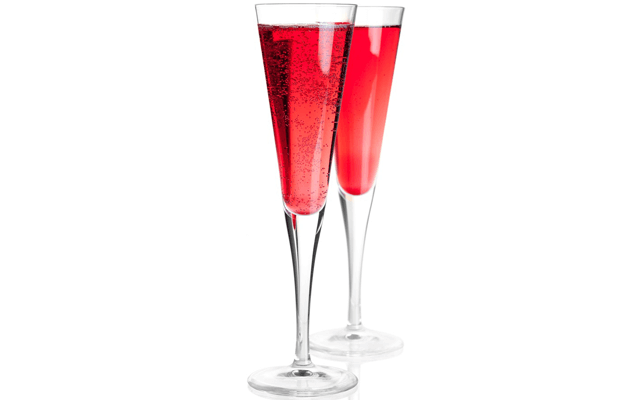 Who doesn't love a sparkling glass of prosecco? This refreshingly fizzy wine only contains about 100 calories for a six ounce pour, making it very figure-friendly. Add a splash of antioxidant-packed pomegranate juice for a festive drink that looks super pretty in a champagne flute.
Recipe:
6oz prosecco
1-2oz pomegranate juice (adjust to desired sweetness)
Pour pomegranate juice into a glass and top with prosecco!
Slimmed Down Mojito
Take away the sugary simple syrup, and the ingredients for a mojito are pretty low-cal – light rum, limes, club soda and mint. If you're making mojitos at home, you can forgo the white sugar altogether and muddle your limes and mint with some stevia for a calorie-free sweetener. And if you're at a bar or party, just ask the bartender to use half the regular amount of simple syrup. You'll still get a nice hint of sweetness, minus half the calories.
Recipe:
5 packets stevia sweetener
8 fresh mint leaves
½ lime, juiced and sliced
1oz light rum
Chilled club soda or seltzer water
Ice
Mint and lime for garnish
With the back of a wooden spoon, muddle together the stevia, mint leaves, lime juice and lime slices until the stevia has fully dissolved. Combine in a glass with the light rum, add ice, and fill to the top with club soda or seltzer water. Garnish with a sprigs of mint and lime slices.
Cranberry Fizz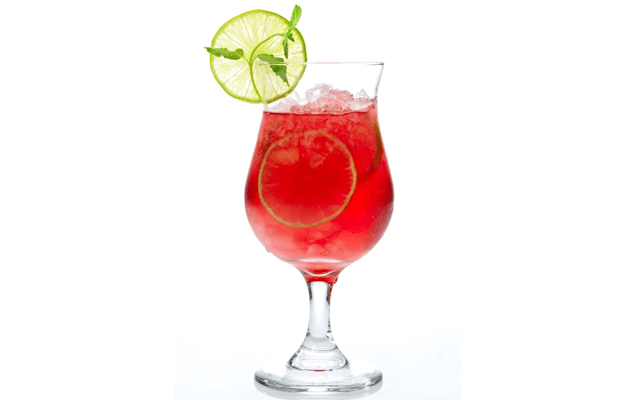 If well drinks are your thing, dress up that vodka soda with a splash of cranberry juice and a squeeze of lime. Just a couple extra ingredients turn an average Saturday night drink into something swanky and sophisticated.
Recipe:
1oz vodka
2oz cranberry juice
Seltzer water
Ice
Lime wedges
Place ice in a glass and top with vodka, cranberry juice and seltzer water. Squeeze in the juice of one lime wedge and use for garnish.
Cake in a Glass
Whoever came up with this combo is brilliant. A shot of either vanilla or whipped cream-flavored vodka, which has less than 100 calories, tastes like cake when mixed with diet ginger ale. Finally, you can have your dessert without worrying about the pesky pounds!
Recipe:
1oz vanilla or whipped cream vodka
Diet ginger ale
Ice
Fill a glass with ice, pour in vodka and top with diet ginger ale. You can garnish with mint or fruit if desired, but this drink is yummy as is!
Wine Spritzer
One of the least likely drinks to pack on the pounds is a classic wine spritzer. Choose either red wine or a dry white wine (chardonnay always works well), and top it off with sparkling water. Our suggestion: Cascade Ice, which offers tons of fruity flavors to mix and match with your favorite wines. How many calories does it add to your spritzer? A grand total of zero!
Recipe:
4oz red or white wine of your choice
4oz calorie-free flavored sparkling water (like Cascade Ice)
Pour wine into a glass, top with sparkling water and enjoy!
A Slimming Garnish
While you're sipping your swanky cocktail of choice, keep your waist trim with Cheeky Physique's Tummy Sleek. Massage this lightweight serum into your midsection to tone and tighten the look of your abs. It takes less than a minute to reap the benefits of this potent elixir, and it works its magic while you continue to enjoy your party season!