Summer is around the corner, and it's finally time to shed those winter layers and show a little skin. If this time of year has you feeling a bit anxious (hello, itsy bitsy bikinis!), relax…
With just a few wardrobe strategies, you can spend these next few months looking svelte and stylish – even if you skipped out on the gym this past winter. Try these 6 style tips guaranteed to make you look thinner this summer.
1. Accentuate Your Waist
Kate Spade New York Seahorses Cap Sleeve Dress
Accentuating your natural waistline (aka the smallest part of your waist) can instantly make you look 10 pounds slimmer. Mind you, we're not necessarily talking about bodycon styles here.
Instead, choose tops and dresses that gently taper in at the middle like this adorable number by Kate Spade. A stretchy, smocked waist adds structure and definition to the figure, while cleverly concealing any potential "trouble zones."
2. Elongate with Length
Long, monochromatic cuts like this black maxi dress draws the eye up and down, creating the illusion of length – a particularly slimming feature. The same goes for long tank tops, tunics, and jumpsuits.
Just make sure not to choose anything too voluminous or billowy if you're on the shorter side, as you don't want to cancel out your added length with extra width.
3. Accessorize Strategically
If the world is your stage, then think of accessories as the perfect way to distract the audience!
Divert attention towards your décolletage and face with a bold statement necklace or scarf. When draped just right, a silky scarf can even disguise the tummy area and hide love handles.
To slim down your entire torso (think "illusion of length" again), a wide belt slung low around the hips is also a handy trick.
4. Use a Sexy Summer Cover-up
Ralph Lauren Hand-Crocheted Cotton Cardigan
When in doubt, enlist the help of a sexy summer cover-up. Sheer cardigans and on-trend kimono jackets add extra coverage while still keeping you cool.
5. Play Up Your Assets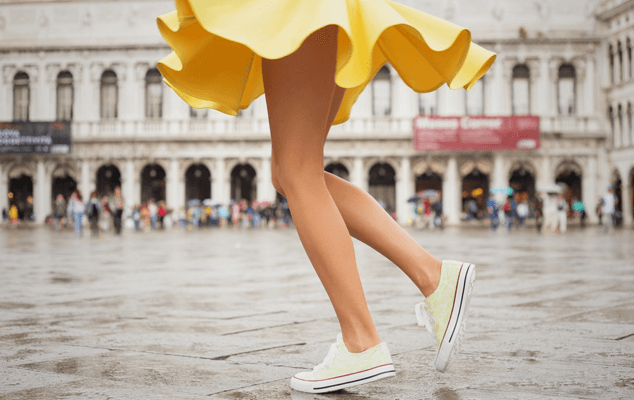 If you've got it, flaunt it! Pinpoint your best physical assets and build your outfits around those areas.
Maybe you have a killer set of legs, but you're self-conscious about your midsection. Not a problem – a short, summery romper with a blouson top will look fantastic on you.
Do you have a great set of boobs, but prefer to camouflage your lower body? A sultry, low-cut maxi dress will have you stealing the show.
 6. Set the Right Foundation
Give your summer wardrobe a boost and set the right foundation with Cheeky Physique's line of beauty and body quick fixes.
Reduce the appearance of cellulite with Contour Sleek, firm up that midsection with Tummy Sleek, and take "the girls" up a notch with Sublime Bust. Don't be surprised if you're feeling toned and confident enough to strut your stuff in a sexy swimsuit by midsummer!