The Golden Age of Hollywood gave rise to some of the most stunning actresses the world has ever seen. More than 50 years later, we still refer back to stars like Marilyn Monroe, Grace Kelly, and Audrey Hepburn for beauty and fashion inspiration. Even though they had very different looks, each starlet oozed Hollywood glamour – and there's no reason why any of us can't pull off the same effect circa now. Here's how to channel a classic Hollywood vibe and look like a silver screen starlet.
Start with a dewy canvas.
It takes more than a tube of red lipstick to look like a Hollywood bombshell. (In fact, Audrey Hepburn kept her makeup quite simple.) Instead, pay attention to laying the perfect foundation with dewy skin. Use a balm or primer to create a smooth surface for that flawless, soft-focus look.
Lure them in with bedroom eyes.
It's tough to pinpoint Marilyn's best feature, but her eyes were definitely one of them. That nude lid paired with full, dramatic lashes gave her an almost "sleepy" look – in the sexiest way possible. Give your own eyes that bedroom appeal with a swipe of eyeliner across your top lash line, winging it out at the ends for a slight cat eye a la Sophia Loren. Finish with a set of false lashes for extra volume and drama.
Create silky waves.
Can we just take a second to appreciate Veronica Lake's hair? Large, voluminous waves are a must for any classic Hollywood starlet. Get the same volume by using large hot rollers for gorgeously silky curls. And remember to always keep your tresses conditioned – frizz and flyaway strands are a big no-no.
Spritz on a classic fragrance.
A single spritz of Chanel No.5 can make any modern woman feel like a classic bombshell.
Find the perfect LBD.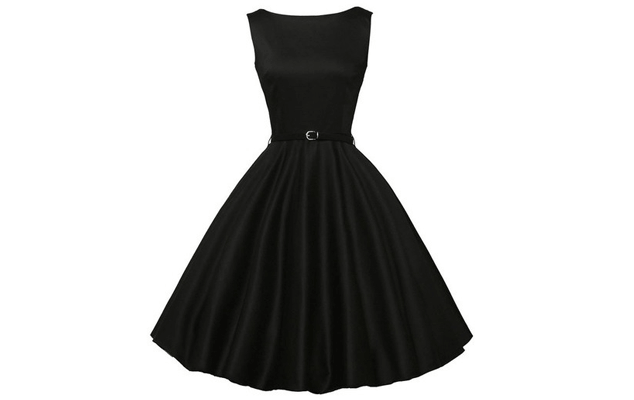 Romwe Belted Fit & Flare Sleeveless Dress
It doesn't matter whether you prefer silk or sequins – every starlet needs the perfect little black dress. Stick with classic shapes that bring out your curves (this isn't the time for billowy fabrics or baby doll dresses), and necklines that show off your décolletage. And if you weren't born with an hourglass figure, no worries. Get the same effect with a higher neckline, full skirt, and a belted waist.
Add a faux fur topper.
Outerwear is the perfect opportunity to make a fashion statement, and few things are as eye-catching as a faux fur topper. Go all out with a full-length coat, or simply wrap a faux fur stole around your shoulders. You'll look like you just stepped off the red carpet.
Accessorize with diamonds.
If there's one thing classic Hollywood starlets taught us, it's that diamonds are a girl's best friend. Wear them as statement necklaces, bracelets, cocktail rings, and chandelier earrings. And for a more budget-friendly option, go with clear crystals instead. They work just as well.
Carry yourself with confidence.
Let's be real. It doesn't matter what your hair, makeup and wardrobe look like if you don't have the confidence to back it up. To give your confidence a boost and make you feel as fierce as a Hollywood icon, check out Cheeky Physique's line of body essentials. Enhance your cleavage with Sublime Bust, reduce the appearance of cellulite with Contour Sleek, and keep your waistline ready for those figure-hugging gowns with Tummy Sleek. Every Hollywood starlet has her own beauty secret, so make Cheeky Physique yours!