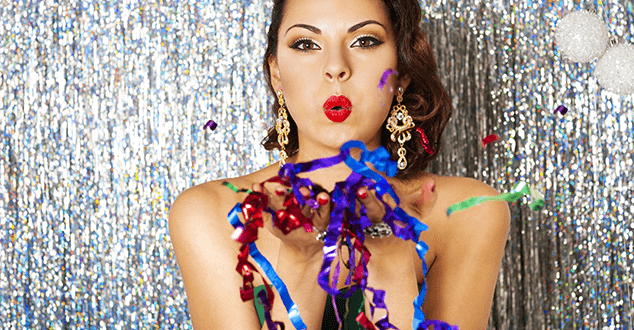 Don't you just love a new year? Not only does January offer a clean slate, but it's also the perfect opportunity to reinvent yourself. Typically, most new year's resolutions will fall to the wayside by February – but improving a few areas of our beauty regimens is a resolution even the laziest of us can keep. Let's make 2017 our best and most beautiful year yet!
#1 Drink more water
Very few of us drink enough water throughout the day. (Newsflash: By the time you feel thirsty, you're already dehydrated.) If you think about it, drinking water and staying hydrated is one of the easiest ways to keep our weight in check, achieve glowing skin, and ward off wrinkles – so there's really no excuse for skimping on the H2O consumption. Buy yourself a cute water filtration pitcher and get chugging.
#2 Dry brush regularly
Two or three times each week, carve out a few minutes (literally, a few minutes) to dry brush your bod before jumping in the shower. It's a surefire way to exfoliate the skin, boost circulation, and decrease the appearance of cellulite.
#3 Take care of the girls
Can we please resolve to take better care of our boobs in 2017? Between high-impact workouts and ill-fitting bras, your girls have a lot of wear and tear to endure. Treat them to a daily post-shower massage with Sublime Bust – a lightweight serum that effectively hydrates, firms, and enhances the look of the bust line. Not only are daily breast massages healthy, but they also help to maintain a lifted and beautiful shape. The fact that you'll have some killer cleavage to flaunt doesn't hurt, either.
#4 Try a new hairstyle
It's funny how a new hairstyle can give you a whole new pep in your step. A dramatic chop is always a fun way to experiment. But if the thought of saying goodbye to too many inches gives you anxiety, try something new with your texture instead. If you're a curly girl, try a sleek blowout. And if you normally have stick-straight strands, apply a texture spray and rock a sexy, beachy look instead.
#5 Ease off the styling tools
We all know the hair magic a simple straightening iron can create. But in 2017, let's resolve to limit the use of heated styling tools to once a week – twice, max. Instead, use your days off to apply a rich hair mask to fight damage and strengthen your tresses.
#6 Perfect the eyebrows
It's funny – with "eyebrows on fleek," you almost feel as if you don't need any other makeup. Keep those babies groomed, whether you choose waxing or threading as your shaping method. And if you don't have full brows, fill them in for a fuller (but natural!) look.
#7 Master a 5-minute makeup routine
One of the most beneficial beauty resolutions you can stick to is mastering the art of a 5-minute makeup routine. Unless you have time to spend hours staring at yourself in the mirror, figuring out how to look flawless in less time is a wonderful skill to have. Our one piece of advice? Finish your makeup routine with a slick of Sublime Lips. Our Manuka honey lip gloss works double-duty, keeping your lips moisturized while gently plumping the appearance of your pucker. With gorgeously full lips, you'll need little else to look fabulous.