When it comes to gorgeous skin, there's no substitute for water. And with summer in full swing, now's the perfect time to increase your water intake to avoid dehydration and keep your complexion glowing.
If guzzling glasses of pure H2O sounds tedious, consider infusing your water with a combination of fruits and/or herbs. Infused water makes you feel as if you're at a luxury spa, and the added nutrients from various mix-ins double as a beautifying concoction for your skin.
Making infused water really couldn't be easier: Simply add a handful of your produce of choice to a glass of water. Or, for a more indulgent experience, use a chic water infusion pitcher and let the ingredients seep in the fridge for a refreshing treat later on.
Do you prefer to take your water on the go? Opt for an infusion water bottle instead, and you'll be armed with extra hydration between work, appointments, and whatever else you have on your busy to-do list!
Here are three delicious water infusions to get you started – each, packing a beautifying boost of vitamins and nutrients. For each of these infusion recipes, you can adjust the amount of fruit or herbs to suit your own personal taste.
Cucumber Melon
Cool cucumber and hydrating watermelon are perfect for summer days, while fresh mint works to detox and combat bloating (especially if high humidity tends to make you feel "swollen").
Ingredients:
Cucumber slices
Watermelon cubes
Mint sprigs
Citrus Blast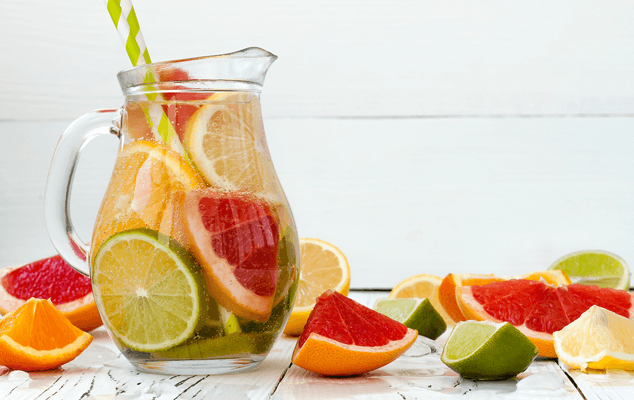 Get your glow on with vitamin C-packed citrus, which fights free radicals and promotes radiant-looking skin.
Ingredients:
Lemon slices
Lime slices
Orange slices
Summer Refresher
Give your skin a serious antioxidant boost with fresh berries, and protect your skin cells from damage with the antiseptic properties of fragrant rosemary.
Ingredients:
Strawberries (sliced)
Blackberries (sliced or muddled, to release the juices)
Rosemary sprigs
For An Extra Boost of Hydration
Now that you're hydrating yourself on the inside, keep the surface of your skin just as glowing with Cheeky Physique's Contour Sleek.
Packed with revitalizing ingredients, this luxurious body oil doesn't just nourish and moisturize. It also works overtime to firm and tone trouble spots – including pesky cellulite – leaving you with positively flawless body contours.