Summertime means sunshine, longer days, cocktails, and…tank tops! But don't go worrying about those bingo wings, darlings. Arm Sleek will be your perfect sidekick to looking and feeling oh-so-confident in skin baring tops. Here's why…
ActigymTM Marine Extract
One of our key ingredients is a little miracle worker. This marine active ingredient is clinically shown to smooth and firm the look of the abdomen area (yes!!).
In fact clinical results on Actigym have showed:
Over 80% of participants reported that the skin on their abdomen appeared more toned.*
Over 70% reported their silhouette appeared more defined.*
*Assessment of 60 women (35-50 years old) after 56 days. Clinical data provided by Lipotec Group.
Caffeine
Another awesome ingredient in Arm Sleek, Caffeine is known for its firming effects, giving the skin a more toned appearance.
Peptides
Last in this trio of goodness, a blend of anti-aging peptides helps restore the look of skin firmness and elasticity.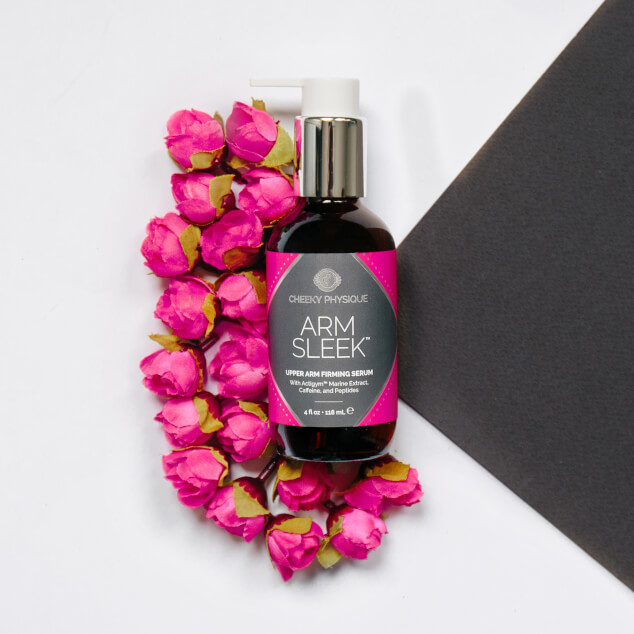 Our 5-star reviews say it all…
I'm hooked! I honestly didn't expect to see such amazing results, but seeing is believing and I couldn't be happier. For a little over two weeks now, I've been using the firming serum twice daily and my arms are noticeably smoother, firmer and softer. It's incredibly hydrating and leaves my skin unbelievably soft and it quickly absorbs without feeling greasy. I also love that it has a light, clean fragrance. It's one amazing product!
– Alicia Murphy
Use this little secret weapon twice a day, along with a healthy diet and regular exercise and you'll soon be counting down the days to sunshine bliss.